There's a ticking time bomb on the Equality Across America Web site. At least, that's how some local activists, like Michael Crawford, might view the live countdown to the National LGBT Equality March, slated for Sunday, Oct. 11, in Washington.
Cleve Jones, gay pioneer Harvey Milk's protégé, called for the 2009 march while speaking at a Utah Pride event June 7. It was then that Jones, also the founder of the NAMES Project AIDS Memorial Quilt, kicked off a four-and-a-half month countdown to an event aiming to bring GLBT activists and allies from across to country to the nation's capital.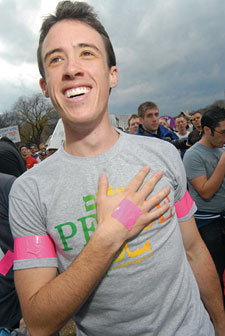 Kellan Barker
(Photo by Ward Morrison/file photo)
Equality Across America (EAA) is the umbrella organization that is currently being built by the event's steering committee to manage the march.
The effort, to include a high-profile demand to Congress for equality for GLBT people, has, however, left some local activists, such as Crawford, perplexed.
"I think you need much more time than a few months to plan a national march on Washington," says Crawford, co-chair of DC for Marriage, a program of The DC Center advocating for marriage equality, who moved to Washington in 1999 as an organizer of 2000's GLBT Millennium March on Washington.
"And if the goal, as they say, is to put pressure on Congress, it's best to do that when Congress is in session," Crawford quips, noting that Congress will be in recess during the weekend in question.
Organizers say Columbus Day weekend was chosen as the date of the event to commemorate the National Coming Out Day, Oct. 11; to memorialize the 11-year anniversary of Matthew Shepard's death, Oct. 12; and to celebrate the 30th anniversary of the first National March on Washington for Lesbian and Gay Rights, Oct. 14, 1979.
Supporters of the event, such as former Clinton White House Advisor, Democratic activist and author David Mixner, say the timing of the event is appropriate.
"Because we have a Democratic president and a Democratic Congress, and we may never have a better one, maybe in our lifetime, it makes sense to put pressure on them and to march," says Mixner. "Whereas if it was George Bush, it wouldn't make much sense.
"We've got to get this repeal of [the Defense of Marriage Act] and Don't Ask Don't Tell, and an [Employment Non-Discrimination Act] and the other issues through Congress before we lose the opportunity. What we're learning is that unless we push and shove and make things happen, they don't happen."
It's also an important event to have, he adds, for GLBT people who do not live in a major city, and who do not have "huge gay prides" annually.
"It's very important that we show solidarity as a nation and as a community, especially for our young."
One of those young people is local activist Kellan Baker. He says he is "nominally" on the steering committee for the march. And like Crawford, he's also co-chair of DC for Marriage. Baker is also a board member of The DC Center.
"I'm not sure that we need a big turnout for [the March on Washington] to be effective," Baker says, who was able to muster 5,000 people on the National Mall on relatively short notice to rally against California's Proposition 8.
"One of the strategies is to try and bring at least four people from each of the representative congressional districts from around the country, which would be a great and unprecedented effort," says Kellan. There are nearly 450 such districts.
"I would emphasize that while marching certainly has its place, it leaves out two essential components of what I think to be effective activism: dialogue, and a chance to tell our stories."
A counter argument, made by North Carolina blogger Pam Spaulding on her Pam's House Blend site, is that in today's recession, an online effort might have as much impact as a march in D.C., but at a fraction of the cost.
"Give people tools they can use back home at the state level, not just provide an offline social networking opportunity to hear feel-good speeches in the equivalent of an echo chamber," she writes. "…[W]e have to take advantage of online direct action to spur targeted offline action. And it doesn't have to cost an arm and a leg."
Addressing concerns about brief period to orgcanize such an event, Mixner recalls that the March on Washington for Jobs and Freedom in 1963, and the 1969 Moratorium to End the War in Vietnam march attracted hundreds of thousands of people with six-months' planning.
"And that was without computers, without fax machines…. So clearly these marches can be done within that time frame."
But Crawford has more concerns.
After attending a D.C. organizing meeting last month, he discovered something disturbing.
"I was the only African-American person in the room, which was one big problem. In a city that's majority African American, that's an issue. And they didn't even discuss how outreach to people of color was going to be conducted.
"I also said I was one of the organizers for the Millennium March, and I haven't heard from them. One would think that if you pulled people together in an organizing meeting, and particularly people in a city where the event is supposed to happen, that if those people sign up to say they're interested, that you should follow up with them."
As of Tuesday, July 28, EAA lists Affirmation DC, a local gay Mormon group, as the sole organization in Virginia, Maryland or D.C. that is helping to organize the march.
Loch Powell, media coordinator for EAA says the Web site for EAA is updated two to three times each week and that local organizations have been contacted, he says.
"We've been officially planning this for about two weeks, and we reached out to them last week. In their fair process, they need to go back to their boards. Like [Human Rights Campaign Executive Director] Joe Solmonese, although he can't officially endorse it this second, I was on a call with them yesterday and they were amazingly supportive."
Mixner says if local organizations are not involved, "that's their choice."
"The other interesting aspect is that this is coming from the grassroots up for the first time," he says. "I think that many of them will end up joining the march, pushing the march, and being a part of it at the end."
Addressing the concern that Congress is not in session during the march, Loch says the goal of the event is to create a sense of urgency that motivates people to meet with their representatives once Congress is back in session.
"Who cares?" Mixner adds. "They always leave town even when they are in session. It's not like they're all going to look out the window and say, 'Oh I change my mind.'"
Holding the march, he adds, will create "a major presence in the decision-making capital of this nation."
Despite his concerns, Crawford is hoping there is a large turnout at the event. He fears a small turnout would send the wrong message.
"It will make it look like we're not serious about achieving LGBT equality," Crawford says. "I think right now at this time, when we have a real opportunity for a real gain, in terms of an inclusive [Employment Non-Discrimination Act], and a Don't Ask Don't Tell repeal, what we need are serious and thoughtful actions, not simply reactions.
"If very few people here in D.C., where the march is supposedly supposed to take place, don't know about the event, then how big can the turnout be?"
But Loch says as long as there are at least four people from each of the 435 congressional districts — 1,740 people — the march will be considered a success.
"That's what we're targeting," he says. "That's what we want."
Mixner says he believes the Oct. 11 march will attract a massive crowd, resembling the 1963 march for civil rights, which drew about a quarter million people to D.C.
"Nothing is certain. And anybody who is looking for something certain is in the wrong movement. Things come by taking chances and venturing with ideas. Sometimes they fail. I don't believe this is going to be one of those times."
For more about the National LGBT Equality March on Washington, visit http://nationalequalitymarch.com.