Bryan Watkins has already carved out a career from something that started as a teenage gag. "A bunch of my friends were going out to West Hollywood to dress in drag for Halloween," Watkins says of the time he first dressed up as Shannel. He was only 15.
After years performing at many of Las Vegas' most popular clubs and casinos, the 30-year-old Watkins (as Shannel) gained national exposure as the third-runner-up on RuPaul's Drag Race. This weekend, he and fellow Drag Race finalist Jade (David Sotomayor), will perform both Friday and Saturday nights at PW's Sports Bar & Grill in Laurel, Md. The Friday night performance will come during the bar's second annual Miss PW's Pageant, for which the winner will earn $300 and represent the bar for the year.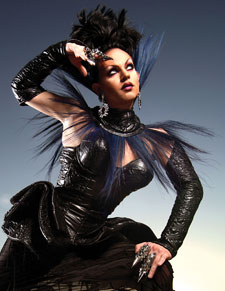 Shannel
Yes, in case you were wondering, PW's is a gay sports bar.
And yes, it really is in Laurel, Md.
"We were really surprised by how many of the customers are local," says Scott Gould — and he means specifically from surrounding suburban Maryland, not D.C. The city is only a 20-minute drive from the bar, and features its own parking lot.
Gould's partner John Cook has owned the venue, which includes a full-scale restaurant, for a decade. He bought it from his parents when they retired to Florida, turning it gay about six years ago. Many of the longtime regulars still come in for lunch. But at night, it's pretty gay in there.
As for Watkins, he's uncertain whether last year's Drag Race contestants will play any role in next year's second season, or in a talked-about spinoff. But the drag queen is preparing to move to Seattle, to become host of a celebrity-impersonator show. And he's reveling in the increased travel around the country, including more gigs with Jade. "He's awesome," says Watson. "We've become very, very close friends."
Shannel and Jade perform as part of the Miss PW's Pageant 2009 Friday, July 24, at 8 p.m., and will also perform on Saturday, July 25, at 9 p.m. PW's Sports Bar & Grill, 9855 Washington Blvd. N., Laurel, Md. Call 301-498-4840 or visit www.pwssportsbar.com.