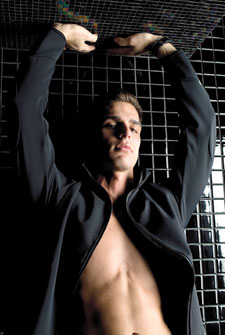 DJ Billy Steele
(Photo by Liz Liguori)
DJ Billy Steele is about to fulfill a career-long dream. "I've been wanting to play [D.C. for years]. I'm super-pumped, and extremely honored." The New York native, who's been DJ-ing now for nine years, will make his debut in the nation's capital this weekend at Town. And all just a few weeks before he turns 31. "It's all just so flattering and overwhelming," he says.
Steele describes his career path as one of those classic "New York stories" — straight club kid moves to Manhattan from Long Island, and things eventually fall into place. "I moved to the big city, started bouncing around, met the right people and started modeling," he says. More at home in a nightclub than at a fashion shoot, Steele took up promoting parties at many of Manhattan's legendary, now closed nightclubs – Limelight, Tunnel, Sound Factory. It wasn't long before he was bitten by the DJ bug and got behind the decks. "[As a DJ] you can control the whole mood, and speak to everybody without even saying one word," he says.
For his Town debut, Steele says to "expect a lot of energy,…a lot of passion, and a lot of surprises." In addition to adding some of his own flavor, Steele anticipates throwing in old-school into the set and pay homage to his DJ idols David Morales and Jonathan Peters.
One thing to definitely expect: a lot of dancing in the DJ booth. "I would never play anything that doesn't make me move," says Steele. "So I'm going to be moving with the crowd the whole night long."
He laughs as he thinks about how much he actually dances while spinning. "I'm dancing the whole night, it's ridiculous. And if I can get onto the dance floor, especially at the end of the night, I'll be there for sure."
DJ Billy Steele spins this Saturday, Aug. 1, at Town Danceboutique, 2009 Eighth NW. Cover is $12. Call 202-234-TOWN or visit www.towndc.com.