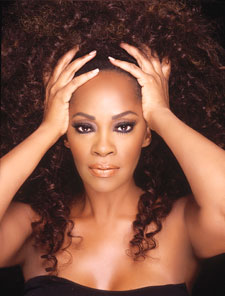 Jody Watley
(Photo by Mike Ruiz)
Jody Watley has been an advocate for gay rights since her solo career took off in the mid-'80s. In 2004, for example, the songstress serenaded thousands of just-hitched gay newlyweds in San Francisco, during the city's short-lived rebellion in favor of gay marriage.
"I honestly don't know," Watley says, when asked if she thinks that's the reason for her loyal gay following. "My support was unusual, I guess. Especially among black entertainers."
Watley is looking forward to her local stop next Thursday, July 30, part of a select summer tour. "I haven't performed in the area in a while," she says. "It'll give my fans in D.C. a chance to finally see me." It'll also gives the Grammy-winning artist, responsible for the '80s hits "Looking for a New Love," "Don't You Want Me," "Still a Thrill" and "Friends," a chance to return to the place she calls "a second hometown."
Watley grew up mostly in Chicago, but spent some of her formative years in Washington. "I was [in D.C.] during the riots, so that was a pretty memorable time in my life. It definitely had an impact on me," the 50-year-old says.
Watley has lived in Los Angeles pretty much all of her adult life, from her early days as a lead dancer on Soul Train and as a member of the R&B group Shalamar.
She plans to release her 10th album, Chameleon, next spring on her own label, Avitone Recordings. "I'm pretty excited about it," she says, noting that it will feature what has become her signature sound over the past couple decades: what you might call chilled-out house. It's more mid-tempo and leisurely than her early dance output.
"We have a lot of fun performing live," Watley says of her supporting band. "A lot of people who have never been before are surprised when they come to my show, because we put a lot into it."
Jody Watley performs Thursday, July 30, at 7:30 p.m., at The Birchmere, 3701 Mt. Vernon Ave., Alexandria. Tickets are $45. Call 703-549-7500 or visit www.birchmere.com.