From a backyard party to one of the District's most dazzling annual events, to something of a hybrid, Abdur-Rahim Briggs has been doing his part for the local African-American community in the fight against HIV/AIDS. On July 18, the newest chapter of his story will include the 10th annual White Attire Affair, and the best opportunity yet for his new organization, Al Sura, to shine.
As a new chapter, the name of Briggs' group, Al Sura, is apt.
"It's Arabic," Briggs explains. "I wanted something that meant starting over. In the Quran, it means 'new chapter.'"
With this new start, what Briggs has chosen to leave behind is another organization he founded, Ummah Foundation, which also employed Arabic, ummah translating to "community." His founding that organization stemmed from his identical twin's HIV diagnosis in 1997, which led to Briggs volunteering with Us Helping Us, People Into Living, the local organization offering HIV prevention and services to the black gay, bisexual and transgender community.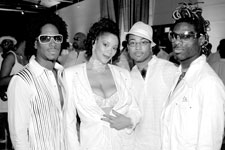 In 1999, Briggs organized his first Ummah Foundation fundraiser — to benefit Us Helping Us — in a residential backyard in Anacostia, as an opportunity for the African-American community to more directly fund the fight against HIV/AIDS.
"We had about 150 people that first year," recalls Briggs, who came to the effort as a fundraising novice. "Then about 250 in 2000. … I had absolutely no experience. It was just throwing a party."
Briggs says his White Attire fundraisers continued to grow in both size and reputation, really hitting a stride with 2002's event at the Warner Building. The White Attire Affair attracted ever greater interest, celebrities and effort. For Briggs, the Ummah Foundation, which eventually fell under the control of the foundation board and its president and CEO, Clyde Penn, grew into something so large that he says he no longer recognized it.
"After 2002, expectations grew wildly," Briggs says. "The upside is that you're helping your community, but the downside is expectations. I wanted to get back to the messaging of HIV and AIDS. I decided to pare down and clean house.
"Sometimes, when you include other folks in moving the organization, the event, forward, sometimes people have their own agendas," Briggs continues. "That caused me to not have [the White Attire Affair] in 2008 and retool it. When you grow, you involve folks who get it off track. We do want to have a great event, but it was turning into more of a party. It was becoming too elitist."
But Briggs denies any problems were related to how the funds raised were handled. Benefactors may not have received donations as quickly as they had in the past — with Briggs saying he preferred to make such donations the night of the event when he was in control — but Briggs says there was no question of money not being accounted for. Rather, he emphasizes that he was disillusioned by the party, instead of HIV/AIDS, becoming the focus.
Penn, on the other hand, points to a measurable impact he says Ummah was making in raising HIV/AIDS awareness among African-American gay and bisexual men. And while he says Ummah still exists, though the organization is re-tooling another gala of its own, he reckons there's room for both organizations, considering the breadth of the HIV/AIDS epidemic.
"I am very supportive of the organization and their desire to continue the White Attire Affair as an awareness-building outreach," Penn says. "I think they're going to do well." With his new volunteer organization, Al Sura, and a year's hiatus to put things back in order to his liking, Briggs certainly hopes for the same, particularly with the 10th annual — allowing for no event in 2008 — White Attire Affair. So is Justin B. Smith, known to many in the community for "Justin's HIV Journal," a video blog he uses to chronicle his experiences as a young, gay, African-American man who is HIV-positive.
"I'm looking forward to the intimacy, to making sure the community is involved," says Smith, who volunteered with Ummah in 2005 and 2006 handing out fliers announcing the White Attire Affair, but who now serves Al Sura as director of Eastern regional communications. "Let's make sure we remember why we're here. Before, when you asked people, 'What's the point of being here?' the answer was to have a good time. That's sort of changed. Instead of having a great big party, it needs to be more intimate, to bring the community back."
Though Al Sura's first White Attire Affair emphasizes the community and the cause, that's not to say it's gone back to the backyard. Instead, it's headed to the Experience at Capital Yards, with tickets starting at $75 for the main event, all the way up to a private cabana with tickets for six and seating for up to 10 people for $1,200. Kimpton's Hotel Monaco serves as the host hotel.
Also new for this year is the beneficiary: Transgender Health Empowerment (THE).
"This is the first time the event has reached out to the transgender community," says Briggs, who declines to label his own sexual orientation, preferring instead to identify as a community organizer and a humanitarian. "The transgender community is very disenfranchised, even within the gay community, making them more prone to HIV infection."
THE will also be receiving one of four community awards at the July 18 gala, which Briggs says is directed at the GLBT community, while Al Sura itself has a broader focus. Also being honored this year are MetroTeen AIDS; Christopher Barnhill, a young, gay activist who was infected with HIV prenatally; and Bishop Rainey Cheeks of Inner Light Ministries, who is gay and a longtime HIV/AIDS activist.
Briggs says he'll be bringing back the White Attire Affair on a smaller scale, limiting tickets to 500, at least to start. That compares to an audience of a couple thousand at its peak. Still, he says, the event is the largest social-marketing event of its kind, with a majority of attendees coming from out of town.
Ron Simmons, president and CEO of Us Helping Us, the initial target of Briggs' philanthropy, is not from out of town, but he will be attending, making this is his first White Attire Affair in a few years.
"I'm looking forward to it," Simmons says. "It's really important for the black, gay community to support philanthropy for HIV/AIDS organizations. We can't be dependent on government funding. I'm really glad Rahim's doing what he's doing. I think highly of his character."
For more information about Al Sura or the White Attire Affair, to be held Saturday, July 18, at the Experience at Capital Yards, 1100 First St. SE, with a VIP reception from 7 to 9 p.m. and main event from 9 p.m. to 12:30 a.m., visit alsura.org.