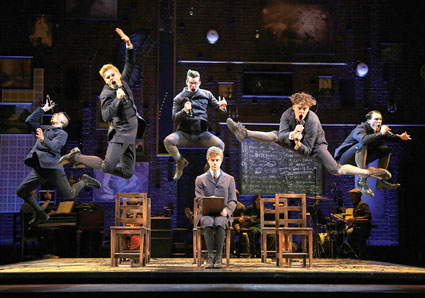 "Spring Awakening" at the Kennedy Center
Spring can really hang you up the most.
It was in the spring of 1989 that Sen. Jesse Helms denounced the work of Andres Serrano and transformed "Piss Christ," an artwork unknown to the general public, into the cultural shot heard round the world.
In the spring of 1913 the Ballets Russes premiered Igor Stravinsky and Vaslav Nijinsky's new ballet work Le Sacré du Printemps (The Rite of Spring). The work, which featured experimental music and cutting-edge movement, caused a near riot in the audience.
And then there's Spring Awakening.
Or, to get the story started off correctly, Frühlings Erwachen, The Awakening of Spring.
Written by German playwright Frank Wedekind the work was first performed at the Deutsches Theater in Berlin in November of 1906. Like Printemps less than a decade later, Wedekind's Spring Awakening was not exactly embraced. Audiences were shocked by its unflinching and provocative content that included violence, rape and teen pregnancy. Adults were portrayed as dim at best and abusive at worst. The youthful protagonists were victims of their own hormones and a society that continued to teach them that babies were delivered by storks and polite people do not discuss what goes on in bedrooms or dark haylofts. From there the show began an existence of volleying between being banned or allowed only under heavy censorship. Even in New York, where a censored version of the show offered its first performance in English in 1917, the play was considered an obscenity and closed after just one night.
So how is it then that this play, the performing-arts equivalent of a 1980s Mapplethorpe exhibition when it first came into being, has become an audience sensation with eight Tony Awards on its mantel? It's certainly not that we have all become casually comfortable with its themes.
Producer Tom Hulce, whose work as an actor spans from Broadway to the big screen, including an Oscar-nominated turn as Mozart in 1984's Amadeus, and whose work as a producer includes the 2004 film A Home at the End of the World, had been thinking about Spring Awakening for some time.
"My first job when I came to New York after acting school was a play by Peter Shaffer called Equus," he says. "The year that Equus was premiered in London at the National Theater was the same year that, at the National Theater in London, they did the first, completely uncensored version of [Wedekind's] Spring Awakening in English. So I was aware of it from the mid-'70s on and had been really fascinated with it and how incredibly modern it was. I had an interest in possibly commissioning an opera based on the play before I knew that Steven and Duncan and Michael were working on a musical version."
Steven, Michael and Duncan would be writer Steven Sater, director Michael Mayer and musician/composer Duncan Sheik.
There's actually something quite genius about the idea of Spring Awakening as an opera because, when you dig right down into it, that's a pretty accurate description of what life is like to most teenagers. Whether you're doing that piece of growing up in the rural Midwest or the urban mid-city, your life can feel like some giant costume drama.
"All so extreme because it's most often the first and feels like the last," says Hulce, who is gay.
And just as that can be more or less true in the world we all live in, it is equally so in the late 19th-century Germany of Spring Awakening, the musical.
The story centers on a close-knit group of teenagers struggling to figure out who they're meant to be in a conservative society that wants to keep that kind of meditation to a minimum. Among them is Melchior, the rebel who questions everything; Wendla, the good girl who's realizing she's not questioned enough; Mortiz, the hapless guy who seems destined to lose at every turn; and Martha, the helpless girl whose destiny is overshadowed by the violence in her present.
It hardly seems accident that Spring Awakening, whose national touring company is now at the Kennedy Center's Eisenhower Theater through Aug. 2,became a plot point of the new incarnation of Beverly Hills 90210. At television's mythic West Beverly High, a place where the opera of high school is writ large and privileged (and the school board is apparently okay with students simulating masturbation onstage) the parallels between the "real world" of those contemporary characters and the 1890 "stage world" of Spring Awakening are difficult to ignore. Everything is drama. Everything is the ultimate.
But while the characters of the musical Spring Awakening might be feeling those hormone-induced operatic highs and lows, the way that they are expressing them is very different.
"Spring Awakening is not an opera," says Mayer, currently preparing for the opening of the Green Day musical American Idiot at the Berkeley Repertory Theatre. "It's specifically about the juxtaposition of a conventional narrative where people actually talk to each other. And then the songs come out of that. So that's very conventional.
"Unconventional is that the songs do not forward the plot and that they are not sung in the vernacular of the characters as they have been established. It's an intentional juxtaposition of contemporary music set against the 19th-century setting and characters."
Much like Hulce, the openly gay Mayer had also been thinking about Wedekind's play and wondering what new life he could bring to the material that many involved in Spring Awakening refer to as "timeless."
"I knew the play very well from when I first read it in college. I had been speaking to one of the producers who made [the Tony Award-winning play] Side Man possible and we were talking about the next thing we could work on together. I said to him, "God, I'd love to do a new version of Spring Awakening. Not a conventional one, somehow using music, somehow making it feel contemporary. It seems like the time to do that.' And he said, "Uh huh, okay, well if you think of a three-character, one-set play, let me know.'"
Two days later, Mayer got a call, "out of the blue," from Steven Safer.
"[He] said, "Look, I have this idea of doing Spring Awakening as a musical….' Soon thereafter Duncan and Steven came to my loft and the three of us started brainstorming. And that's when it all began. It was '99, shortly after the Columbine killings."
Years later Mayer would approach openly gay choreographer Bill T. Jones, whose significant list of credits will soon expand to include a directing/choreography credit for Fela!, an Afrobeat musical based on the life of African composer and activist Fela Anikulapo Kuti. Ironically, given the musical's birth in the shadow of Columbine, Jones worried about what connections there might be to this show set more than a century earlier.
"I was concerned that it was showing a world of repressed teenagers that didn't exist anymore," he says. "I was wrong, of course."
While an iconic figure in the world of the performing arts, Jones was not an obvious choice for the choreography of a work of musical theater. As it turned out, that was kind of the point.
"When Michael Mayer asked me to come in they had already been working on [Spring Awakening] for six years. He thought it needed dance, but he wanted the dance to look like the physical variation on young people singing in the shower…. One of the first things he showed me was [on] MySpace or something like that, long before Facebook. It showed a young guy in his boxer shorts in his bedroom singing. I don't know what he was singing, like Jim Morrison or something. He had no shirt on, just his boxer shorts, and Michael said, "This is the feeling that we're going to have."'
Which brings us back around to that high school opera idea and the belief that you are – whether favorably or not – the center of attention. The star of your own bedroom or YouTube video or, in the case of Spring Awakening, Broadway show.
The physical design of Spring Awakening includes having members of the audience sitting in bleacher-like formation on the left and right sides of the stage with members of the cast sitting, standing, having sex and singing alongside them.
"We have the audience and the band onstage and the simple platform and a bunch of simple chairs and that's it," says Mayer. "That's what we use. It's really very naked and it puts so much emphasis on the humans at the center of the story.
"I think an audience is much more aware of the contribution of all of the collaborators because there is no big set thing that sort of sweeps you up, no machinery that can swallow the thing up. It puts a giant demand on the cast because there is nothing between them and the story and the audience."
"Having the audience on stage is a very a good thing…especially for this show," says Ben Moss, who plays Ernst in the touring company. Ernst's awakening comes courtesy of an innovative reprise of the duet "The Word of Your Body" and a boy named Hanschen.
"You're surrounded by people watching you and so much of the show is about the kids being watched over. It adds to the effect of people watching people watching people."
And the watching that takes place in Spring Awakening has no boundaries. Unlike most musical-theater shows, the characters of Spring Awakening don't sing in their own world, but in their own heads. Once again, the audience is afforded a front-row seat.
"[Mayer] told them they should think about their inner rock star and who they would pretend to be if they were in their bedroom alone," says Hulce. "Literally, the songs are not in real time in the story and you sort of climb into the head and the heart of the characters and they get to express something that they wouldn't be able to express in their real-life circumstances."
Except for the adults. The two actors who play all the adult roles do not sing, and dance only as part of the fantasies imagined by the youths. Which makes the disconnect between the young people in the show and the adult characters all the more pronounced. The generation gap in Spring Awakening is not a thin divide but a sprawling hormonal chasm. Adults and children speak entirely different languages.
The kids, for their part, are fluent in rock.
"I was always interested in musical theater growing up." Andy Mientus plays Hanschen in the touring company and, like Moss, first saw SpringAwakening when it was testing its legs at the Atlantic Theater Company. "But musicals had this sort of very niche, very specific style of music…that you used to be able to hear on the radio during the '40s and '50s, during the golden age of musical theater, but then music moved on and show tunes really didn't.
"So I was always really attracted to rock musicals like Rent and now SpringAwakening because they tell a story with music…but they tell it with music that people are actually listening to."
True, this is a point that some might debate before pulling out a notepad and starting a list of modern show tunes that are of — or even ahead of — the music scene of their time. But there's a difference with SpringAwakening and it comes from the fact that song and story are more fraternal than conjoined twins. They stand on their own without dialogue or bridge.
If you've not seen SpringAwakening, your knowledge of the show's music might be limited to the anthem "The Bitch of Living" and the more haunting "Mama Who Bore Me." But those are the bare surface of a songbook that is as likely to deliver a sucker punch as a serenade.
Think late night on some college alt-rock station when the playlist becomes about audience requests. "The Dark I Know Well" for the lonely. "And Then There Were None" for the breakup set. "Totally Fucked" for the ones who have decided, as the song says, that "the weirdest shit is still to come."
Spring Awakenings' songs are the stuff of acoustic covers more than cabaret.
But other shows have tapped into rock and contemporary music. What is it that has transformed this show that some worried might never see an audience beyond Atlantic Theater Company – a group that had never produced a musical before – into a Tony-winning, musical-theater sensation?
Is it because no one weighed it down with expectations and ideas about what it should be when it "grew up?" Because its creators let boys kiss boys and talk about masturbation and girls are given the chance to stomp across a stage and demand answers and control of their bodies?
Because Sater and Sheik and Mayer didn't wonder what was wrong with kids these days and instead gave them songs that ring out with all the ache and anger they might have inside?
Is it because the parents of Spring Awakening the musical did everything the parents in Spring Awakening failed to do?
"We were creating this story on our own," says Mayer. "There was no one telling us what we could or could not do. We weren't trying to break the mold. But we were.
"The decisions we made, we made in spite of the fact that all evidence to the contrary was supporting a more conventional way of telling the story. The kids [in Spring Awakening] are sort of busting against the rules that have been set up…by their parents and by society. I think we really did mirror that in what we actually made."
Says Jones, "Broadway is in a place where there is a willingness, an interest in telling different stories, stories that have not been told before and in other ways, ways that have not been explored before.
"I say that advisedly," he continues, "but I do think there's enough of a new breadth of directors and producers and, let's keep our fingers crossed, an audience that is young and fresh that maybe we're seeing the musical theater being re-invented.
"That's what we're hoping."
Spring Awakening runs through Aug. 2 at Kennedy Center Eisenhower Theater. Tickets are $25 to $90. Call 202-467-4600 or visit www.kennedy-center.org.