All the Gay Games buzz these days might have you counting down to Cologne — Opening Ceremony July 31, 2010 — just a tick away by international-sports-event standards. But GLBT folks in the D.C. area are buzzing with a different Gay Games focus: "I'm game 2014!"
D.C. is in the running, along with Cleveland and Boston, to serve as host to Gay Games IX, the "Freedom Games," five years from now. The Site Selection Committee is checking out the city and Metropolitan Washington Gaymes (MWG) is hoping to give them a welcome they won't forget.
"We're working with officials and partners for our oral presentation, which will be in Cologne. We have the mayor's support. We've done our homework," shares Vince Micone, president of MWG. His group is also trying to get the larger community to show its collective support for the effort by coming out to an evening rally and outdoor movie Monday, Aug. 10, at Stead Park, from 7 to 10:30 p.m.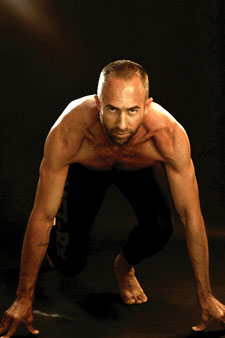 Brian Fell
"The Gay Games is more than sports. It's a cultural event," says Micone. "We're inviting everyone to come and join in our effort. And everyone can stay and watch Hairspray afterward — it's a twofer!"
Some who have participated in past Gay Games, which began in San Francisco in 1982 and were last held in Chicago in 2006, seem eager to relive past glories on their home turf.
"There were so many LGBT people who came to Sydney, which is not easy to get to," remembers Andrea Reister, pointing to the 2002 games in Australia. "We actually became the majority of the city, and the people of Sydney were so happy we were there. You'd go into a restaurant and if you had your medals on, people would clap. There was such a feeling of community and goodwill.
"[The Gay Games] is a tremendous opportunity for not only the LGBT community in the area, but for the whole region. It expands the presence and the culture of Washington, D.C., as a welcoming and open place."
Brian Fell, a world-class sprinter who competed in Sydney and Chicago and who is currently hunting for sponsors so that he can represent the U.S. in Cologne next year, might have a local bias, but he's only been in D.C. about a year and a half. Still, he says the D.C. bid is unequaled. He's particularly proud of a new track at Paul Laurence Dunbar Senior High School in Shaw that could serve as a 2014 venue.
"It's a brand-new, state-of-the-art facility — it's phenomenal," Fell says. "I don't think the other two cities have what it takes to promote a new generation of Gay Games."
As a 58-year-old local, Cecilia "C.C." Ford has far more history with D.C. than Fell. Add to that her role as founder of the League of Women Bowlers, part of the Capital Area Rainbowlers Association, and seat on the board of Team DC, the umbrella entity that brings together all the area's GLBT teams, and it's easy to why her enthusiasm for the bid is unmatched.
"The importance of hosting an activity of this enormous magnitude should get significant support of all D.C., Maryland and Virginia residents, whether you're involved in sports or not," she says. "As an event that provides so much for so many, this warrants everybody's support."
Ron Coleman, who competed in Chicago as a bodybuilder, also a Team DC board member, offers a practical consideration for those who might care more about lifting pints than fields of glory: "If you're into the bars, the bars will be crowded."
While the Gay Games would indeed bring throngs of GLBT people from around the world to D.C.'s bars, monuments, museums, clubs and other spots, Coleman does add that at the end of the day, what is most moving is the sport.
"It's great to see this huge community of LGBT athletes who are willing to go out there and do their best," he says. "It's not necessarily about getting a gold medal, but just knowing there's a whole community of LGBT athletes."
Colleen Dermody, an MWG board member who helps by applying her years of experience as a communications professional, doesn't have as much sporting experience as many of the others involved in the bid, though as a member of Rainbow Spinnakers, she's considering getting her sails wet competitively if D.C. is chosen. Despite her lack of competition, however, she points to what might be the biggest selling point for the city: sportsmanship.
"Getting involved with MWG and getting to meet many more athletes has inspired me. I'm inspired by Washingtonians who have competed in previous Gay Games. In my workaday world, it's a very tough, serious, competitive scene. What I find most refreshing in the athletes I've met is how giving and encouraging they are. It's helped rebuild my trust in people.
"When the Site Selection Committee sees the spirit of our community, that's what's going to push us over the top to win."
The "I'm Game 2014!" Rally and outdoor-movie event, Monday, Aug. 10, runs from 7:30 to 10:30 p.m. at Stead Park, 17th and P Streets NW. For more information, visit the D.C.-bid site at www.dcfreedomgames2014.org.