If there's a secret ingredient, you can bet it's butter. Butter makes everything better. And there is absolutely no substitute for it in cooking. Using something like I Can't Believe It's Not Butter is a joke and an insult to cooks everywhere. So the fact that Nora Ephron's latest concoction, Julie & Julia, doesn't come out of the oven just right makes one wonder if the director didn't somehow substitute oleo for the real deal.
Julie & Julia is based on two true stories, one following Julia Child's rise to culinary magician and Julie Powell's magical transformation, via the kitchen, from low-level bureaucrat to published writer. Rather than complement each other like fish and chips, the two stories are like pairing Kobe beef with a side of McDonald's french fries.
Living in a post-9/11 New York trying to help families recover, Julie (Amy Adams) is losing herself in her job; she's also depressed to find herself moved to Queens to be closer to her husband's office. So she decides to pursue that most voyeuristic endeavor: a blog. Her hook will be to cook every recipe in Julia Child's magnum opus, "Mastering the Art of French Cooking," preparing 524 recipes in 365 days.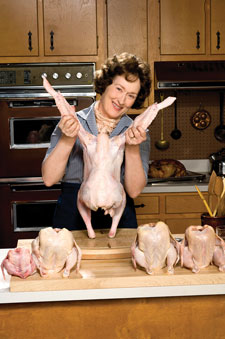 As Julie slogs through the cookbook, Julia (Meryl Streep) is fighting her own battles in Paris to graduate from Le Cordon Bleu culinary school and be taken seriously as a chef. With the unwavering support of husband Paul (Stanley Tucci), Julia first learns, then teaches, then records, the secrets behind accessible French cooking.
In this age of the Food Network and Top Chef and big, glossy celebrity cookbooks, a reminder of Child's groundbreaking role in revolutionizing the American kitchen is an important lesson. She was the pioneer that opened the door for the Rachael Rays of today. But her story gets lost in the chick-flick nature of the film, buried under too much whipped cream, meringue and icing.
Ephron both wrote and directed Julie & Julia and serves up a film that could feed many more than it needs to. Cutting the recipe by a quarter would have been a better portion size. What starts out as a charming dinner party begins to falter when there's just too much time between courses. Each critical moment is spread out with plenty of filler in between — moments that must have seemed too darling to cut. For example, there's a scene between Julia and her sister, played by Jane Lynch, eating brie with bread and drinking red wine. While it would be a wonderful way to spend the afternoon, it's a wonderful set-up with no pay-off and it does nothing more than slow down the film's pace.
The real treat here is Streep's portrayal of Child. Making it all looks effortless, Streep's Child is a bundle of energy and moxie. There's nothing subtle about the performance. Towering over everyone else like a female Hagrid, Streep adopts Child's quivering tenor and never blinks. Streep and Tucci, last seen together in The Devil Wears Prada, exude chemistry and charm, though their sexual moments are more than a little disconcerting.
JULIE & JULIA



Starring
Meryl Streep, Amy Adams, Stanley Tucci
Rated PG-13
123 Minutes
Opens Friday, August 14
Area Theaters
Adams, on the other hand, needed more time to marinate in her role. Julie is flawed, and she's surrounded by so many bitchy friends it's no small wonder she'd rather spend time in the kitchen than with them. But Adams is reduced to doing voice-overs as Julie writes her blog and it all begins to resemble Meg Ryan's e-mail writing from Ephron's You've Got Mail. Moreover, Julie's cooking meltdowns are a little too comedic. Julie's project is supposed to threaten her marriage and job, but it's ultimately one silly mishap after another. If the stakes aren't high during the process, then the pay-off isn't going to be rewarding either.
While occasionally funny and charming, Ephron's attempts to mirror the lives of both Julie and Julia just doesn't work properly. It's a problem best exemplified by the choice of music — rather than a soft, subtle complement, it's an overpowering intrusion into key scenes. Ephron uses a heavy hand, and once something is over-seasoned, there's no saving it. That's a lesson any good cook knows.