Drew Montalvo took up DJ-ing on a dare, following a night of clubbing in New York. To prove them wrong, he impulsively spent his savings on two turntables and a mixer.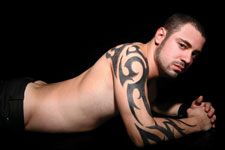 DJ Drew G
(Photo by Jeff Eason)
It took some time for Drew get the hang of it. "We've heard this song 15,000 times," he remembers his then-boyfriend complaining, as Drew regularly practiced at home for long stretches at a time. He eventually landed his first gig at New York's Stonewall bar. Now, after four years of DJ-ing professionally under the moniker DJ Drew G, the 26-year-old spins regularly at various clubs in his home base of New York, including Fire Island. But D.C. is practically his second home. He spins here monthly at Cobalt, including this Friday, Aug. 14. And on Sept. 12, he'll spin the Annual Gay and Lesbian Night at King's Dominion for the second year in a row.
"D.C. somehow smuggles more time than every place else," says Montalvo, explaining that Washington became something of a refuge after a recent breakup. As a former marketing representative for Snow Queen Vodka, Montalvo had gotten to know the city pretty well.
"I would move to D.C. now, but it's a little hard with my producing schedule," he says. Currently he's in the studio with D.C.-reared hip-hop singer Mya, working on her next album, tentatively scheduled for a fall release. He's also been working on a slew of remixes for the likes of Whitney Houston, Jordin Sparks and Ciara, all with his remixing partner Abe Clements.
"I didn't really like dance music [when I was younger]," he says. "I was a rock kid [and] used to play in bands and stuff. I really struggled with dance being the norm for gays."
It's this passion for rock that Montalvo believes sets him apart from the norm. "Since day one I have experimented with mixing some rock into dance music. I think I really represent the new wave of people who want to hear something different."
DJ Drew G spins Friday, Aug. 14, at 10 p.m. Cobalt, 1639 R St. NW. Washington. Cover is $5. Call 202-462-6569.