Few metaphors speak as loudly as sports metaphors.
Reach for the goal!
Fight to the finish line!
There's no "I" in "team"!
So it's perhaps apt to note that Washington's bid to bring the 2014 Gay Games to town faces its final public hurdle this weekend, one that if it clears will greatly increase the city's chances to see thousands of GLBT athletes test their skills and competitive spirit in more than 30 different sporting events.
With a community rally in support of the proposed 2014 "Freedom Games," Metropolitan Washington Gaymes (MWG) aims to make an indelible impression. And given the D.C. area's strong GLBT sports community, it's more than likely to make that impression.
Brent Minor, chair of MWG's bid committee, is one the biggest and most enthusiastic boosters of bringing the Gay Games to D.C. It's a fitting role for him, given his years of high-profile work as the head of Team DC, Washington's umbrella GLBT sports organization, and his previous experience on the board of the Federation of Gay Games.
"The Gay Games are an enormous opportunity," says Minor. "The potential for our city is humongous and just exciting."
While it's true there is no "I" in team, Minor certainly stands out with his untiring cheerleading for GLBT sports and the Gay Games, as well as all his other interests, from work as an HIV/AIDS activist to being onstage at the Miss Adams Morgan Pageant.
"I've never been somebody who dissolves into a very easy mold," he says with a laugh. "I'm hard to peg down."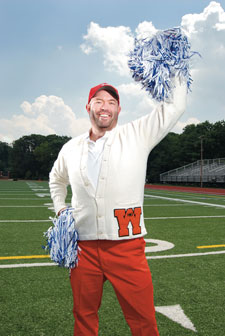 Brent Minor
(Photo by Todd Franson)
One thing, however, is easy to peg: Minor's commitment to making the nation's capital a showcase for the international Gay Games.
METRO WEEKLY: Three cities are bidding for the 2014 Gay Games: Cleveland, Boston and D.C. What makes the D.C. area unique out of those three?
BRENT MINOR: Two things: leadership and experience. Washington, D.C., has hosted more gay and lesbian championships, whether it's the [LGBT softball] World Series, bowling championships, or the gay soccer World Cup. We have hosted large gay and lesbian sporting events and you can't really duplicate that success. Somebody is going to have to get up at 3 a.m. to put those cones out for the marathon, and when we have a core of volunteers — one of our main partners is Burgundy Crescent Volunteers, and 24 different sports clubs representing about 2,500 people — we come in here with a built-in volunteer force that is experienced. The leadership that goes with that. It gives you such a leg up when you're doing something as gargantuanly complicated and multifaceted as the Gay Games. When you can come to the table with that in your pocket it puts you ahead of the game.

MW: Is it primarily about being able to manage a lot of discrete events or is it more about managing a lot of things that are interconnected?
MINOR: You could look at it as 30 different, discrete events, but you'd miss the larger perspective you need for a successful Gay Games. For us, we've tried to cluster our sports so that people can go watch other sports and participate in that way. We've eliminated spectator fees for almost all sports, as there's only a handful of sports people will have to pay to see. We want to encourage people to go to these events. [Most] are within a 15-minute walk of a Metro station. The "Our Families Project" outreaches to same-sex couples with children, for instance. We've added a Fun Run along with our 5K run so parents can run with their kids, which is a great idea. That's going to get them to participate in the Gay Games, where maybe they wouldn't otherwise.
MW: It looks like you have a number of events in the bid to target new athletes and participants.
MINOR: We have the Generation Next project to reach out to people who are 18 to 30 years old because as I look at the Federation of Gay Games, the participants are trending older. We have to create programs that bring in younger people. It's hard sometimes to participate during those years: You don't have the vacation time, it costs money. We have a low half-price registration fee for people who are college age, we have dormitory space in local colleges for when they come here. We've also created sports exhibitions for Ultimate Frisbee and rock climbing and skateboarding. I'm convinced once young people come to the Gay Games, they're going to be hooked. They're the next generation of leaders, and they're going to feel proud of their community and their role in that community.
We're looking to have a women's sports symposium in 2013 and 2014. People have asked, "Why aren't there more women involved?" We have to create the mechanisms to engage more women — not just talk about it or put more women into posters and images, which is important, but actually create the programs to do that.
We're doing a gay gospel concert, which is probably the first ever of the large-scale gospel concerts. This is about breaking the stereotype that gay people aren't spiritual. It keeps the philosophy of the Gay Games and it allows us to reach out to people who probably normally would never have a reason to consider coming to the Gay Games. People who would normally never be open to the possibility of coming to the Games, we've created the mechanisms to make it very hard for them to want to stay away. We don't just open our doors and say, "Well, come on in." Our goal is to go out there and bring them in because that is ultimately what will make the Gay Games and take them up to that next level. Our goal is to help the Federation move into that next level, as a worldwide leading organization in the gay and lesbian community. A strong host like us is going to be able to help them do that and be successful.
MW: With that many events, not every one can happen inside D.C. proper, though?
MINOR: You can't have an event this large and not be spread out. We're up in Baltimore for sailing and down in Reston for triathlon. Those are very unique sports that require a unique venue, so that's understandable. And you have to weigh the accessibility of the venue versus its own capacity and how good the venue is. Our soccer is going to be at the Maryland SoccerPlex — the fields there are as good as you're going to find in the country. That's the balance that we strove for in every single case.
MW: Who benefits the most if the Gay Games come to D.C. – the city or the GLBT community?
MINOR: Both. The city clearly makes money from the tax revenues that are generated. This is an eight-day event for people who will generally come in beforehand and spend a couple of extra days here. But beyond that, people will come to Washington and they'll see what a great diverse community we have and they'll say, "Wow, I've been thinking about moving — maybe I'll move to Washington." So it's kind of a self-promotional opportunity for D.C.
For the gay and lesbian organizations, everybody's visibility rises dramatically. I think there's even something more for the LGBT community as a whole. My friends in Vancouver, after they hosted the Games in 1990, said to me 15 years later, "That opened our eyes to how capable we are as a community. Because we never thought of ourselves as being able to run an event of this size and scope. But we did."
And all of a sudden people said, "I want to do something else." And they started volunteering with their local AIDS service organization or their local clinic or whatever it may be, because they became connected into their community through the Gay Games. People have asked, "Why do we need Gay Games?" And I think, well, for a basic reason. It makes you feel good about yourself. And when you feel good about yourself, you're a happier person. You're probably a better partner, a better employee, a better neighbor — it has a trickle-down effect on other parts of life.
MW: Is it still difficult for GLBT people to see sports as something to continue in their post-coming out lives?
MINOR: As a person who's about to turn 50, you never used to have options. Now, Team DC is awarding a college scholarship every year to a gay/lesbian student athlete who is out in high school. I couldn't even fathom that when I went to high school. Times have changed but sports is one of the last remnants of that kind of thinking. And it's not just what the straight people think — it's our own expectations.
The Gay Games help break down stereotypes: "gay men don't play sports" or "only butch lesbians play sports." You don't have to qualify to be in the Gay Games and I think that's a great hallmark of the games. People think, "I can do this. And here's the avenue to do it." Some people in life find their voice in politics and some find their voice in activism and some people find their voice out on the soccer field. All of that helps them grow and come into their own self-awareness as a gay man or as a lesbian. That's a great thing. You can't have too many opportunities to do that.
MW: I've written about and interviewed people from a lot of the different sports groups around the area, and I've seen what other cities have. Comparatively, D.C. does seem to have a really strong sports community overall. Do you think there's a reason for that?
MINOR: One thing about a city with a lot of Type A personalities, we get things done. There is that quality. I think more people are out in Washington, so you just have a greater pool of openly gay people to pull from.
I also think there is a nurturing that goes on here. I can look at some of the sports that have been around for a long time, like the DC Front Runners. There are people who have been there since they were first started 20 to 25 years ago. These are your friends now. They started off as just people who were on your same team or whatever but they do become your friends. It becomes a community within your community.
MW: There have been some incidents of violence at the Outgames in Copenhagen, including an attack on a group of athletes and the throwing of pipe bombs onto a track during an event. What were your thoughts when you heard that news?
MINOR: I know one thing, it steels my resolve to say that you're not going to scare us away. We're not going anywhere. The fact that somebody would want to throw a bomb at people running track and field, I mean, what on earth? Copenhagen is a very open city, very accepting of gay and lesbian people, as is the whole country of Denmark. But something like that can happen anywhere and it steels my resolve to say, "We are out and we are proud and we are not going anywhere."
MW: Has security been an issue for past Gay Games?
MINOR: Not to my knowledge. There's always the oddball protester. In Chicago there were people with megaphones and they were cordoned off. We're fortunate that D.C. has the experience of dealing with large-scale events, even larger than the Gay Games, and dealing very effectively with that kind of stuff. People have the right to protest, that's the price of democracy. But just as they have a right to protest, I have the right to go out and run track and field and not have a bomb thrown at me.
MW: Tell me about the chosen theme for the 2014 Gay Games bid, "Freedom."
MINOR: We found a quotation from [Gay Games founder] Tom Waddell in 1982 at the first Gay Games: "Welcome to a celebration of freedom." In '82, freedom just meant being able to come out and not being worried about being hauled off to jail. I think freedom now is not to take your freedom for granted. This is an international event. There are places around the world where you will still get the crap beat out of you if you come out as a gay person. If we can offer this as a beacon of freedom to people around the world, even those who do not come here but who read about this on the Web or hopefully see us on television, they will see this as a beacon and say, "I'm not alone." You're going to get people in places like China and Russia where it's very oppressive for LGBT people, and for them to see the Gay Games, they're going to say, "I want to be a part of that one day." And they will.
MW: Where did you grow up and what was your first big sport experience?
MINOR: Charlotte, N.C., and I really didn't play sports competitively until high school. I went to a boarding school and we were required — I was going to play football, there was no question about that. Growing up, we played sports in the back yard all the time, kick ball and whatever, but there was nothing organized until high school. And I found I loved it. I wrestled and played football — I had never realized how much I enjoyed being part of a team, counting on other people. I still remember the day I made a great tackle and somebody coming up and saying, "Great job."
MW: When did you know that you were gay?
MINOR: Well, probably when I was like 10 or so when I asked to go dressed as Jo Anne Worley for Halloween. [Laughs.] But I was deeply closeted in high school. That was just verboten. It's funny because a friend of mine who is gay told me later when I came out to him, "You're the last person I would have thought was gay." I went, "Really?" I thought I was just a sore thumb.
MW: Was it a part of yourself that you just clamped down on?
MINOR: Oh, yes, like a vise. I'm not a shrinking violet type of personality. Maybe some people thought it was just flamboyant or thought I was just a loud mouth, I don't know. But it wasn't until after high school and getting into college I began to think more about it.
MW: Was there any one thing that let you be able to let that clamp go or was it a gradual process?
MINOR: I learned that I was HIV positive in 1987 and that has a way of kicking you out of the closet and slamming the door behind you. I still remember the doctor telling me, "You've got a good two or three years, so live your life now."
MW: Did you approach life as two to three years…?
MINOR: No, I approached it like two to three weeks. It scared the crap out of me. Are you kidding? But I also told myself, "Well, if death is going to come after me, it's going to have to chase me. I am not standing around here waiting for that bus to come by." I ran my first triathlon about one year after my diagnosis.
MW: Do you feel that sports has played a role in maintaining your health?

MINOR: It's a stress relief. You go out and swim two miles and you're going to be too tired to worry about the fact that you missed your medications last week. I do think stress is a killer, whether you have HIV or anything else. It brings calm to just go out there and leave it all in the pool or on the court, whatever it may be. That's how I approach life. I do not want to walk off that volleyball court and think, "If I had only jumped higher, only dug a little bit deeper, we could have won that game." I may not win everything, but it sure won't be because I didn't try my hardest.
MW: You seem to have a lot of confidence going into the final stretch of the bid process for the Games.
MINOR: I'm confident about our capacity and our leadership and our experience. I am so proud of these people. We are so fortunate. We have such enthusiasm, from the bottom up. Sixty percent of our leadership are Gay Games veterans. There is no one who can match that. I'm very passionate about this. One of our messages is that we know the Gay Games because we are the Gay Games.
Our eyes are focused. If somebody can beat us, then godspeed to them and good for the Federation, because they are going to have to be tough to beat us. We will not take our eyes off that prize.