Local designer Supon Phornirunlit, known best by his first name, doesn't put much stock in catalogs to sell his products. "Either you love or you hate it. If you love it, you buy it," says the Thai native who's made his home in the District. He started designing and marketing home decor after a Metropolitan Home spread on his abode brought a wave of calls and e-mails requesting to buy the pillows he had designed for himself. "I don't believe in trends. I don't care what's in and what's out," he says. "A good product helps you have a happy home and makes you smile." As for the latest from his Naked Decor line, he has no favorites. "But I do love the Happy Hot Dog pillows — most people buy two." If you'd like to buy two, too, don't look for a shop. Naked Decor is strictly an online affair at www.nakeddecor.com.
Queen for a Gay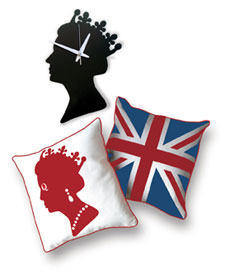 No home is complete without a queen or two, and Naked Decor's got them in spades. The silhouette/Union Jack pillow is also available in brown, and the wall clock comes in orange as well. This was the pillow that started Supon's line, and is still one of the best sellers. At $49.95 each, you can see why.
Time for Tail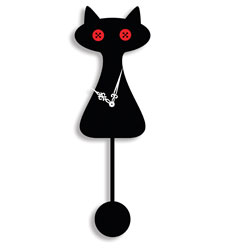 Stylish, simple and classic all at once, hopefully the Black Cat Clock spells the end for every remaining Kit Cat Klock. Designed from a popular pillow, Supon decided to keep the button eyes, and turn the tail into a pendulum. It's a design that's simultaneously elegant and familiar, and the style goes great with retro decor. Selling for $49.95, every living room could use this cool cat.
Pigs… In… Plates…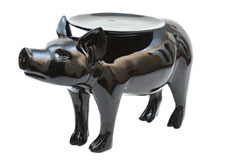 On your next date, put the pig on the table, not in the seat across from you. This 13.5-inch-high porcine fiberglass sculpture, the Pig Plate, designed to be a serving platter or an end table, originally came out in a limited edition of 25. At $595, they flew off the shelves, and Supon is currently in the process of makin' bacon to replenish this favorite.
Wild for Wieners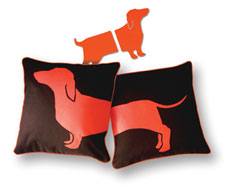 Whether it's a tribute to man's best friend or home decor's best attempt at doggie style, the Happy Hot Dog collection is a favorite of dog and design lovers alike — and several animal shelters to whom Supon has donated pillows and coasters for fundraising auctions. You can pick them up from Naked Decor for $49.95 for the two-sided pillows and $24.95 for the acrylic coasters. Daschund devotees will also love the wall clock of the same design for $49.95.
Marine Theme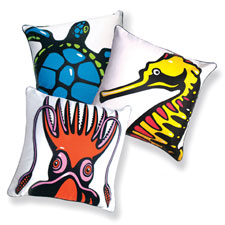 Maybe sitting on your couch will never feel like a tropical vacation, but these throw pillows sure help. In three sea creature styles — sea turtle, giant squid, and sea horse — the Under the Sea Pillows' playful prints brighten up any bedroom, and let all know that the water's fine. ($49.95)