One hundred and forty minutes is an awful lot of foreplay for a 10-minute payoff. Yet that's what Quentin Tarantino is requiring of audiences who commit to his latest film, Inglourious Basterds.
Set in Nazi-occupied France, Inglourious Basterds is Tarantino doing what he does: taking serious and bloody topics and approaching them with a quirky, irreverent eye. The "basterds," besides being poor spellers, are a group of soldiers (many of them Jewish) with one mission and one mission only: killin' Naatzis. Naughtzis? Gnat-zees? (It's tough to phonetically spell Nazis the way Brad Pitt manages to drawl the phrase in the film.)
Lead by Lt. Aldo Raine (Pitt), the soldiers are legendary for — in the following order — showing no mercy, creative killing methods, scalping, and the occasional facial carving. They're so effective and feared by German soldiers that they reduce Hitler to a red-faced, screaming child throwing a temper-tantrum.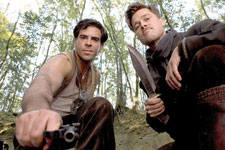 Inglorious Basterds
(Photo by Francois Duhamel)
But that's only half the story. Operating in completely different circles is cinema-owner Shosanna Dreyfus (Mélanie Laurent), sole survivor of her family's slaughter years earlier by Col. Hans Landa (Christoph Waltz). Much to Shosanna's chagrin, she captures the eye of young Nazi war hero and aspiring actor Fredrick Zoller (Daniel Brühl). When Zoller convinces the Third Reich to screen a film at Shosanna's theater, she hatches a plan to take advantage of her captive audience. The stories then overlap, as the Basterds have asked actress Bridget von Hammersmark (Diane Kruger) to help them crash the screening so they can plan their own special surprise for the Nazi guests.
Tarantino, who also wrote the script, dabbles in multiple styles throughout Basterds — many of which are seen now as quintessentially Tarantino. However, it would be hard to pinpoint just one genre for Basterds. In a cross between war films and gore-fests, there are plenty of cringe-worthy moments of blood and guts. Then there are long, protracted conversations and dialogue (though far less interesting than Pulp Fiction's), which give it a taste of drama; and there's the heist/assassination plot that makes it a suspense thriller. Yet moments of whimsy provide a light-heartedness that completely belies the subject matter. Ultimately, even with all those components crammed into one film, if "boring" was a genre, Inglourious Basterds might have to be slotted there.
The narrative is broken into five different chapters, each one lasting approximately 30 minutes. Thirty long minutes. Part One is about the death of Shosanna's family. It's an extended scene in which Col. Landa visits the home of a dairy farmer (Denis Menochet) to determine if he's hiding a Jewish family. The section is incredibly well-acted by Waltz and Menochet, but even their tense back and forth drags on.
That Tarantino repeats the same structured scene over and over and over is the film's biggest failing — the tension just can't be sustained. Rather than have audiences on edge the whole time, the slow dialogue lulls them into a stupor. Twenty Questions is a boring enough game to start with; imagine having to watch it played in a bar by an annoying Nazi soldier, all in subtitles. When the action finally starts, you're not going to be jumping because you're startled. You're going to be jumping because you were just woken up.
INGLOURIOUS BASTERDS


Starring Brad Pitt, Mélanie Laurent,Christoph Waltz
Rated R
153 Minutes
Opens Friday,
Aug. 21
Area Theaters
Naturally, Pitt is featured heavily in the ads for Basterds, but he actually has a much smaller role in the film than implied. Sporting an unexplained neck scar and an accent that's supposed to be Southern, he hams his way through the film on panache alone. Unfortunately, the scenes featuring him and the other Basterds, including director Eli Roth (Hostel) and B.J. Novak (The Office), are the least cohesive and most forgettable.
Tarantino — wisely — relies much more heavily on Waltz and the female leads, Kruger and Laurent, for the film's substance. Waltz is fantastic as the one thread throughout the film, ensuring that all his scenes are above and beyond the rest. While Kruger makes a beautiful double-agent, Laurent bears more weight in the film. A survivor through and through, her character's determination overpowers her fear, and Laurent does a wonderful job at showing the struggle between them.
Only after two hours of build-up is everyone finally assembled at Shosanna's cinema — including Hitler — so the fun can really begin. But at that point, fun feels like something that's owed to you, seeing that you've already paid for it in time and yawns.