Jerry Cowden is in the final stretch of fulfilling his lifelong dream — literally.
After setting off from his Arlington home on May 2 with 42 pounds of gear on his Surly Long Haul bicycle and a crowd of well-wishing friends behind him, the 56-year-old gay cyclist has ridden 3,962 miles, as of July 30, and is almost at his final destination: Astoria, Ore. He should be crossing the finish line by Aug. 15.
"I've always enjoyed biking and I've known for a long time that there was a route you could follow across the country if you're a cyclist. I've always dreamt of doing that," Cowden said last week, from tiny Baker City, Ore., not far from the Idaho border. "I retired in February and I'm finally doing it."
Cowden, a former program analyst for the Federal Communications Commission, has been a cyclist and a member of Adventuring, a local gay outdoors group, since 1982. He's been averaging more than 50 miles each day on this particular tour on the TransAmerica Trail, established by the Adventure Cycling Association in 1976 to commemorate America's bicentennial.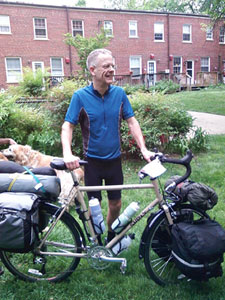 Jerry Cowden
While his ride is primarily recreational, Cowden, says completing the journey as an HIV-positive person has deeper meaning. "A lot of my friends have died. I'm of a generation that was severely impacted by AIDS," Cowden said, adding that many of the friends he lost shared his enthusiasm for biking. "Had they lived long enough, they might have joined me on this trip. [On my birthday, July 28] I was sort of reflecting on how sad it was that they weren't able to."
Cowden has been documenting his travels on his personal blog, "Jerry Bikes West," an effort that he hopes will empower other HIV-positive people. "I'm an HIV-positive gay person. And it looks like I'm going to complete this trip, a trip that when you tell many people you're doing, they look at you in utter astonishment, because [they think] they could never do that, it's inconceivable. But I firmly believe that anyone can do this if they just live up to it."
Cowden's parents were among those who thought the venture inconceivable, though they were the ones who helped launch Cowden's passion by buying him a bicycle as a college graduation gift in 1975.
"I'm convinced they thought for sure I was going to die on this trip," he said with a laugh, ticking off his parents' fears, from reckless motorists to remote encounters with psychopaths. "That was never really a concern of mine. Hundreds of people do this every year."
And like those hundreds, Cowden has had to explore different places to sleep. "For the first part of the trip it was mostly hotels, but occasionally, I would stay in private homes," he said. Helping on that front has been WarmShowers.org, a Web-based organization that connects cyclists with other cyclists who are willing to share their homes.
"After northern Colorado, I switched entirely to camping. Other than staying in a few private homes … I've been camping quite a bit." Though the ride has been mostly smooth sailing, Cowden said there have been a couple of challenges that might not have been part of every bicyclist's burden.
One challenge was timing his ride so that he would be in the correct city on the correct day to pick up his HIV medication.
"I'm on a pharmacy mail-order program and I had to try to guess where I would be within two to three weeks, and have the pharmacy mail my medications to a general delivery address at the post office of the town that I thought I might be in. I've done it twice. Both times I timed it right."
The first pickup was in Dylan, Mont., and the second was in Larned, Kan. However, even though he got his medications without a hitch, Cowden discovered a new problem that forced him to stay an unexpected few days in Kansas.
"People are often reluctant to talk about hemorrhoids," Cowden said of the second challenge. But after doing some research and learning that, "80 percent of the world suffers from hemorrhoids," Cowden discussed this particular, painful handicap on his blog.
"The general thought is biking does not cause it, but once you have it the biking can indeed aggravate it. That's why I had to knock off a couple of days in Kansas to let things subside and calm down and treat it the best I could." The extra time off the trail allowed Cowden an opportunity to enjoy some experiences that might be hard to come by back home in D.C., such as riding in a grain elevator in Scott City, Kan. He also spent some enriching time hobnobbing in the heartland.
"I felt like I connected to local people there, talking to them about their lives and how different it is from the life of a Washingtonian." With less than 650 miles to go, Cowden last week expressed confidence that his Astoria arrival will put him a week ahead of schedule. He is planning on staying in Portland, Ore., for two weeks, before boarding a train for the long ride back to Washington.
"I'm not certain that this ride has changed me," he added, reflecting on the past two months. "I feel like I'm incredibly lucky, living in Washington. I have access to all sorts of resources, I had a good job and I was well paid. There are so many places in America where people are just eking by."
And while Cowden suggests future adventures might include a bicycle ride in Alaska, his focus, once home, will be taking on simpler pleasures. "I have a big sweet tooth," he says. "So I may go eat a piece of cake."
To read Cowden's blog, visit Jerry Bikes West.