Four months after being fired from his post as the director of the D.C. Department of Parks and Recreation — the highest openly gay appointee in Mayor Fenty's administration at the time — Clark Ray has announced that he's formally running for the at-large City Council seat currently occupied by Councilmember Phil Mendelson (D).
According to the Aug. 18 announcement, the campaign officially begins Sept. 12.
And while the many GLBT locals who are among the more than 250 people on the committee formed to draft Ray into this race are celebrating the announcement, some who are not are left perplexed. That's because Mendelson, who is straight and currently serving his third term, has a reputation as one of the GLBT community's strongest allies.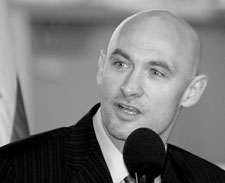 Clark Ray
Bob Summersgill, who has worked with Mendelson on a series of bills expanding domestic-partnership laws for same-sex couples living in D.C., sits in the Mendelson camp.
"Why would anyone want to replace Phil Mendelson?" Summersgill asks. "Phil has the best record on gay issues on the D.C. Council."
Mendelson's pro-GLBT efforts on hate-crime legislation, marriage equality and other issues have in the past earned him praise from the Gay and Lesbian Activist Alliance (GLAA), endorsements from the Gertrude Stein Democratic Club, and most recently, The Center, the area's GLBT community center, slated to honor Mendelson at a Sept. 10 reception.
"I have a little trouble understanding why people in our community, who are working so hard for marriage rights, would look to unseat the member of the Council that's pushing the hardest for it, who's done almost all the work to date," Summersgill says.
Local gay activist Peter Rosenstein, who leads the Clark E. Ray for DC Council-at-Large Committee, says he is looking at not just GLBT issues but all issues before the Council.
"When people say Phil has been good on GLBT issues, I say of course he has, and Clark will be just as good," says Rosenstein. "But Clark will be good on education [and] on crime fighting. He's a reserve police officer, he's walked the beat he understands both the issue of being tough on crime and what it means to protect people's civil rights while he's doing it."
A Smackover, Ark., native who has lived in Washington since 1988, Ray originally came to Washington to teach at American University. He got involved with politics working for the Bill Clinton campaign, among others, and went on to work for the Clinton administration for eight years. He then worked for former D.C. Mayor Anthony Williams, and finally Mayor Adrian Fenty.
"I have about 15 to 16 years of experience on the executive side of politics," he says. "Now I want to take that executive experience — knowing how government is supposed to work, knowing how it works, and believing I have the opportunity to make it work — and transfer it over to the legislative side."
Rosenstein predicts that if elected, Ray will be "just as good" as Mendelson on gay-related issues.
"He's a compassionate gay man who has a long-term partner, and they are both looking to adopt a child sometime in the near future. He understands these issues."
But Ray himself says he won't be using his orientation as a selling point to win: "I would not approach a race in that manner."
As for how his vision might differ from Mendelson's, Ray says he is hoping to approach old problems from a new perspective.
"I honestly don't know what Councilmember Mendelson's vision is," says Ray. "I haven't been that closely listening to him as a single councilmember.
"I'm telling you that the things I'm going to concentrate on are the same issues that the city government folks have worked on for years: education, economic development and public safety. I want to come in and maybe look at some of the same old problems in a different way."
Summersgill, however, having pushed legislation improving the rights of GLBT Washingtonians, worries what losing Mendelson could do to gay-rights momentum. When it comes to such legislation, he says Mendelson and Councilmember Jack Evans (D-Ward 2), both straight, have been able to accomplish more than the two gay councilmembers, David Catania (I-At large) and Jim Graham (D-Ward 1).
"I think in times past, or in places less progressive than D.C., it really matters a lot to have an out gay person there," Summersgill says. "But in D.C., all of our councilmembers already know gay people.
"What kind of message does [drafting Ray] show to the councilmembers who are less committed? Are we sending the message that if you back us, we won't be there for you? You go out ahead of your constituents and do what's right, we might just run someone against you?"Rosenstein emphasizes that while he's grateful to Mendelson's contributions, it's nonetheless time for change on the City Council.
"I really believe that there has to be a change in leadership every once in a while," he says. "You need new ideas and new energy. Phil has now served three terms for the Council. He worked for the Council before that, so he has spent nearly 20 years down at the Wilson Building. I believe that if what you've tried to do for 20 years, if you haven't done it yet, it's time to let someone else come in with new energy and new ideas, to look at problems in a different way."
Regardless of his record, Mendelson is not taken aback by a gay challenger backed by many in the GLBT community.
"I'm never surprised by this sort of thing," he says, adding that he takes every election seriously. "I don't make any assumptions about running for re-election to be easy. I have a lot of support in the GLBT community. I have a strong record on GLBT issues, from being concerned about hate crimes and strengthening the hate-crimes law, to marriage equality…. I have no hesitation standing toe-to-toe with anybody on these issues — within the GLBT community, or elsewhere."