Poppy Champlin was frustrated. As a lesbian stand-up comic she was landing the right kinds of gigs — Dinah Shore Classic, Rosie O'Donnell's cruises — just not enough of them. "There's only so many gay events every year," she says. "I needed to try to make money." So, a few years ago, she called The Birchmere, the venerable performance club in Alexandria to see if they'd book her. "They were like, 'We don't really know who you are," she recalls. So Champlin made a deal — she'll bring together two more lesbian comics and christen the night Queer Queens of Qomedy. The Birchmere agreed. Deal done. An annual phenomenon was born.
This year's Queer Queens of Qomedy, Saturday, Aug. 22, at 7:30 p.m., features Champlin, Julie Goldman and Vickie Shaw. It's Champlin's responsibility to assemble the night's bill. "I usually choose the veteran comedians who have really solid foundations," she says. "They've been in the trenches as long as I have and are people who have a real depth of comedy history."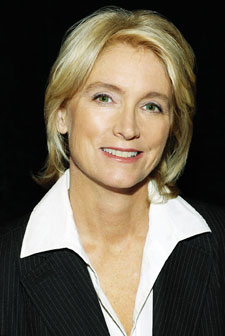 Poppy Champlain
(Photo by Beck Starr)
Champlin, who when asked her age, chuckles "I am to the point of 'please don't ask,'" categorizes her comic style as "observational, with a twist." She draws the line at gross-out humor. "I think some people confuse being shocked with being funny. There is value in being shocked. People like to have their senses prodded but I don't like gross and disgusting gay humor that is humiliating to women. It doesn't sit right with me."
Queer Queens of Qomedy is this Saturday, Aug. 22, at 7:30 p.m. at The Birchmere, 3701 Mt. Vernon Ave., Alexandria. Tickets are $25. Call 703-549-7500 or visit www.birchmere.com. Read Poppy Champlin's answers to the Nightlife Coverboy Questions.