When it comes to summarizing the attraction of a rooftop, no one surpasses the lyrics written by Gerry Goffin and Carole King, sung beautifully by The Drifters in 1962.
When I come home feelin' tired and beat
I go up where the air is fresh and sweet
Up on the roof
I get away from the hustling crowd
And all that rat race noise down in the street
Martini Sky Bar at the Beacon Hotel
That's only a tiny part of "Up on the Roof," a musical tribute that taps into the primal joy of finding refuge above the action. As children, that joy drives us to climb out of bedroom windows, risking life and limb by sitting on slanted roofs, or to scale trunks into beloved tree houses.
As adults, the options improve mightily. And in D.C., it seems those options are improving at a steady and stylish pace.
Behold P.O.V.
Last month, Starwood Hotels & Resorts Worldwide gave the District the W Washington D.C. at 15th Street and Pennsylvania Avenue NW. This dazzling renovation of what was formerly the Hotel Washington includes P.O.V., the city's hottest new rooftop destination.
"Among my first impressions was that I had missed those views and it was nice to have them back," says Gene Delgado, a local designer who had been on this particular terrace in the sky back when it was still the Hotel Washington. "Then I looked around, and they'd done a beautiful job."
While the W didn't create the view, it offers a beautiful venue from which to soak it in. P.O.V.'s outdoor terrace, which will remain open year-round — save for times of heavy snow — is a casually cool expanse of black and red allowing top-down peeks at the White House and other capital landmarks. P.O.V.'s indoor bar also cashes in on the view with expansive windows that seem to offer an eye-level peek into the windows of the Washington Monument.
With its high-backed chairs, dark-wood floors and red leather, this indoor perch above Washington feels like the setting for a naughty chapter of Alice's Adventures in Wonderland. Bypass the Caterpillar's hookah in favor of a drinks menu by renowned bartender Sasha Petraske. After conquering London and New York, the W marks Petraske's entrée into Washington, where his potable-purist sensibilities translate to the perfect ice — sphere, cube, crushed and so on — with the unadulterated pours. Do not embarrass yourself by asking for any flavored varieties of vodka.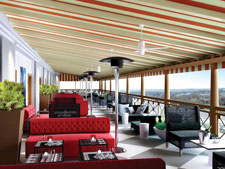 P.O.V. at the W
Another no-no is showing up without a reservation. While the original plan allowed for about a third of the traffic to be walk-ins, the monumental interest in P.O.V. has forced a reservations-only policy. With your space secure, make your way to the lobby elevators. Your carriage will be the attended elevator behind the velvet rope.
Reservations aside, if you're looking for a more exclusive rooftop getaway, try another newcomer — the Donovan House hotel on Thomas Circle. Thompson Hotels' first D.C. property, once a Holiday Inn, offers a rooftop pool for a splash in the clouds by day. By night, the wooden-deck transforms into ADC (Above D.C.), an ethereal venue of candlelit cool, as a DJ spins and the bar shakes and stirs. But unless you're renting out the roof for a private party, you'll need more than a bar reservation to enjoy ADC — you'll need a room. This top spot is an exclusive escape for Donovan guests. Take advantage of the hotel's current sale on weekend rooms to close out summer with a bathe and a beverage.
Less exclusive and very popular with the locals is the Martini Sky Bar at the Beacon Hotel at 17th Street and Rhode Island Avenue NW. The Sky Bar is usually open all week, except for Mondays, from April to October, depending on weather.
"It has become very popular, especially with a lot of the people from the neighborhood," says Hector Torres, a partner in the hotel's parent company, Capital Hotels & Suites. "It's a place people can go on a moment's notice, a place that's familiar. And it overlooks a neighborhood near and dear: Dupont Circle."
Though the Sky Bar's atmospheric address is directly across the street from the Human Rights Campaign headquarters, there is a gayer rooftop in Washington. Merely a single story above the street, the terrace at Nellie's Sports Bar at Ninth and U Streets NW, offers the chance to be above the street-level chaos with a year-round, rain or shine crowd of GLBT bargoers.
Also in the U Street area, Tabaq Bistro serves a Mediterranean menu on its fifth-floor, glass-enclosed terrace, while Local 16, at 16th and U Streets NW, offers cocktails and cuisine on a wood terrace overlooking the busy intersection.
In Adams Morgan, find a sophisticated setting for drinks or dinner at Perry's perch on Columbia Road and 18th Street NW, or get down with the younger, super-causal set at The Reef, also near 18th and Columbia.
Regardless of which roof you favor — and this is but a sampling — when there's need to rise above the concrete and crowds, aeries abound.