Over two and a half years ago, Duncan Sheik produced the debut album from gay pop singer Chris Garneau. Music for Tourists was released one month after Sheik's musical Spring Awakening opened on Broadway, and just as the buzz was building that would ultimately lead to several Tony Awards in 2007. But it was too soon for the Boston-bred, Brooklyn-based troubadour to garner much of a publicity assist from his Sheik connection. And an album as light and wispy as Music for Tourists – with simple instrumentation and Garneau singing mostly in whispers or a delicate falsetto – needed all the external assist it could get. There just wasn't much there to grab you on its own.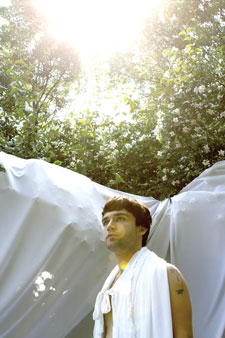 Chris Garneau
But never mind all that. If you're unfamiliar with this green-eyed sensitive singer, Garneau's new, Sheik-less album serves as a far better introduction. El Radio is still often musically sparse and delicate, and Garneau still often sings in a little boy's voice. But this album is altogether more confident, with songs that are as likely to be playful, even spirited, as pristine or melancholy. The album finds Garneau drawing much deeper from the well of quirky music, incorporating sounds and styles from the carnival, Americana and baroque as well as folk and chamber pop. His lyrics are also cleverer, expressing complicated sentiments or questioning accepted wisdom and faith.
Sure, he's still dramatic with a lower-case d compared to contemporaries such as Regina Spektor, Rufus Wainwright, Antony Hegarty or Jay Brannan. But then most people are.
The new set opens with a harmonium and strings offering a gorgeous overture, straight out of the classical playbook. It's not until nearly two minutes into "The Leaving Song" that Garneau sings, hesitantly. "I, I know, you like it. I, I know, you do," Garneau sings. "I have made a ruckus, and I made it, for you." Turns out, it's a cue to leave; he realizes he needs to grow on his own. And grow he does, as the album continues. Jaunty first single "No More Pirates" questions what's good and what's evil, and a belief in religion. "The things they think they love, are all the things I know I hate," Garneau sings.
The album's sublime standout track "Fireflies" is what Garneau has said is a tune he wrote before Music for Tourists but that had never been recorded. It sounds like it could have been written a century ago, actually – it's as timeless as can be. "You're making friends with the fireflies. You know when they die their light stays alive," he sings, cautioning about people and friendships. "And the things they say are not what they seem. So you've been called to tell us what they mean."
It can be difficult to tell what Garneau means lyrically. He sometimes leaves his lyrics so cryptic and open to interpretation, they become meaningless. "Hands on the radio, we left too soon. We left you in the afternoon," he sings on the haunting track "Hands on the Radio." You'd never guess he's singing an improbable ode to the Mexican border city of Ciudad Juarez, where the murders of hundreds of female factory workers remain unsolved. And not even the repeated lyric "This town is my favorite" offers any clue.
Chris Garneau
El Radio
Absolutely Kosher
$14.98



and a half

Jay Brannan
In Living Cover
Nettwerk Records
$12.98




"Hands on the Radio" is just one of several songs here that Garneau says were inspired by strong women. One such woman: Garneau's late grandmother Eleanor. The "El" in the album's title draws from her name. She died just as he started writing for the set, a development that he says influenced the outcome. On the nursery rhyme-esque "Things She Said," Garneau apologizes to his mother and says, "it hurts." Surely, given this album, all's forgiven – and all's better – now.
---
Jay Brannan just released his laudable debut album, goddamned, early last year, but the quintessential troubled artist is already out with a new set, this one built around covers of songs that inspired him. Clearly, the Shortbus star is wanting us to think of him as a serious singer-songwriter, not just as an actor willing to get naked and do silly things for attention. And why not? He's a compelling musician, with a gorgeous tenor.
In Living Cover is a fetching set of seven covers of songs, from the likes of Bob Dylan, Joni Mitchell and Ani DiFranco. Brannan makes each one his own, in his own acoustic, expressive style – you've never heard the Cranberries' "Zombie" quite like this, for example. The set also features two originals that are every bit as strong: the exquisite "Beautifully," about learning to love one's self, and "Drowning," the first song Brannan ever wrote, at age 19. It's about the struggle to survive – and thankfully, he's persevered.