Earlier this year, Arlington's Signature Theatre won the Tony Award as the country's best regional theater. This Saturday, at its annual open house, the theater will put it on display. "You can get your picture with a Tony," teases Signature Theatre's Matthew Gardiner. Indeed, a photographer will be on hand to snap pictures with the theater's gold statue.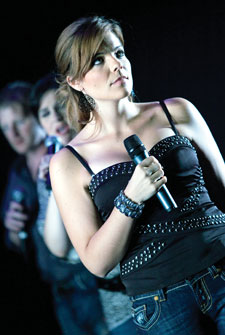 Of course, the real draw of the day is highlights from Signature's upcoming season, including musical productions of Dirty Blonde, Showboat and Sweeney Todd, as well as cabarets and concerts from well-known local actors and singers.
"The open house is an opportunity to give free performances to the community, and give everybody a little taste of what Signature Theatre is all about," explains Gardiner, the resident assistant director in charge of the event, which will take place throughout the Signature complex, from its two theater spaces to its expansive lobby and outdoor plaza. There will be activities for children and giveaways from corporate sponsor Target. Signature itself will offer a this-day-only special: half-price tickets on select dates to the six main shows next season.
"Probably the most exciting [performance] is the Nevermore reunion concert," Gardiner says, about the Matt Conner musical that premiered years ago in the theater's former Garage space. Broadway veteran Flo Lacey and Dan Cooney, currently starring on Broadway in 9 to 5, are among the many performers on hand for the reunion. Meanwhile, Emily Skinner, star of Dirty Blonde, Signature's first show of the season, will incorporate highlights from the Mae West musical in a solo cabaret. And gay actor Will Gartshore, set to star in Showboat later in the fall, will offer another cabaret in the mid-afternoon. For the day's finale, Holly Twyford will emcee a nighttime concert on the plaza with all the day's performers, over 50 total.
"It should be a really, really exciting day," says Gardiner.
Saturday, Aug. 8, from 11:45 a.m. to 9:30 p.m. Signature Theatre, 4200 Campbell Ave., Arlington. Free. Call 703-573-7328 or visit www.signature-theatre.org.