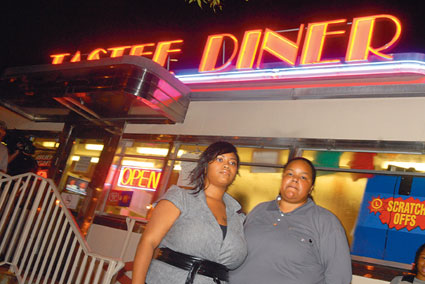 Ford and Brown at the Tastee Diner in Silver Spring
It was a special night at Silver Spring's Tastee Diner. The patrons, about 50 of them, all had a sort of mission: public displays of affection.
"We asked for people to show tasteful signs of affection, whatever they deemed appropriate," says Aiyi'nah Ford of the Aug. 19 event, which could be termed a protest considering it all began a week prior when Ford and her female date, Torian Brown, were, according to Ford, kicked out of the 24-hour restaurant for embracing.
"Some individuals did kiss, some individuals embraced. And it's a family establishment, so children were brought to the protest, which really warmed my heart and validated that I had made the right decision in pursuing this."
Ford claims that after a Wednesday night out, at around 2 a.m. on Aug. 13, she was hugging Brown in the front area of the restaurant, waiting to tip the waitress who had given them "exceptional service," when the couple was reprimanded for hugging.
"Next to us there was a heterosexual couple who was basically making out," Ford says. "Compared to what we were doing, it was explicit. Nothing was said to this [other] couple."
Ford, a client-services representative known in the community as online radio talk-show host "Simply Nay," says when on-duty manager Paul Terko spoke to the couple she initially assumed he was talking to the heterosexual couple.
"He said, 'Can you please go outside with that?"' she says. "I said, 'Are you serious? It's 2009.' He was joined by a colleague…and stated, 'This is a family establishment and people are trying to eat.'
"I was floored. This is 2 o'clock in the morning, so I don't know anybody's family that's out at that time eating."
Tastee Diner owner Gene Wilkes says the diner is a family restaurant 24 hours a day.
"We have tourists who are on different times and are looking for a place to grab a burger or something," he says. "So we do occasionally have kids in here with parents."
But Ford believes the couple was targeted because they are lesbian.
"I won't say because we are black, because the other couple [was] of color, if I recall. I do think it's because we are lesbian and Torian is a dominant female."
In addition to organizing the Aug. 19 protest, Ford filed discrimination claims with the Better Business Bureau and the Maryland Commission on Human Relations.
"This isn't just the one gay girl who's a little upset," she says. "It's legitimate."
Tastee Diner general manager John Littleton insists that the couple was not targeted because of their sexual orientation. He says they were simply asked to "tone it down," adding that the situation then escalated.
"[The manager on duty] Paul Terko is saddened that his message has been taken the way it has," says Littleton. "It was never his intent to offend anyone, and he didn't say leave the restaurant. He asked them if they would refrain from that activity. Then they got upset with him and he said, 'Please take it outside.' There was no arrogance displayed on his behalf."
Dr. Dana Beyer, a Chevy Chase resident who serves on the board of Equality Maryland, the state's primary GLBT-advocacy group, attended the protest. She has also seen the grainy surveillance video of the incident released by Tastee Diner and posted to YouTube.
"It was very, very grainy and I couldn't make it out," she says. "I wouldn't make a judgment on the basis of that."
Still Beyer says she is disturbed by the couple's claim.
"I would think that a gay couple hugging would not be considered outrageous while a straight couple smooching and kissing would be considered normal. It's unacceptable."
That's one of the problems with the video: The kissing couple is nowhere in sight.
Ford says they were out of the scope of the camera.
"But Paul Terko is quoted as saying that they were making out and touching and basically being a lot more cuddly than we were," Ford says.
In an interview with the Silver Spring Penguin, Terko said that he had received complaints from customers about another couple that night. He says he asked them to stop and they complied.
Littleton said he could not find that particular couple on the video.
"We can cover most of the restaurant, and I have searched for that," he says. "There was nobody making out in the booths next to [Ford and Brown]."
Ford believes the surveillance video hurts rather than helps Tastee Diner's position.
"First of all, you can see how long we were standing there. Second of all, they stated when you do more than kissing, then it becomes X-rated. If you look at the video, we never kissed, so they're contradicting themselves."
But Littleton says the video proves that Ford and Brown were acting inappropriately.
"It shows the lady sitting down, putting her face in the other lady's breasts, standing in between the other lady's legs, and their entire bodies were pressed up against each other. Twice, she goes down into the cleavage of the other lady's breast area. The manager gave it a minute or so, debated for a minute about what to do, and asked them nicely to tone it down."
Beyer says she is pleased that the protest was enough to inspire Dan Reed, a popular blogger who runs "Just Up the Pike," to get personal on an Aug. 20 post titled "On Being Black, Gay and Hungry."
While Reed says he's been out, sexuality is not a topic he has ever discussed on his blog, usually limited to development and politics in Montgomery County.
"The place where [Ford and Brown] found themselves, the intersection of race and sexuality, is something that I especially related to," he says. "I'm half black and half East Indian. I grew up a couple of blocks from the Tastee Diner and what happened last week was not the first time I heard about discrimination there whether it was because of race or sexuality, or because you look young."
Reed has been covering the couple's story on his blog.
"The only people who know what happened that night are the couple and the staff at the Tastee Diner," he says.
"But even if Aiyi'nah and Torian did something seemingly 'inappropriate,' it was still at 2 in the morning on a weeknight at a diner in downtown Silver Spring. I don't think the family argument works there."
As for Ford and Brown, Wilkes says they are welcome back at the restaurant.
"I'd like to let them know that they should feel comfortable in our restaurant. We don't discriminate in any way. We certainly don't have anything against the gay community."
And while neither side may be able to prove exactly what transpired, Beyer points out that a positive message has been sent with the protest.
"It's not enough to pass legislation, which is what Equality Maryland spends a great deal of time doing," she says. "A lot of it has been in the implementation of those laws, which gets down to changing people's attitudes. It's normalizing everybody in our community, having everyone viewed as a human being of value, and this was just one more step at making that point. I hope that the owner and staff of Tastee Diner understand that. It's certainly their right to expect appropriate behavior, but that appropriate-behavior standard should apply to everyone."