Judy Shepard hates October. The sixth day of that month marks the night her son Matthew was tied to a fence in Laramie, Wyo., and brutally beaten. Within a week, on Oct. 12, 1998, he died of those injuries in a Fort Collins, Colo., hospital, surrounded by family.
Just 21 when he was murdered, Shepard's death shook a country dealing with GLBT equality as a political issue growing more pressing by the day. Matthew Shepard was not the first — nor the last — to be targeted because he was gay. But the circumstances were right for him to become the universal victim of anti-gay violence.
His mother is left to make sense of what that might mean. And while so many have been introduced to Judy Shepard as she campaigns for equality, first as Matthew Shepard's mother, second as the executive director of the Matthew Shepard Foundation — though Matthew's friend, Jason Marsden, began filling that role in July as she moved into the position of foundation president — she's now offering more of herself than ever before. Earlier this month, Hudson Street Press published her book, The Meaning of Matthew: My Son's Murder in Laramie, and a World Transformed.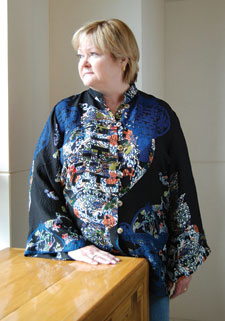 Judy Shepard
(Photo by Todd Franson)
Shepard writes of her son's HIV infection, his being raped in Morocco on a student trip, and other parts of her son's life that she might prefer remain private. She also offers bright spots that didn't make the headlines, like learning that the police officer first on the scene of her son's attack in Laramie told her that a doe had been sitting in the grass next to Matthew. She writes that she likes to think that doe watched over her son through the night.
For all the book is, it's certainly not her last word on the matter. Rather, with a book tour, The Meaning of Matthew will likely make Shepard's life busier. Last week, ahead of delivering the keynote address at the Sexual Minority Youth Assistance League's annual brunch and talking about the book at a downtown bookstore, Shepard took a bit of a breath.
"I've been on the road 10 days," she says. "I had to go home to Casper and pay bills and do my laundry. Casper is where I can just be me. My two cats are there, Oscar and Emmy — we just need a Grammy and a Tony. My girlfriends are there. We play mah-jongg, go to the movies, eat hamburgers. I can just be me."
But after only two days in Wyoming, she was back on the road. With unwelcome October around the corner, Judy Shepard prefers to keep herself busy.
METRO WEEKLY: Did you feel compelled to write The Meaning of Matthew, or were you urged by others?
JUDY SHEPARD: In the beginning, there were a lot of people who wanted me to write a book, just so they would know Matt better. But I wasn't ready to do it then. I didn't feel like I knew enough about the GLBT community, or the causes, or what I was going to do. Plus, it would've required a lot of delving into memories that I had no desire to go back to.
Then a few years ago I wanted to do a book of the letters that had been sent to us in the hospital and soon after he died. They were such beautiful, beautiful letters.
Then, coincidentally, I met a book agent who recommended I do this book first. I had to think about it for a while. I wasn't really sure I was even ready, still, to do it — or that I wanted to. But there are quite a few mistakes about what happened to Matt and what happened afterward that keep being perpetuated in the media because of the movies or stories. So I thought it's just time to set the record straight and tell our truth.
MW: Delving into the memories to write the book, did you find the process painful? Cathartic?
SHEPARD: Both. It was really hard to go back, but once you open the doors it's like floodgates — so many other memories began to come through. In that respect it was cathartic, but also really hard, because you have to be in the moment. Some of it is kind of uncomfortable to share, just because it's so personal. You wonder how much do you really need to share.
There were some things I would not have told, had they not already been released to the press. For example, what happened to him in Morocco. I didn't really think it was relevant to everything else. But someone thought we should share that story, so I just wanted to make sure it was told right, as far as I knew.
I wanted people to understand that Matt was a real, three-dimensional human being and not just a name on a page. I wanted their Matthew to meet my Matt, warts and all. So that's why we did the book.
MW: Reading the book, the story of Matthew being raped in Morocco really does color the rest of his life.
SHEPARD: Matt didn't get over it. But he was 18 when it happened and 21 when he was killed. So, just three years. He never really stopped blaming himself, as I'm sure other victims do. It was a wound, and there were times when it would be reopened by an incident or a story or even a movie. He really did suffer with it. In that respect, I think it really was important to tell the story of Morocco.
MW: The book details the trouble you had with the Catholic Church's high-profile campaign against the death penalty during sentencing, as well as the press' invasion of your privacy. Has either entity redeemed itself in the years since?
SHEPARD: There's an exception to every rule, right? The press overall was pretty good. I think GLAAD had a lot to do with that. Katie Couric was wonderful, very compassionate, very empathetic to our situation. She was just wonderful. But we've been interviewed by high-profile newscasters and they were just soulless. I don't know how else to describe them. It's been a real mixed bag, both church and the press, and you meet individuals who remind you that you can't paint everything with a broad brush.
MW: With the book tour, what kind of feedback have you been getting?
SHEPARD: I don't read anything from the book. I talk for a few minutes and then I open the floor to questions. I think that's been really helpful to attendees as well as myself.
MW: What are people asking?
SHEPARD: A lot [of the questions] are about forgiveness and reconciliation between the men who murdered Matt and ourselves. There has been no sign of their willingness to do that, so we haven't considered it.
Blame. Anger. The religious right. The extreme religious right. Questions that are just still on everyone's mind. They're the kinds of questions that don't really have answers. I can give my perspective, but I can't really give a definitive answer. I'm sure they'll be asked again and again.
An interesting concept of tps://mwonline1.securesites.net/templates/javascripts/tiny_mce/themes/advanced/langs/en.js" type="text/javascript"> what's happening now is the interaction between audience members, which is really kind of cool. There are people asking questions, and if I don't have the answer, maybe somebody else in the audience will have something to add, particularly direct-service providers. It makes me feel great. That's really what we wanted to do. We don't want to reinvent the wheel — we want to collaborate and share information.
MW: Looking at your schedule — just for D.C. — you've got the SMYAL brunch, a book talk, the HRC National Dinner Oct. 10, the National Equality March Oct. 11. You wrote in the book that you hate October. Does keeping busy help?
SHEPARD: Yes. I used to think when people would say, "I'm feeling really down. This is the week — or the month or the day — when my loved one passed away" that [they're] just putting [themselves] through that by remembering it. But it sneaks up on you and really takes you by surprise. I had no idea it was going to hit me like that. I really do try to stay busy. I generally don't promise to do anything right around that week. I never really know how I'm going to be able to handle things then. Sometimes the emotion just takes over, no matter how hard you try not to let it happen. We try to be more celebratory on his birthday, Dec. 1. We were blessed to have the years with him that we did.
MW: Another sad time for you must have been the recent death of Sen. Kennedy (D-Mass.).
SHEPARD: He was an amazing man. He was our greatest champion. He and [former] Sen. Gordon Smith (R) from Oregon, they were just always with us. When the hate-crime bill failed, Sen. Kennedy would call me and promise, "We'll get it done, we'll get it done, I promise. I realize it's been a long time."
He was very compassionate. And not with just the hate-crime bill, but all the causes of the gay community. He understood it's a civil-rights issue. He was just amazing. We were so sad to lose him. We really don't have a champion in Congress anymore.
MW: In politics or activism, whom do you admire?
SHEPARD: Well, this may be trite, but I really admire the president. I just think he has a lot going on, a lot on his plate. And I think he's handling it very gracefully. I'm trying to be patient with our causes, because we're not the only guests at the party — there's a lot of stuff going on. I know he'll get it done. I just try to remind myself he can't do this by himself. He needs Congress to do it with him. There's this give-and-get process in Congress that I don't like at all and don't understand. But you have to play the game. That's just how it goes.
I also admire Al Gore. I think he's terrific. I just think he's an amazing man. President Clinton was really gracious to us, as was Secretary of State Hillary Clinton. They were very gracious. Tipper Gore was amazing.
MW: Have you met the president and the first lady?
SHEPARD: Yes. I thought they were lovely and very real. Of course, I didn't have a beer with them, but I thought they were just lovely. I was invited to one of the White House luncheons by the first lady and also that same day met with the president in the Oval Office about the hate-crime bill, just briefly. And then we were part of the Stonewall reception in June.
MW: At the other end of the spectrum, Rep. Virginia Foxx (R-N.C.) comes to mind for calling the hate-crime element of Matthew's murder a "hoax" in April. Have you had any discourse with her?
SHEPARD: She did write me a letter apologizing for her choice of words — not for her ignorance or her sentiment, but her choice of words. I don't know…. That seems sort of irrelevant to me.
It cuts me to the quick when it's a woman who says the gay community is "less than," because you just think that moms are going to get it. But sometimes the most virulent, anti-gay individuals are women, and it just baffles me. I guess I assume that they'd care more about the children than men would, be more understanding of that fluidity of sexuality than men would, than a dad would be. But I don't have any experience with that because Dennis couldn't have been a better dad to Matt in that regard. But it just really surprises me when women are so anti-gay.
MW: At the HRC National Dinner, you and your husband will be the first recipients of the Edward M. Kennedy National Leadership Award. Does the award mean more to you bearing his name?
SHEPARD: It does. He was such a great, great man. I admired him so much. And to be honored by HRC for the work that we've done, it's just a really big honor. It's huge.
MW: Of the organizations you've worked with, aside from your foundation, are you closest to HRC?
SHEPARD: HRC has been the one most consistent. My leanings are more political. I feel for the families, but I don't really think they need me — they operate much more effectively on a local level. Since I'm a publicly known name, sometimes it makes it more effective to be on a national venue than a state venue.
MW: Not answering phones anonymously in a church basement somewhere?
SHEPARD: [Laughs.] I tell people, if this hadn't happened to Matt, that's what I'd be doing. I'd be the mom making cookies in the kitchen at PFLAG meetings. This is not what I would be doing.
MW: The foundation has a fairly broad mission toward equality, but I wonder if you, personally, follow federal hate-crimes legislation more closely than other legislation.
SHEPARD: I follow all of them as much as I can. The hate-crime bill is the one I'm most identified with, so I guess that's the one I hear the most about. Those crimes are not getting reported nationwide. They're happening all the time, everywhere, in great numbers, great levels of violence, and it's not national news.
That's one of the reasons hate-crime legislation is so important. It will allow further prosecution if we feel that the local prosecution didn't do its job. That's what the new bill will allow, it expands the parameters.
I had a gut feeling — not a good one — that after Obama was elected we were going to see hate crimes across the board escalate. I think people are scared. They don't know how to process that now we have an African-American president. I have to agree with Jimmy Carter; I think he's on the right track there. People are just afraid, plain afraid. And when they listen to the extreme right and Glenn Beck and Rush Limbaugh, they just feed into their fear. They don't try to educate them. They try to incite them.
I think Obama is wonderful, brilliant, smart, charismatic. And if he could just get some cooperation he could really get some good stuff done.
But make no mistake, we will not be irrelevant once [a federal hate-crime bill] passes. We'll be here until it's all done, and beyond.
MW: You're confident it's just a matter of time?
SHEPARD: I am.
MW: Brian Brown, executive director of the National Organization for Marriage, has argued that his side will be able to turn back the clock on GLBT equality.
SHEPARD: No, that isn't going to happen. It's just a matter of time. The younger generation, when they start voting and running for office — no matter what the opposition does — it's going to be over, because they get it.
MW: Do you work with a lot of young people?
SHEPARD: We do. We have a Web site called MatthewsPlace.com geared to 12 to 24 year olds. It's very busy, very dynamic. It's so busy I can't keep track of it. It's amazing.
We're not a direct-service provider, but we do provide information about direct-service providers. Let's say they've been kicked out of their home and they need somewhere to go that's safe, we try to help them out on the Web site. We're not qualified to deal with them one on one, but we can sure lead them to someone who can.
MW: After Washington, you'll be going to New York to see the Tectonic Theater Project's The Laramie Project: Ten Years Later, epilogue to The Laramie Project. But it must pain you. Do you ever wish attention to Matthew's death would go away?
SHEPARD: That's the yin and the yang, right? So many people have had their eyes and hearts opened by the production of The Laramie Project. They understand now what it's about if they didn't before. Not everyone who sees it, but it's a transformative experience. I admire Moisés Kaufman and the Tectonic Theater Project. I just couldn't be happier or more proud of the work that they've done.
And the epilogue is just going to continue to tell the truth. This is going to be the single-most honest story about what happened in Laramie. And it's told in such a stark way that you have to pay attention to it. We learn from art. That's how we experience it if we're not politically a part of it. We watch it in the movies, or we read about it, or we see it in a play, and it affects us emotionally. That's how change happens. I'm just thrilled that they're doing it. There's some sort of revisionist history going on in Laramie about what happened and the epilogue is going to clear that up. And it's not just Laramie, it's other places as well where they just don't want to believe it was a hate crime.
I think it's brilliant. Even though I don't actually watch the performances — I can't do that — I just really admire them for continuing to do that.
MW: You've not seen The Laramie Project?
SHEPARD: No, not in its entirety. I've seen pieces of it and I think it's brilliant. I've heard so many really wonderful things from people who've seen it or participated in it. I hope [someday] I'm able to sit through the whole thing.
MW: So you won't be in the audience in New York?
SHEPARD: I probably won't be. I haven't made that decision yet. I will be there with them to support them. I think I'm doing the reception beforehand. I'll do whatever they ask — except, maybe, sit in the audience.
MW: After Washington, after New York, once you're back in Wyoming, do things quiet down? Do strangers recognize you?
SHEPARD: Yes, but they don't acknowledge me. When I'm in the grocery store, little old grandmas come up to me — though I could be a little old grandma now — older women than me, come up to me and say, "I'm so pleased with the work you do. I have a gay grandson" or great grandson or nephew or whatever, but they're whispering it to me. I just want to say, "Please, please, just say it out loud. There's no shame in that, for you or for me. Just say it out loud." They know who I am, but for whatever reason don't want to acknowledge it.
I'm happy people know the story. I love that many of them feel compelled to share their stories with me. I'm happy to be able to do that, to listen. But it's hard. It's hard.
For more about the Matthew Shepard Foundation, visit www.matthewshepard.org. For Matthew's Place, visit www.matthewsplace.com.