"West End Girls." "It's A Sin." "Always On My Mind." "Go West." "New York City Boy."
Quickly approaching 30 years of musical partnership, Neil Tennant and Chris Lowe as the Pet Shop Boys are responsible for some of pop music's most indelible hits. The British duo, one of dance music's most successful, helped pioneer a post-disco sound of electronic music that endures to this day. And they've become noted for work with so many of pop's leading lights, from Liza Minnelli to Kylie Minogue, Boy George to Tina Turner, Robbie Williams to The Killers.
"I have very fond memories of all of them, really," Tennant says, though after a moment of reflection, he naturally singles out the late Dusty Springfield, the duo's first high-profile collaboration.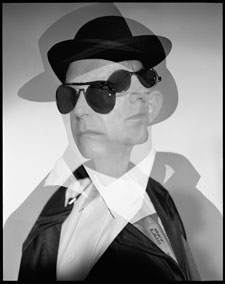 Pet Shop Boys
(Photo by Alasdair McLellan)
"It was a very thrilling thing to be in the studio with Dusty Springfield singing your song," Tennant says of the 1987 hit "What Have I Done to Deserve This." "When I was a kid, Dusty Springfield was such a big thing for us all. She was a phenomenal singer. I learned a lot from watching her."
Earlier this year, Tennant and Lowe received their country's highest music honor, the Brit Award for Outstanding Contribution to Music. The performance at the show inspired plans for the current "Pandemonium" tour, which stops at D.A.R. Constitution Hall on Thursday, Sept. 3. They enlisted the same director, Es Devlin, and music producer, Stuart Price, who handled the Brit Awards performance.
But even without the Brit Awards-duets with Lady Gaga and the Killers' Brandon Flowers, the concert should be every bit the spectacle you'd expect.
"This concert really is a piece of musical theater," says Tennant, whose speaking voice carries the same soft, mid-to-high-pitch tones so familiar from the Boys' recordings. "It's a development, this tour. All of our tours have been theatrically inspired, and this one is probably the most theatrical one we've done in the last 10 years."
Speaking a few days before the North American leg of "Pandemonium" kicked off in Montreal, Tennant had more on his mind than he had time: A new dance-music ballet; his longtime passion for musical theater; why the Boys will never meet the queen; and how being officially out for some 15 years has changed the 55-year-old.
"The only issue I've ever had [with being openly gay] is that the media, when you're gay, can't really see past you being gay," he says. "The people think about your voice as being gay rather than being a pop musician's."
METRO WEEKLY: How was it performing at the Brit Awards?
NEIL TENNANT: It was exciting and nerve-racking, because they give you 12 minutes of live television, which is quite a big thing. Brandon Flowers [of The Killers] made a speech and presented the award and then we did the performance, with Lady Gaga and Brandon. And we had the same designers doing our stage show, to create this very high-tech thing with videos and all the rest. And then we had lots of dancers. With Stuart [Price], we did this 10-minute medley of our most-famous songs and some new songs as well. It went down really, really well. Afterwards [U2's] the Edge told me we had stolen the show, which I thought was very nice.
MW: Was it your decision to work with Lady Gaga and Brandon Flowers?
TENNANT: Yes, we know Brandon anyway. With Lady Gaga, we wanted someone to sing the Dusty Springfield part in "What Have I Done to Deserve This," and so we asked her. There's something about Lady Gaga that seems very Pet Shop Boys. She's playing this sort of character. Lady Gaga is a character of a real person, and there's something intriguing about that. She was really great to work with, by the way. I thought she was fantastic in the show.
MW: Do you have plans to work with Stuart Price in the future?
TENNANT: We don't have plans, but it's possible, certainly. But nothing definite. We're basically concentrating on the tour at the moment.
MW: You're touring in support of Yes, your 10th studio album released earlier this year. What was the organizing principle behind the album? And do you feel it achieved your expectations?
TENNANT: It has creatively. When we started to write the songs for Yes at the beginning of last year, we were writing these kind of pop songs that were quite up. I think it's a really beautiful pop album. We sequenced it so the first half of the album is organized like a greatest-hits album, so you have all these very tuneful songs all inside different styles. The second half of the album is slightly stranger songs, like "Legacy" and "King of Rome," "Building A Wall." I'm really happy with it — I think it's one of our best albums. And generally speaking we've had a fantastic reaction to it, particularly in Europe. In Germany – walking through the streets of Berlin, I've had people stop me and say, 'Oh, I love your new album.'
MW: I've read that Germans always seem to give you a good reception, stronger than elsewhere.
TENNANT: They do, yeah. In Germany, they have quite a thoughtful approach to pop music. It's funny, we're sort of part of German culture. Everyone's heard of the Pet Shop Boys in Germany. It's amazing to be part of another country's culture. And when we do things like we did the soundtrack for [the 1925 silent Russian film] Battleship Potemkin, I mean in Germany that was on the national news, and the papers gave big write-ups to it. Whereas in Britain it was quite well-received, but people are a bit more cynical about it.
MW: The Battleship Potemkin screening and performance with orchestra is something that you haven't brought over to the states.
TENNANT: We haven't. We were going to do it in New York two years ago, but it fell through. And then we were going to do it at the Hollywood Bowl, but that fell through. But one day it'll happen. The thing we got going at the moment is a ballet, actually. And that's going to tour, and I think that's going to come to New York.
MW: It's a dance-music ballet?

TENNANT: Well, it's a mixture of styles actually. But yeah, the start is very uncompromisingly dance. It's based on a story from Hans Christian Andersen. We have a friend who's a ballet dancer at the Royal Ballet and he asked us to write a ballet for him. Chris had this idea of turning this particular story into a ballet. And then we were introduced to Sadler's Wells, which is a big dance theater in London. And they're putting together a company to do this. That won't be until 2011.
MW: Your musical with playwright Jonathan Harvey, Closer to Heaven, premiered in London's West End in 2001. But it also never came over here.
TENNANT: Well, actually, it's being performed next year in Dallas, I've just discovered. It's not like it's on Broadway, but someone's doing it next summer in Dallas, Texas.
MW: But as far as you know there are no plans to bring it to Broadway?
TENNANT: No, there were a lot of discussions after the British production. Sandra Bernhard wanted to play the main role in it, the character called Billie Trix, and they had a designer for the thing and even a director. And then – I don't know what happened.
MW: Do you think you'll write another musical?
TENNANT: Yes, I think we will. It's a very time-consuming and difficult process. And there aren't many people who've actually done a pop musical with an original score. [Most] of the successful ones like Mamma Mia are catalog musicals. But yeah, I think we will do another one.
MW: Well, certainly it's not too far of a stretch — so much of your music has a musical-theater bent to it anyway.
TENNANT: We've always been interested in theater. Right from the beginning we wanted to write musicals. We've both always been interested in it.
MW: Have you ever met Stephen Sondheim?
TENNANT: Very briefly, many years ago.
MW: I ask because you've recorded or produced at least two songs part of his playbook: "Somewhere" and "Losing My Mind," including a version with Liza Minnelli.
TENNANT: Well, I had a very long phase of being slightly obsessed with Stephen Sondheim. In the late '80s, his shows started going in London regularly. Follies was the first one I ever saw. His songs really fascinated me for quite a long time. There was a period where I was trying to write songs [like him]. On the Liza Minnelli album that we did, there was a song called "So Sorry, I Said," which is very Stephen Sondheim.
One way I learned personally to write music – because I was never trained to write music – was by playing the chords from the chord changes in other people's songs. When I was a kid I used to play all these songs on the piano. I taught myself how to play the piano, and I used to follow the guitar chords on the sheet music. And I did that with Stephen Sondheim. You can learn a lot from playing his songs.
MW: I understand another current project of yours is working with Shirley Bassey, the most-famous James Bond theme singer.
TENNANT: Bassey is 72 years old, and she's making this album with David Arnold, who does the music for James Bond films. It's coming out in November, I think it is. We wrote this song for her called "The Performance of My Life." It's a beautiful arrangement. It's got such a different style from us, but the song is kind of about a diva looking back on her life. She completely nailed it.
MW: Are there other artists you hope to work with in the future?

TENNANT: Well, Stevie Nicks! I didn't really appreciate Fleetwood Mac in the '70s or the '80s — I came to them really quite recently. I really love Stevie Nicks' voice. So that would be nice. I'd like to see something happening there at some point.
MW: Have you met the queen?
TENNANT: No, the Pet Shop Boys don't do the royal family. We're republicans. Republicans in the English sense, not the American sense. [British republicans are opposed to the monarchy, or being ruled by a hereditary head of state.] We've been invited to [royal] things before but we don't go to them. Although, secretly I quite admire the queen.
MW: You officially came out 15 years ago. How was that experience?
TENNANT: I decided to come out publicly because I was talking to a new [British] gay magazine Attitude, which had just started publishing. It seemed a bit ridiculous to talk to them and not say I was gay. It wasn't a really big deal for me. But I had never discussed it with my parents at that age. I was 40 years old at this point. So it made my parents confront this issue. They were very nice about it all.
MW: Did coming out change you personally or musically?
TENNANT: Well, in the '80s, we didn't discuss sexuality. In the '80s, we were really pop stars, with teenage girls following us. And I always thought it's more intriguing when people wonder whether someone's gay. That people can create their own version of the Pet Shop Boys or of a pop star in their heads. There's something more intriguing about that than finagling the truth. That's how I felt personally in the '80s. But then as you grow older, it's that sort of thing you feel different about that. It seems a bit coy, so that's why I came out and spoke about it.
MW: Ultimately, your lyrics have been pretty gay-affirming, if not explicit, from the get-go. Or they at least offer a general quality that a gay listener could appreciate.
TENNANT: Yeah. The lyrics are just generally honest. We have a great gay audience for sure. I think there's a quality in our music that appeals to a gay audience – the dancing, you know.
MW: A song like "Try It (I'm In Love With A Married Man)," included on your 2003 compilation Disco 3 – that's not something you would have released before coming out, I imagine.
TENNANT: That was written by Bobby O, the first producer we ever worked with in New York. It's a song we always liked. It was a provocative idea anyway for a woman to sing "I'm in love with a married man." But for a man to say "I'm in love with a married man," it was quite a provocative idea and that's why we liked it. We like provocative things.
The Pet Shop Boys perform tonight, Thursday, Sept. 3, at 8 p.m. D.A.R. Constitution Hall, 1776 D St. NW. Tickets are $53.50 to $73.50. Call 202-628-1776 or visit www.dar.org/conthall. The album Yes is available at retailers everywhere or online at iTunes and Amazon.com.