For pure niche, low-budget, high-impact entertainment, it would be hard to beat the Washington Shakespeare Company's Camille (A Tearjerker): A Travesty on La Dame aux Camelias. A fuel-injected update of '70s fringe icon Charles Ludlam's gay take on Alexandre Dumas Fils' classic, it is clever (for those au fait with drag culture), outrageous (for those not) and irrepressibly good-natured. Sharing the plot, if not the tone, of Dumas' classic, along with numerous literary derivatives and at least one opera, it is the bittersweet story of a femme fatale finding herself finally caught by true love only to discover that it requires of her the ultimate sacrifice. And what better fodder for a no-holds-barred gay romp?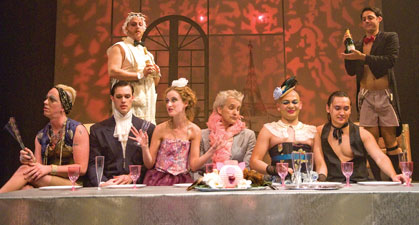 Divas for dinner: the cast of Camille
(Photo by C. Stanley Photography)
Played to the hilt in drag, and filled with drama and both classic and contemporary gay references, this is WSC doing what small yet credible theaters do best: whatever they want. But both Ludlam and WSC director Christopher Henley save Camille from the kind of insular, self-serving entertainment it might have been by aggressively sabotaging any pretentions to taking itself too seriously. Barely a reference goes by without it somehow being ruefully regarded or turned on its head. There is nothing self-righteous here, except when it's played for laughs.
And thus, while it is fun and madcap, Camille is also an unremittingly ironic riff on gay culture, drag culture, theater and storytelling.
Setting the tone and carrying the show is Jay Hardee as the drag queen with a heart, Marguerite Gautier. Comically consumptive, chronically cynical – until she isn't – Hardee gives us a potent blend of camp and charm with an unapologetic whiff of sleaze. He may not be everyone's idea of the perfect 21st Century Diva, but lift any rock in Dupont Circle and he might well be there.
It would be silly to over-analyze a piece like this, yet it must be said that Hardee is way more here than just a sharp tongue and a great pair of legs. He embodies with a knowing and feverish energy all the perplexing contradictions that make Marguerite so irresistible: the inextricable mix of hope and cynicism, the hunger for artifice, the clear-eyed view of the needs of men. And just as director Henley has seamlessly embraced and updated Ludlam's adaptation, so does Hardee imbue it with an unmistakably post-modern irony when he shoots us his perfectly timed deadpan glance.
Camille (A Tearjerker): A Travesty on La Dame aux Camelias




Clark Street Playhouse
601 S. Clark Street
Arlington, VA.
To Sept. 27
$25-$35
703-418-4808
washingtonshakespeare.org
Camille is a fast-paced production with a lot to cram in by way of one-liners, asides and comic vignettes. To make it work, everyone in the cast needs a hard, tight handle on who they are and where they are coming from. Everyone gets it more or less right, albeit with some room for improvement. John C. Bailey, so memorable as the über-macho Monk in Small Craft Warning, does a full 180 here, giving us the frumpy but defiant Nanine, Marguerite's sly but ever-loyal maid. The concept of this bearded, bonneted member of Marguerite's inner circle is somewhat funnier than the reality – but Bailey is a strong presence and gets in many nicely timed laughs.
Campy and creepy in equal parts is the disturbingly charismatic John Kevin Boggs as Marguerite's wealthy but repulsive suitor, the Baron de Varville. Boggs starts rather ponderously but once warmed up delivers a wonderfully hideous Baron whose James Mason-esque pronouncements fit the spasms of '40s Hollywood pastiche perfectly. Jay Saunders, who takes the role of toy-boy Gaston Roue and happily-ever-after Nichette Fondue, gives his flibbity-gibbit Nichette his best effort – she is mesmerizingly fey and makes a great foil to the razor-sharp Marguerite.
Frank Britton works hard with his Prudence Duvernoy, another hustling but not altogether selfish member of Marguerite's social circle. Prudence is a clever mix between old and new and though Britton gives her much attitude, her character lines aren't quite clearly enough drawn to make her really fly.
Marguerite's downfall comes in the stunningly proportioned form of James Finley, who knows exactly what is required here and doesn't mind delivering. He is a big presence who exudes just the kind of unassuming need required of the sincere Armand Duval.
Of course, this kind of over-the-top revue-style gay farce isn't going to be for everyone. But unless you've been living in a cave, there is far more here that will humor and entertain than offend. And whether or not you identify literally with it, there is no doubt that it assays a clever take on the state of play. So drag yourself out.