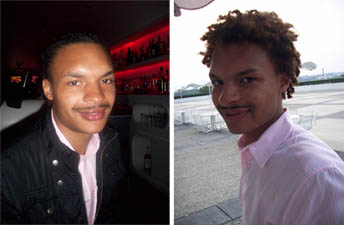 Kevin Britt Jr.
Updated: Britt has been found (Read full story).
The Prince George's County Police Department is looking for Kevin Britt Jr., a 23-year-old resident of Hyattsville, Md., reported missing by his partner, Elias Fishburne.
Fishburne says he last saw Britt Sunday morning at approximately 11 a.m., as Britt left their home to attend to some paperwork at his place of work. Britt, originally from Talbot County, Md., on the Eastern Shore, works as a coordinating supervisor at Psychotherapeutic Services Inc. in Landover, Md., a provider of mental-health services for Prince George's County residents.
Anyone with any information about Britt's whereabouts is asked to call Officer E. Lindeman of the P.G. County Police at 301-772-4900.