Marjorie Merriweather Post never had the opportunity to enjoy Patrick O'Connell's Inn at Little Washington, which he founded with his former partner, Reinhardt Lynch, in 1978, just five years after Post's death. It's a fair guess that she would have sampled O'Connell's hospitality if given the chance. As a collector of some of the world's most gorgeous items (think Fabergé eggs and exquisite jewelry), Post certainly had taste. Those five diamonds from AAA for both the inn's accommodations and the dining — the tip of O'Connell's accolade iceberg — would have doubtless caught her eye.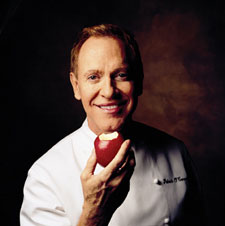 Patrick O'Connell
(Photo by Sandro)
And while most Washingtonians would have to consider that an overnight at O'Connell's with room and board will likely be a four-figure affair, Post's financial bounty allowed for all of life's finer things.
Despite the error of eras, Post and O'Connell will be meeting, in a sense, this Saturday, Sept. 26. And the gay community is warmly welcomed to the pairing as O'Connell arrives at Post's Hillwood Estate, Museum and Gardens for its annual "Gay Day" to share his insights on entertaining.
"We'll be having a nice discussion about entertaining, my thoughts, recommendations, anecdotes," O'Connell promises before sharing a childhood memory of his mother's entertaining. Her signature dish was something she'd dubbed "Little Nanny Eticoat in her white petticoat." The gastronomic translation amounted to a banana inserted through a pineapple ring, on a bed of lettuce, with a bit of Miracle Whip and a maraschino cherry.
"It was perplexing," says O'Connell. "No one knew quite how to attack it."
Although O'Connell has an appreciation for whimsy, he does not seem to have inherited his mother's culinary mystique. Instead, as he has done with his cookbooks, he will be inspiring his audience to heightened hospitality, sharing many of his "cardinal sins" regarding entertaining, eating and imbibing.
One such trespass, according to O'Connell, is paper plates. "Especially the ones with dividers. Except if you're entertaining friends from the penitentiary."
Of course, there will certainly be discussion of the food itself, from "the pope of American cuisine," as O'Connell was crowned by the late vintner, Robert Mondavi. With a hint of autumn around the corner, for example, O'Connell is setting his sights on the humble rutabaga.
"They have that golden color that's hypnotic. It looks like fall, tastes like fall. And apple-rutabaga soup is so simple to make. If freezes perfectly. If you puree it and strain it, it has a very elegant texture. It's the elusive balance of all these different flavors."
Along with O'Connell, Gay Day at Hillwood includes the chance to look at some of the rooms generally closed to the public, square dancing with the Lambda Squares, and "Punch on the Portico." O'Connell's talks, at 1:30 and 3 p.m., are bound to be popular, so call ahead to reserve space. No need to pick up his latest Patrick O'Connell's Refined American Cuisine beforehand though, as the Hillwood Museum Shop is stocking up.
Gay Day at Hillwood Estate, Museum and Gardens runs from 10 a.m. to 5 p.m., Saturday, Sept. 26, with special "family hours" from 10 a.m. to noon. Admission is $12. From noon to 5 p.m., general admission is $18, $12 for members, $7 for students. There is no admission fee for those younger than 18. To reserve space at an O'Connell presentation, call 202-686-5807 or e-mail . For more about Hillwood, visit www.hillwoodmuseum.org.
For more about the Inn at Little Washington, call 540-675-3800 or visit www.theinnatlittlewashington.com.

Chef Patrick O'Connell's Apple Rutabaga Soup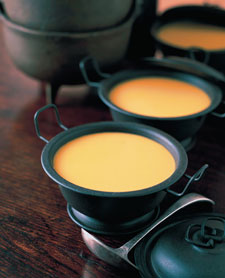 Apple Rutabaga Soup
Makes 2 quarts, 6-8 servings
Chef's note: Water or vegetable stock may be successfully substituted for the chicken stock if you wish to make this soup vegetarian, or if you don't want to bother making chicken stock.
Ingredients:
1 stick (1/4 pound) butter
1 cup onion, roughly chopped
1 cup Granny Smith apple, peeled, cored and roughly chopped
1 cup rutabaga, peeled and roughly chopped
1 cup butternut squash, peeled, seeded and roughly chopped
1 cup carrots, peeled and roughly chopped
1 cup sweet potato, peeled and roughly chopped
1 quart good chicken stock
2 cups heavy cream
1/4 cup maple syrup
Salt and cayenne pepper to taste
In a large saucepan over medium-high heat, melt the butter. Add the onion, apple, rutabaga, squash, carrots and sweet potato and cook, stirring occasionally, until the onions are translucent. Add the chicken stock and bring to a boil. Simmer for 20 to 25 minutes or until all of the vegetables are cooked through and tender.
Puree the vegetables in a blender or food processor. Strain through a fine mesh sieve into the same pot you used to cook the vegetables. Add the cream, maple syrup, salt and cayenne pepper. Return the pot to the stove, bring the soup to a simmer, and serve.