Summer is officially over, which means you should hear less of the season's leading club anthem. And that's all to the good. Because if you aren't tired of "When Love Takes Over," chances are it will only take another spin or two. (Take it from an early admirer of the song: You've been warned.)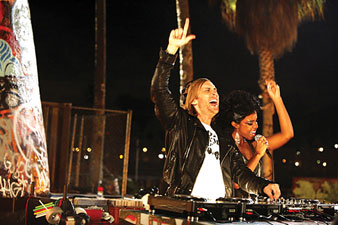 David Guetta and Kelly Rowland
So how about a new track from David Guetta featuring Kelly Rowland? The former Destiny's Child singer, forever in Beyoncé's shadow, smartly teamed up with Guetta for not one, not two, but three tracks as he put together his latest studio album, the sure-to-please One Love.
"It's complicated. It always is, that's just the way it goes," Rowland sings on the summer anthem, a crossover pop hit. She speaks the truth here. She's wise to the fact that the best way for her to garner attention as a solo artist is through dance music. But dance music, more than ever a DJ/producer-fronted genre as it teeters toward the mainstream, isn't hip to a full album from a singer/songwriter. It's a singles-driven market, pure and simple. So the best we can hope for from some of the best vocalists in the genre is that they pair up with some of the best producers.
Over the next month Ida Corr and Will.I.Am will make a strong case for the latest release from Dutch dynamo Fedde Le Grand. And then Nelly Furtado, Tegan & Sara and the gay Kele Okereke (Bloc Party) will try to sell you on Tiesto's Kaleidoscope. Already this year, we've had what will surely rank as the best of the bunch, Sharam's Get Wild, with guest vocal turns from P. Diddy, Kid Cudi and Rich Morel. This was a true artist album continuously mixed like a DJ compilation, taking the listener on a real journey.
As you might expect, Guetta's One Love doesn't offer such a journey. It's essentially a hit parade, a radio-friendly long-player. Ne-Yo, Akon, Estelle and Kid Cudi all add their hip-hop/R&B luster. The only real consistency to the set is the repeated visits from Rowland, as well as the gay, longtime Guetta-collaborator Chris Willis and the ubiquitous Will.I.Am of the Black Eyed Peas.
DAVID GUETTA
One Love
Astralwerks
$18.98




Certainly, One Love is the highest-profile dance album to register in years, if not a decade (from someone other than Madonna, at least). It doesn't get any bigger, more crossover-tipped than this. Working with some of hip-hop's hottest heads has added some real edge to Guetta's sound. His European-popular electro-trance wasn't all that light to begin with, but of his three previous sets — yes, he's been at this all decade — none had quite as much techno-inspired swagger. Not to mention, rap. Will.I.Am and fellow Pea apl.de.ap turn up the fire — and distortion — on the blippy rapper "On The Dance Floor." And then Will.I.Am raps with a punk rocker's verve, as electric guitars grind in the background on the appealingly caustic "I Wanna Go Crazy."
Guetta has always made dance music slightly more complicated than many others in the genre, and that tradition continues here. Newcomer Novel, a charming vocalist as both a rapper and a singer, adds shades of meaning on "Missing You," as he struggles to overcome a lover's hypocrisy. "You're living in a glass house, and everything's shattering all around," he sings, as the song's beats give way to dramatic staccato strings, and Novel's key refrain: "I won't be missing you anymore, kissing you anymore…touching you anymore, loving you anymore. Is that what you really want?" As soon as his plaintive query registers, Guetta kills the strings and the song, leaving the words to resonate.
Rowland's "It's The Way You Love Me" comes next, and in some ways is a response to Novel. "Babe, I thought you understood," she declares, in a song about how crazy in love she feels. But all is not understood. She battles Ne-Yo on the next track, the ravishingly hard-hitting "Choose." These two strutting peacocks have caught each other's eye on the dance floor. "You want to make me choose? You've got to show me something else," they taunt each other. "Why should I be with you?"
"You want me to say yes? You better bring your best," Ne-Yo teases, with all the confidence of someone who's doing just that.