Those of you raised on Looney Tunes might find it impossible to listen to Figaro's aria "Largo al factotum" from Rossini's Barber of Seville without having a flashback to Bugs Bunny torturing Elmer Fudd to snippets of the same.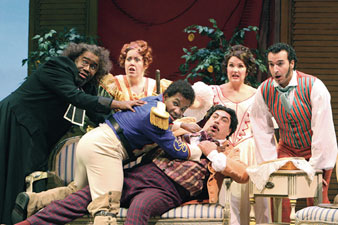 The Barber of Seville
And clearly the Washington National Opera saw no point in denying the inevitable when staging their season-opener of Barber, as they played the cartoon itself for the folks at Nationals Park waiting to watch the one-off simulcast – too bad they didn't give those in the Opera House the same treat. Still, something of the cartoon spirit pervaded the main attraction, from the painted curtains of the set to the mimed silliness of the chorus. The message here was all about providing an accessible de-mystifying piece of operatic entertainment and even some very fine singing.
Of course, not everyone will enjoy such a classic dished up with the kind of prop-heavy slapstick director David Gately favors, and others may not take to the rather smug demeanor of Figaro himself, sung by Simone Alberghini (like most of the leads, for half the run), who controls the action with the snap of his fingers. Perhaps he is meant to be Bugs-like, but with a sly grin and sideburns that would have done for Liev Schreiber in Wolverine, Alberghini evokes creepy rather than clever, especially when he freezes the action to hover over our heroine Rosina. And Alberghini, despite volume and a certain vocal charisma, is not altogether easy on the ears. He is a gravel-inflected baritone, lacking the kind of rich smoothness a master manipulator like Figaro needs.
Still, this less-than-winning vibe is counterbalanced by the young lovers Figaro works to unite. Silvia Tro Santafe, singing the role of Rosina, is one of the finest mezzo-sopranos to grace the WNO in seasons. Though she calls herself a mezzo, she surely also has the qualities of a soprano. She is as sure-footed as it gets with Rossini's decorative flourishes and her tone is as golden as it is sweet. Tro Santafe delivers a spirited but not over-the-top Rosina and as such she is an excellent foil to some of the more madcap performances.
Ardent, but not making much in the way of actual chemistry with Rosina, is tenor Lawrence Brownlee. Rather heavy on the vibrato at first, Brownlee eventually settled into his element, achieving gorgeous range and thrilling dexterity. He is more charismatic than convincing in his courtship of Rosina but it hardly matters in such a fast-paced farce.
Carrying the comic load and doing it well, is Donato DiStefano, in the buffo role of Dr. Bartolo, Rosina's guardian and thoroughly unwanted suitor. DiStefano works his way through a seemingly endless array of comic prop manipulations while managing to deliver his pleasing full bass with care and clarity. He is the cornerstone of this production and his talent for delivering such a consistently well-performed and sung Bartolo cannot be underestimated.
THE BARBER OF SEVILLE



Sept. 17, 19, 20
Kennedy Center Opera House
$25-$275
202-295-2400
www.dc-opera.org
Looking amusingly haywire is Eric Owens as the kleptomaniac Don Basilio, who brings a somewhat off-beat but engaging comic sense to the Don's comings and goings in the Bartolo household. Cynthia Hanna and David B. Morris, as Bartolo's housekeeper and manservant respectively, both enhance the comedy with nicely conceived characters – which are mainly mimed. Hanna delivers her one aria with a compelling vocal presence and clarity if a touch of harshness around the edges. In a small but memorable part, baritone Oleksandr Pushniak sings a delightfully rich and limber Fiorello.
The chorus, singing and acting as the police, works overtime with some complexly choreographed cartoon fun. They deserve kudos for pulling it off.
And so, it seems that even the WNO acknowledges that even if your first acquaintance with this music was with Bugs, there is no shame in it. What better way to learn that opera can be fun?