Have you ever been in love, really in love – but still felt unsatisfied? Like it takes too much work, when it should be effortless? Or maybe the problem is that your mate wants nothing less than perfection, planning everything to a T. Where's the fun in that?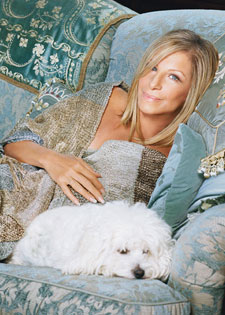 Barbra Streisand
Fans of Barbra Streisand must know the feeling. The diva of choice for gays of a certain generation, Streisand constantly tests their ardor, releasing albums on which she sounds great, with every note in its right place, and songs tracking at a slow, steady pace so you don't miss anything. Everything is exactly as it was intended – with the result that very little of it captivates, or compels you to listen again and again.
With her new standards album Love Is The Answer, on which she covers songs from Jerome Kern, Leonard Bernstein, Jacques Brel and Jule Styne, the 67-year-old Streisand has made a slight departure from her over-produced ways. Her voice sounds more exposed than ever, and there's less orchestration in support, this time chiefly from a jazz quartet. But the fact that this is also a jazz-flavored album adds a new problem: Jazz – like love – thrives on improvisation, and Streisand wouldn't know spontaneity if it were the name of her precious bichon frisé.
There are many shades of jazz, of course – and of love. It's not all big band and swing, not all sunshine and blue skies. And in fact, rain is a recurring motif on Streisand's album. Streisand covers the bossa nova staple "Gentle Rain," describing her love as such. It should be breezy, refreshing, but in Streisand's hands it becomes a slog.
"Funny how love becomes a cold, rainy day," Streisand sings on "Here's That Rainy Day," a gorgeous ballad with poignant lyrics about taking love for granted. Streisand sounds superb on the song, if a bit too studied. A little dull. And love, real love, can be dramatic, certainly despairing. It shouldn't be dull.
Jazz pianist and singer Diana Krall produced Love Is The Answer, but her first time at bat with Babs doesn't change much. Like her previous sets, at least over the past decade, Streisand's latest is overly refined, excessively mild-mannered, quietly dramatic — even indulgent — as Streisand slows down the pace of songs to linger over and admire her lyrical phrasing. Her husband is missing, and she's unable to sleep because of it, on "In the Wee Small Hours of The Morning." But as incessantly as she chews on her words here, you can't help but wonder if she'd do better to try to get her mind off of his absence and think of something pleasant. It'd certainly help her case with the listener.
BARBRA STREISAND
Love Is The Answer
Columbia Records
$13.98


Streisand does a better job despairing over the Jacques Brel classic "If You Go Away (Ne Me Quitte Pas)." "I would have been the shadow of your shadow, if it might have kept me by your side," she sings on the song whose only hope comes in the chorus, as Streisand tries to convince her departing lover that things will be better than ever if he just stayed one more night. He doesn't buy it, it seems – the song ends as forlornly as it began – but for once you can't fault her for effort. She was practically waltzing in the chorus to get him to stay – and Streisand never waltzes.
"You must believe in spring – and love," she sings on the album's ending "bonus track." She's as insistent – and deadly serious – as a stern professor, and surely I'm not the only one whose natural reaction is to rebel: "I'll believe in spring and love if I want to, Dr. Streisand, not because you tell me I have to." But actually, a more common reaction is likely just a snore – If you're tired, this is the perfect track to fall asleep to.
Just before that snooze-inducer, Streisand sighs "oh well" at the very end of "Some Other Time" from Leonard Bernstein's musical On The Town. "Just when the fun is starting, comes the time for parting," she sings. "Let's just be glad for what we've had, and what's to come."
Fun? What fun? I'm just glad it's over. Oh well is right.