"The moment you walk in it doesn't feel like any other night you go out," says Shea Van Horn, about the monthly party Mixtape he throws with Matt Bailer. Just past its one-year anniversary, the one-Saturday-a-month party has touched down at five mostly straight alternative venues around town, from a small Eritrean restaurant to a black-box theater. This Saturday, Oct. 3, it returns to the Rock and Roll Hotel.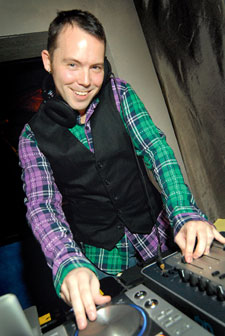 Matt Bailer
(Photo by Ward Morrison)
DJ-about-town Bailer calls the party a "cousin" to Taint, the party at DC9 that will throw its last event Sunday, Oct. 11. Van Horn and Bailer actually met at Taint over a year ago, when they were tapped to DJ together. "I loved the music he was playing and he loved the music I was playing," Bailer says.
"Taint is always the same venue, but it's always different DJs, always different music," says Van Horn. Mixtape is essentially the inverse of Taint, with Van Horn and Bailer always serving as the party's DJs.
"We didn't start out intending to be a moving party," says Bailer, explaining that they quickly outgrew first venue, Dahlak, the tiny Eritrean restaurant in Adams Morgan. After that, mixing up the venue became just as natural and expected as mixing up the music.
"One of the things Matt and I want from this night [is that] it has to be about dancing," says Van Horn. "So we'll play basically anything that you can dance to. Well, I guess we won't play anything. But most everything, with an alternative bent."
"We try not to shy away from crowd-pleasers," adds Bailer. "If there's something that fits in our 'stuff to dance to' mantra, then we're not as adverse to playing that as some people might be." So don't be surprised to hear Rihanna with the Gossip. Or AC/DC.
"It's kind of like a really cool jukebox," says Van Horn. Or a mixtape, as it were, being put together on the fly.
Mixtape happens this Saturday, Oct. 3, from 10 p.m. to 2:30 a.m. Rock and Roll Hotel, 1353 H St. NE. Cover is $5. Ages 21 and over. Call 202-388-ROCK or visit www.mixtapedc.com.