David Dower wants to make one thing perfectly clear about The Laramie Project: 10 Years Later, an Epilogue.
"It's a new play," says the Arena Stage associate artistic director. "It's not a restaging with a five-minute curtain raiser. It's a new play."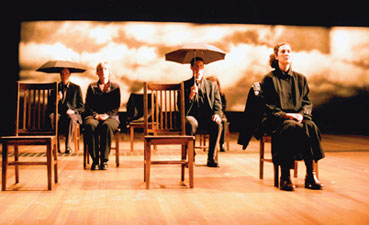 The Laramie Project: 10 Years Later, an Epilogue
On Oct. 12, members of the Tectonic Theater Project – who created both the original Laramie Project and Epilogue – will present that new play to an audience at Lincoln Center's famed Alice Tully Hall. And, in a truly innovative move, while that Lincoln Center audience is taking its seats, performances of Epilogue will be occurring in more than 100 theaters in all 50 states and seven foreign countries. Washington, D.C.'s Arena Stage will be participating as will the Clarice Smith Performing Arts Center at the University of Maryland, College Park, and the Reston Community Center's CenterStage in Reston, Va. Epilogue will also include a virtual online community and webcast elements to further extend the show's reach and unite its audiences.
Response to this unconventional, and quite literal, world premiere has been remarkable. "We had originally planned to use [Arena's temporary] Crystal City space," said Dower, "but one e-mail filled the house. We've moved it to the larger Lincoln Theatre."
For the original Laramie, members of Tectonic traveled to the Wyoming town one month after the brutal murder of Matthew Shepard and conducted some 200 interviews with area residents. Shepard, a 21-year old student at University of Wyoming, had been beaten, tied to a fence and left to die by a pair of attackers who targeted him because he was gay.
Greg Pierotti, an associate writer and performer in the original Laramie and a co-writer and performer in the Epilogue, said the group initially began their investigation based on a single, immense question posed by playwright, director and Tectonic founder Moisés Kaufman.
"Moisés asked, 'What role do we as theater artists have to play in the discussion of controversial public events?' So on that first trip to Laramie we went to see what it was we could do."
What Tectonic did was touch off a grassroots theatrical groundswell that made Laramie Project a new American classic. The 10th anniversary of Shepard's murder brought the team back to the Wyoming town. Epilogue examines the long-term impact the killing has had on Laramie and, more broadly, how what happened to Shepard has changed those of us living well past its town line. It's an exploration the writers take very seriously.
"We need to keep the conversation alive," says Pierotti. "Change can only happen when we continue engaging in dialogue."
The Laramie Project: 10 Years Later, an Epilogue will take place on Monday, Oct. 12, at 8 p.m. in 100 locations across the country. Full details can be found at www.LaramieProject.org.