Chris Farris is just one of many people counting down the days until Wednesday, Oct. 14.
That's the day that Farris, co-chair of Gays and Lesbians Opposing Violence (GLOV), hopes to get some answers in the handling of the case against Robert Lee Hannah in the death of Tony Randolph Hunter.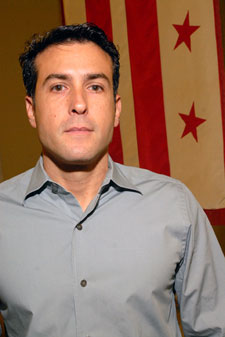 Chris Farris
(Photo by Ward Morrison)
"At every stage of this case, officials from the Metropolitan Police Department (MPD) to the Department of Justice had been able to hide behind secrecy as an excuse for not sharing with us the rationale behind the decisions that they have made in this case," Farris says.
"Once sentencing occurs, all of their excuses immediately go away."
Hannah, 19, attacked Hunter, a 37-year-old gay man from Clinton, Md., while Hunter and a friend were walking to a Shaw neighborhood gay bar on Sept. 10, 2008. Hunter died from his injuries a week later.
GLOV has criticized the U.S. Attorney's Office for the District of Columbia (USAO-DC) in its handling of this case for apparently accepting Hannah's claim that Hunter inappropriately groped him before the attack; for failing to initially interview Hunter's friend, who witnessed the attack; and for not prosecuting others who were with Hannah that night.
On Sept. 17, one year after Hunter died, Hannah pleaded guilty to one count of a simple assault, the result of a plea bargain. During the hearing, defense attorney Joseph Caleb secured Hunter's continued freedom on bond until sentencing, also summarizing his client's behavior in Hunter's death as a "knee-jerk reaction."
"He was offended by the way [Hunter] touched him," Caleb told the judge.
D.C. Superior Court Judge Rafael Diaz and U.S. Attorney Kevin Flynn accepted the defense's plea offer of guilt for simple assault. As part of the plea, a shoplifting charge against Hannah was also dismissed, though further details were not released in court.
Diaz has set the date of Hannah's sentencing for Oct. 14.
"The moment that sentence is handed down you will hear us demanding explanations from the MPD and the U.S. Department of Justice, asking them why they made the decisions they made in this case," Farris says. "Right now they keep hiding behind this convenient excuse of not being able to talk about it, because it's an open case."
With Hannah facing a maximum of 180 days behind bars and up to $1,000 in fines, Farris and others agree that that sentencing doesn't fit the crime.
"It makes me feel that the officials in charge have determined that a gay man's life is worth six months and $1,000," Farris says.
Farris adds, however, that while this case should be of great concern to the GLBT community, it affects everyone in the District.
"If in fact Tony and his friend were attacked, simply because they were walking into a gay bar, every single person who's walking into a gay bar is at risk," he says. "It could have been any one of us. All the attackers need to think is that you're gay. You don't even have to be gay to be at risk. Anyone who says we don't have a problem here has blinders on."
For that reason, GLOV is not waiting until sentencing to take action. The group has already joined forces with other organizations, such as the DC Coalition of Black LGBT Men and Women, to encourage members of the local GLBT community to write Judge Diaz asking him for the maximum penalty, according to Brian Watson, president of the DC Coalition.
"It's just really disconcerting that somebody can take a life and they'll be allowed to be back on the streets in a matter of months," Watson says.
"This is somebody who took someone's life, and I know people who have seen him on the street. He has a Facebook account. He is living his life just like nothing has happened, and somebody has been killed."
Councilmember Phil Mendelson (D-At large) shares that sentiment.
"I am very disappointed and angry at the way this has played out," Mendelson says. "I share the view of many that it's hard to believe that this assault was provoked by Mr. Hunter. But even if the U.S. attorney's version is correct, they should have gone to trial, [to demonstrate] the strength or the weakness of the evidence. By plea bargaining, they avoided a trial."
Mendelson sent a Sept. 10 letter to Acting U.S. Attorney Channing D. Phillips urging him to reject Hannah's plea bargain, in part stating: "There is outrage in the GLBT community that the perpetrator is not facing prison. … It is preferable that the USAO go to trial with its attendant risks. … Here the greater good comes from the public airing of a trial, rather than the certainty of a sentence — a minor sentence."
On Friday, Sept. 18, Mendelson added: "Not only am I disappointed at the laxness of the sentence, but I'm angry that the U.S. attorney avoided the trial. Through a trial the public had an opportunity to understand what was wrong with the case."
Mendelson says he spoke with Phillips later that day and received assurances that the USAO-DC will release a detailed report about the matter. But Mendelson adds that despite speaking with Phillips, he stands by his initial call for a trial.
For now, without that trial, there are only questions.
"Why is it that they chose this defendant's version of events?" Farris asks. "And they chose to believe that defendant's statement before they ever spoke to the second victim? Why did they chose to believe a murderer who gave the oldest excuse in the book for killing a gay man: 'He came onto me'?
"I really hope that when the final sentence is handed down, then finally we will see the outrage that we were thinking should have happened at the beginning."