Round House Theatre's world premiere of Roberto Aguirre-Sacasa's The Picture of Dorian Gray is stylish, sexy and unspeakably cool. Unfortunately, it stumbles thanks to the same vice that hobbles the character Dorian Gray – vanity.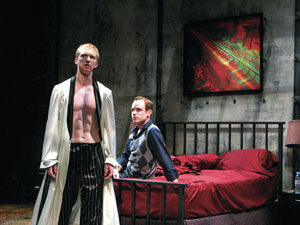 The Picture of Dorian Gray
What begins with a satisfying bass-fed pulse loses steam and tension as the play's powerful aesthetic elements are given too much control of the stage. Dorian Gray's very strong foundation dissipates and that lost ground is quietly replaced by a beautiful and expertly executed facade.
But make no mistake, Aguirre-Sacasa's Dorian Gray never fails. It simply falters.
According to the playwright, the play was created to be a kind of bridge between what Aguirre-Sacasa remembered of Oscar Wilde's novel and the novel itself. Re-imagined as a modern-day gothic tragedy, this Dorian Gray is set in London in the late 1980s.
Harry Wotton (Sean Dugan) is looking to put the city on the art-world map in the days before the so-called Young British Artists transformed London into a creative epicenter. As the opening of Wotton's show of undiscovered artists draws near his friend Basil Hallwood (Clinton Brandhagen) finishes a portrait of their mutual friend Gray (Roderick Hill) — a painting whose power no one can quite believe.
It gives nothing away to say that, as in the novel, Gray and his portrait become horribly and inextricably linked to one another. Aguirre-Sacasa's Gray uses his newfound freedom to build a kind of outcast empire where nothing is out of bounds and pleasure is the only concern.
THE PICTURE OF DORIAN GRAY



half
Round House
To Oct. 4
$25-$60
240-644-1100
www.roundhousetheatre.org
Played out on a mechanized set designed by scenic designer James Kronzer, Dorian Gray is brilliantly drawn. Matthew M. Nielson's sound design and original music, and Daniel MacLean Wagner's lighting conspire to create a thoroughly engaging collection of images.
Dugan and Brandhagen make solid work of their characters, though the stakes are raised considerably by Joel Reuben Ganz and Kaytie Morris' outstanding multi-role performances. All eyes, however, will be on Hill as Gray (and no, not just because of the nudity). There is something fascinating about his onstage presence – an ability to combine the lyricism of language that verges on the anachronistic with a very contemporary sort of posturing. It's pitch perfect for the role and contributes immeasurably to show's gravity.
But the strength of the performances and setting are not enough to mask the need for some basic consideration of the overall rhythm of Dorian Gray's plotting. The pacing is inconsistent and the clean lines of the show's opening begin to get lost under storytelling that feels increasingly ragged and unnecessarily drawn out. It's as though the playwright was working to buy just a little more time with the characters and forgot that the audience would be forced to go along for the ride as well.
The Picture of Dorian Gray is a clever take on a classic story. A smartly dressed and intriguing adaptation, Dorian Gray is also a perfect reminder that even the most gorgeous of individuals can sometimes overstay their welcome.
"Have you seen the Pinter play that they're doing at Studio Theatre?"
If there is ever a primer created for cocktail party culture-speak this may well be the book's opener.
Harold Pinter, the late British writer whose works spanned both stage and screen, whose talents placed him both onstage and behind the curtain, and whose list of accomplishments included a Nobel Prize for Literature, belongs to that category of writers whose names have become adjectives. Pinter's plays are creative tangles, determinedly scripted streams-of-consciousness that engage audiences in a subversive game of hide-and-seek.
What is real? What is true?
Pinter's Moonlight, first produced in 1993, is a linguistic prizefight. A purposefully disheveled heap of words and relationships. It is verbal wreckage. Literary violence.
And in the hands of director Joy Zinoman, it has come quite successfully to life.
The eye of this play's storm is Andy (Ted van Griethuysen), an unfaithful husband and angry father, who is dying. Or, he and his wife Bel (Sybil Lines) tell us he is dying.
MOONLIGHT




Studio Theatre
To Oct. 18
$42-$63
202-332-3300
www.studiotheatre.org
At the very least he seems uninterested in getting out of bed.
As death (supposedly) approaches, Andy devotes his focus to a final visit with his children – children who will never appear at his bedside.
Van Griethuysen is a fantastic Andy. While Pinter put the old man's belligerence and volatile emotional state to script, van Griethuysen gives Andy a discomforting sexuality. His lust is aggressive and – almost paradoxically – most effective when it is communicated with close, near dismissive movements.
Equally powerful in their performances are Anatol Yusef and Tom Story as Andy's estranged sons. Engaged in some of the play's most complicated storytelling and in its most disturbing relationship, Yusef and Story spar brilliantly. Charming in their shared psychosis and wonderfully conjoined in their bold physical choices these are actors leaping without hesitation over the edge.
Lines is largely successful in her portrayal of Bel, but there are times when her work feels bound up, tentative. With such muscular craft occurring on all sides the contrast feels unplanned and undermanaged. It is as though Lines does not quite believe what she is being called upon to create.
As is the case with any piece of theater, Pinter's Moonlight is not a play that will find a home with every audience member. It is a loose gathering, a performance with no obvious curtain call. That said, Zinoman has delivered a production that is confounding, frustrating and ultimately fascinating.