The United States Attorney's Office for the District of Columbia (USAO-DC) has released a 14-page sentencing memorandum, outlining the government's reasoning in charging Robert Lee Hannah, 19, with "simple assault" in the death of Tony Randolph Hunter.
Hunter, a 37-year-old gay man from Clinton, Md., died on Sept. 17, 2008, as a result of injuries he sustained during a Sept. 10 attack by Hannah, while en route to a gay bar in the Shaw neighborhood.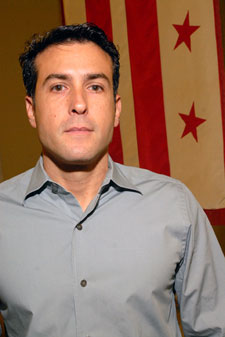 Chris Farris
(Photo by Ward Morrison)
The USAO-DC document argues a first-degree murder charge would not hold as the government could not prove that Hannah stole anything from Hunter, though Hunter's empty wallet was retrieved from the scene of the crime. Further, Assistant United States Attorney, Kevin F. Flynn, filing the memorandum on behalf of Acting United States Attorney Channing Phillips, wrote that because there is no evidence that Hannah intended to cause Hunter "serious bodily injury," Hannah could not be charged with second-degree murder, voluntary manslaughter, or "assault with a significant injury."
Also, facial injuries, including bruising around Hunter's eyes and injury to his lower lip, caused directly by Hannah were "sufficiently minimal," and not the cause of death.
"The victim … fell against a fence and then righted himself before falling backwards," according to the memorandum, which illustrates that medical records show Hunter was intoxicated when he was attacked. The prosecution posits that Hunter was unable to break his own fall, leading to the blunt blow to his head as he hit the pavement.
The prosecution further argues that a charge of involuntary, misdemeanor manslaughter was not applicable because it cannot prove that Hannah caused Hunter to die while committing the misdemeanor "in a manner that created a reasonably foreseeable risk of appreciable physical injury."
In other words, according to the memo, Hannah's beating did not kill Hunter. Rather, Hunter's seeming inability to break his own fall caused the ultimately fatal brain injury.
As for not charging Hannah with a bias-crime, Flynn writes that the prosecution has "developed no evidence from any source that the defendant uttered any words evidencing such bias before or after the assault," or at any time whatsoever.
An assertion by Hannah that Hunter groped him immediately prior his hitting Hunter could also not be disproved by evidence, Flynn writes, while acknowledging that Hannah's response was inappropriate and illegal.
"On these facts, there is no probable cause to believe that the defendant's spontaneous reaction — legally unjustified as it was — in and of itself demonstrated the prohibited bias."
As the prosecution finds no evidence to back a charge of anything more serious than simple assault, that is the charge it leveled, and to which Hannah has pleaded guilty in a plea-bargain agreement. Sentencing is set for Oct. 14. Prosecution seeks the maximum sentencing of 180 days incarceration.
"It is the offense for which the defendant should be held accountable, taking into consideration the tragic results that flowed from the events the defendant set in motion," the memo states.
In its request for maximum sentencing, the government states that since Hannah's arrest in the case, he has been charged with shoplifting, "and has repeatedly shown disregard for his court-imposed obligations and the criminal justice system."
The document also reports that witnesses claim that immediately following the attack, Hannah and others stood over Hunter chanting "The Terrace," before leaving the scene. That's believed to be a reference to Wood Terrace, the community where Hannah lives, near the 1300 block of Eighth Street NW where he attacked Hunter.
Judge Rafael Diaz of the D.C. Superior Court allowed Hannah to remain free on bond at a Sept. 17 hearing, pending sentencing scheduled for Oct. 14.
Reacting to the memorandum, Chris Farris, co-chair of Gays and Lesbians Opposing Violence (GLOV), says he appreciates that the prosecution explained its rationale.
"But I still disagree with the way this case was handled," he says. "I still believe that the prosecution could have been more aggressive in this case, especially against the backdrop of the rise of both violent crimes and the rise of hate crimes against GLBT community members."
He takes particular issue with the prosecution's regard for testimony from Hunter's friend who was with him that night, referred to in the memo as Witness 1. According to the sentencing memorandum, Hunter's friend could not offer key, definitive evidence against Hannah.
"They, quite frankly, have an unsophisticated witness who is traumatized by the attack, who watched his friend dying on the street, and is scared to death," Farris says of Witness 1, adding that he doubts Hunter touched Hannah prior to the attack. "That he was not 100 percent consistent with every little thing he said, every single time, does not mean that he's lying at all."
Farris says he is also disturbed by the medical conclusion that Hunter's death was caused by a fall, rather than by Hannah.
"Simply put, but for Robert Hannah punching Tony Hunter, Tony Hunter would be alive today. To me that is murder, pure and simple."
Councilmember Phil Mendelson (D-At large), who wrote to Phillips on Sept. 10 urging him to reject Hannah's plea bargain, says he read the memo Sept. 23. It did not, however, change his feeling that Hannah should have gone to trial.
"The primary issue is that the process seems to have worked against the community interest," Mendelson says. "It's been a unilateral process. That's what I've been saying all along: no trial, a plea bargain. And I suspect many will still feel after reading the memorandum that Mr. Hannah has been undercharged.
"I still think there should have been trial."