Isn't it nice when filmmakers are so excited about the final product that they add an exclamation point to the title? The Informant! It's about a whistleblower! It stars Matt Damon! It's going to be great!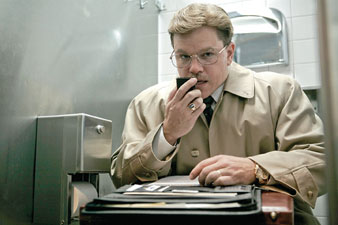 The Informant!
(Photo by Claudette Barius)
If only that sense of excitement carried through the film's entirety, but most scenes in The Informant! are punctuated by a couple good lines – maybe calling for some italics to indicate a key word or two – but then they just slowly… trail… off….
What that exclamation point accurately represents is that this is not your usual man against The Man movie — this isn't David vs. Goliath or even Erin vs. Pacific Gas & Electric. The Informant! is the comedic version of the underdog story because the hero is so very unheroic.
Director Steven Soderbergh, who helmed Erin Brockovich and helped Julia Roberts land an Oscar (more about that later), is able to change the tenor here because the root of all evil is corporate greed and corn. Contaminated water killing kids isn't funny. Corn, on the other hand, is uproarious. And Soderbergh gives you an earful of jokes about one of America's oldest crops that turn an otherwise dull tale – a story of corporate giant Archer Daniels Midland fixing the price of corn oil – into something moderately entertaining.
Mark Whitacre (Matt Damon) is your typical corporate businessman: Every morning he puts on a garish tie and schleps to the office where he worries about productivity and profits, and other business things that people geek out over when they get an MBA. But when the FBI is called in to investigate a possible extortionist, things get a little weird as Mark turns on his boss and bites the hand that feeds him so well. But since everything he was being fed had high-fructose corn syrup in it, it's really only fair.
The Informant!



half
Starring
Matt Damon,
Scott Bakula
Rated R
108 Minutes
Opens Friday, Sept. 18
Area Theatres
Handling Mark for the FBI are Agents Brian (Scott Bakula) and Bob (The Soup's Joel McHale), who really like the guy. And Damon plays Mark to be likable. With internal dialogue reminiscent of Jack Handey's "Deep Thoughts," Mark is soft around the edges, really enthusiastic about almost everything, and it appears that his actions are motivated by a drive to do the right thing. But the more the FBI sees, the more suspicious it gets of its star informant. Mind you, it takes years for them to figure out that their mole is really a weasel, but eventually they get there.
Soderbergh tells Mark's story, originally recounted in the investigative book The Informant (no punctuation) by Kurt Eichenwald, with flair. Music by Marvin Hamlisch, and titles more befitting a flower power story than a corn tale, make The Informant! feel like Austin Powers 4 rather than a serious story of corporate greed. Set in the 1990s, it's not clear why Soderbergh decided to couch the film in a freaky flashback, but it's not the biggest issue with the final result. Where Soderbergh stumbles is balancing the story and the length of scenes. He takes the audience on a path that is a little too meandering, a path bound to lose people along the way.
Through it all, Damon is the one thing that never strays from the path. Even as Mark's story is crumbling around him in ruins, Damon's grasp on the role gets tighter and tighter. The character goes from a semi-good guy, to a buffoon who still is okay, to a complete mystery and Damon navigates this ever-changing landscape with deftness and skill.
So when you consider his performance, and the lengths he goes to portray it, the potential talk about an Oscar nomination is inevitable. Think about it: Damon is good-looking, but chunked up for the part and hid behind bad make-up (think Charlize Theron in Monster) and he's playing a real person who goes up against big business (think Julia Roberts in Erin Brockovich). You never know – stranger things have happened (think Marisa Tomei in My Cousin Vinny).
Once the lies start to reveal themselves, it's time to wrap things up quickly, and Soderbergh delights too much in removing the various layers until repetition gives way to impatience. However, the director does take one moment to flip the entire film on its ear, providing a small glimpse into what could be the real Mark Whitacre that is otherwise masked behind a pudgy exterior. It's an incredibly unexpected and moving trick that is all the more powerful for its almost singular status as a moment of gravitas. It's a great scene in an otherwise good film! See? Sometimes the exclamation point just isn't needed.