There has been confusion and there have been endless questions in the few days since a knife attack left one local woman injured and another dead. But there has also been an outpouring of love and indignation.
"We know we stand on sacred ground, ground where blood was shed, and we know it will never be the same," offered the Rev. Jill McCrory, standing at the site where the emergency workers found the two transgender women suffering from knife wounds two days earlier, the afternoon of Wednesday, Aug. 26.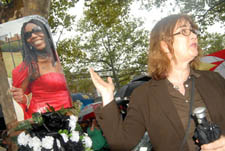 Mara Keisling
(Photo by Ward Morrison)
Tyli'a "NaNa Boo" Mack (nee Joshua Mack) was pronounced dead that Wednesday afternoon at Howard University Hospital. Here, the following Friday, a crowd of a hundred or more stood in a slight rain along the 200 block of Q Street NW, saying good-bye to Mack, referred to almost exclusively as NaNa Boo.
Under the crowd of umbrellas along the narrow residential street, the early Friday evening vigil included many known to the GLBT community. Christopher Dyer, director of the Mayor's Office of GLBT Affairs was there to read a letter of condolence from the mayor. Chris Farris, of Gays and Lesbians Opposing Violence (GLOV), forcefully told those gathered that the mayor should have joined the vigil in person. Acting Lt. Brett Parson, the gay officer who oversees all the special liaison units of the Metropolitan Police Department, including the Gay and Lesbian Liaison Unit, assured the crowd that detectives had been working nonstop on this investigation and would not stop till the city had some answers.
As yet, answers are in short supply. MPD has no apparent leads, and has not released the name of the second victim as the investigation continues. No description of suspects is available. Whether this was a hate crime is uncertain. That a 21-year-old local woman, a member of the GLBT community, has been murdered is among the only hard facts.
Despite the short supply of answers, Councilmember David Catania (I-At large), who is gay, attempted Friday to find a direction for moving the city forward from the tragedy.
"This is an opportunity for every leader in the city — whether elected, whether appointed, whether in a pulpit — to stand up and say this is not acceptable, that the lives of gay, lesbian, bisexual and transgender people are not so casual and so meaningless that they can be taken from us for no reason," he said. "This was an unprovoked and unforgivable attack. And this must stop. To the family of Ms. Mack, our profoundest condolences. To every one of us, let us go to all of our leaders and say enough is enough. We want to hear Sunday in the pulpits in this city that this kind of attack is unacceptable."
When it comes to pulpits, Earline Budd is probably thinking less about how clergy might stand up against homophobia and transphobia, and more about the arrangements to be made for the Friday, Sept. 4, service to celebrate Mack's short life. Budd was Mack's chosen family, the two considering Budd to be Mack's godmother.
"We're burying her in the gown," Budd says a few days after the vigil, referring to Mack's high school graduation gown. Budd says she met Mack about six or seven years ago when Mack became a client at Transgender Health Empowerment (T.H.E.). "She faced a lot of obstacles. She had a hard time in D.C. public schools. But above all that, she managed to graduate."
The attack happened just a few blocks from T.H.E.'s address, 1711 N. Capitol St. NE, where Mack would still visit. She was also a client of Helping Individual Prostitutes Survive (HIPS). G.G. Thomas, a client advocate at HIPS, saw Mack the day before she was killed. Thomas remembers her looking happy, Mack telling her she felt as good as the new dress she was wearing.
"I've known her for a few years, even before she became a HIPS client," she says. "She became a client a few months ago, coming in for counseling and support, dealing with housing and employment. She was coming to support groups regularly.
"She was a roar of thunder, someone who always had an opinion and expressed it. She was like a role model to the younger girls, saying, 'We're all going through discrimination and poverty, dealing with drug issues, family issues…. But at the same time, there's hope.'
"I could see her growing so much if she'd been spared her life. She was always trying to help someone else, trying to give a person a piece of wisdom. No one expected this. She wasn't saying she was being threatened or in any kind of danger."
Still, danger found Mack. With the crowd gathered at the Aug. 28 vigil, it was obvious this was a crime no one expected. Mack's mother, particularly, was shaken as she and two of Mack's siblings spoke, looking to the portrait of a smiling Mack affixed to a tree surrounded by flowers, stuffed animals and candles. Mara Keisling, director of the National Center for Transgender Equality, spoke more to Mack's mother, Beverly, rather than the crowd, sharing the bond of being a parent, telling Mack's grieving mother she couldn't imagine the pain of losing her own child.
David Mariner, executive director of The Center, the area's GLBT community center, had not planned to speak at Friday's vigil, but the words he choose likely expressed the sentiments of what most of those gathered were feeling, along with many who never knew Mack or were not among those standing in the rain that evening.
"I wasn't planning on saying anything," he answered as Budd called on him to speak, before continuing. "I'm just here along with everybody because I'm shocked, I'm troubled, and because it's happened again. My thoughts are with the family. My thoughts are with every person in D.C. who has felt unsafe, or who will in the future."
A "homegoing" service celebrating Mack's life will be held Friday, Sept. 4, at Unity Fellowship Church D.C., 1226 Vermont Ave. NW. Viewing is 10 a.m. to noon, service to follow.
MPD is offering a reward of up to $25,000 for information leading to a conviction. Anyone with any knowledge of this attack should call MPD at 202-797-9099. Information may be phoned anonymously to DC Crime Solvers at 1-866-411-TIPS, or texted to MPD at 50411.