"The philosophy behind Dorian Gray is that Dorian lives in a time when no one can be shocked, and he's trying to rebel against that," says Roberto Aguirre-Sacasa. The playwright's stage adaptation of Oscar Wilde's classic novel, The Picture of Dorian Gray, is now in its world premiere at Bethesda's Round House Theatre.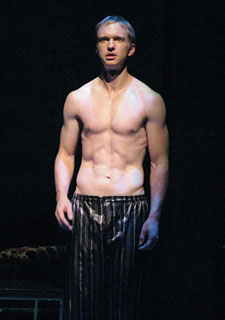 The Picture of Dorian Gray
(Photo by Danisha Crosby)
Aguirre-Sacasa sets his adaptation in modern times — '90s-era London — and uses modern-day vernacular in place of Wilde's original text.
Aguirre-Sacasa considers Washington his "theater home," having earned an undergraduate theater degree from Georgetown University and served as a former publicist at D.C.'s Shakespeare Theatre. These days, the 36-year-old lives in Los Angeles and writes for HBO's Big Love as well as Marvel Comics. He's also got several other stage works in development, including writing a new book for the '60s musical It's A Bird…It's A Plane…It's Superman. After tossing around ideas for plays to adapt, Round House artistic director Blake Robison approved Aguirre-Sacasa's plan for Dorian.
Though the novel is rife with sexual innuendo as well as Wilde's musings on art and culture, "it was the gothic horror aspect of the book that intrigued" Aguirre-Sacasa most.
"Keeping a portrait locked in a room, a portrait that changes every time [Gray] does a bad deed — that's just fascinating," he says. "I was always a fan of Dracula, and those gothic horror movies of the '60s and '70s, like those starring Vincent Price.
"Horror, romance, pathos, melodrama: It's all in there," he continues. "Audiences are really responding to it."
The Picture of Dorian Gray runs to Oct. 4 at Round House Theatre, 4545 East West Highway, Bethesda. Tickets are $25 to $60. Call 240-644-1100 or visit www.roundhousetheatre.org.