The DC Shorts Film Festival isn't getting longer, but it is stretching its legs. For a week starting Sept. 10, the 2009 festival will show 100 films from 16 countries (selected from more than 800 submissions) and will, for the first time, dim the lights at two venues — Landmark's E Street Cinema and U.S. Navy Memorial's Burke Theater.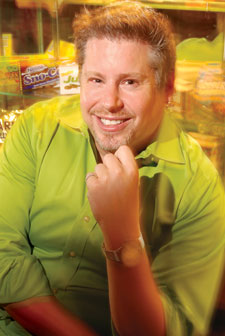 Jon Gann
"We've always sold out and had to turn people away," says Jon Gann, founder of both the DC Shorts Film Festival and the DC Film Alliance. "We thought that if we added more seats it would make a difference."
A filmmaker himself, Gann hit upon the idea of creating DC Shorts after spending a year touring one of his own films, Cyberslut, around the festival circuit. Cyberslut played 48 festivals worldwide — a first for a gay-themed short — and gave him some valuable insight. "I realized that many festivals were about money and parties and sponsors but they weren't about films and were very rarely about filmmakers.
"When I got back to D.C. I turned to my friend and said we're going to start a film festival. In about three months we whipped the first DC Shorts. I was a nervous wreck that nobody would come because I was paying for it out of my checkbook."
But people did come. And for the past five years audiences have made the event a top draw in the D.C. area. No small feat in a region that, according to Gann, boasts some 78 multi-day film festivals.
"I think that by concentrating on short films, [we give] audiences the chance to see quite a lot of different viewpoints, different story telling and stuff from around the world," says Gann. "In a two-hour period you see at least one drama, a comedy, a documentary, a local film, an animated, an experimental. Sometimes even a horror movie. And if a film's not to your liking, in 10 minutes there will be something else on."
The DC Shorts Film Festival runs September 10-17 at Landmark's E Street Cinema and U.S. Navy Memorial's Burke Theater. All shows are $12 per screening and can be purchased online at www.dcshorts.com or at the individual venues (cash only at Navy Memorial). All-Access VIP Passes are available.