The biggest problem with the farce is that it has become so much part of the high school theatrical trunk. It's a potent mix for those generally underfunded, understaffed, and often overlooked drama departments. Double-entendres clean enough to make it past the most hard-nosed assistant principal but dirty enough that the theater geeks feel they're getting away with something. Mistaken identities and the fast but family-friendly action of chaste or completely missed liaisons. And, to rally the folks doing time in the wood shop, sets shot through with more doors per square foot than seems humanly possible. The trademark sound of most farces is, of course, the door slam.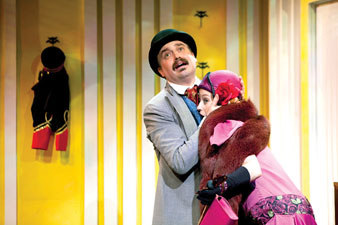 A Flea in Her Ear
Add to the mix the fact that most farces involve fairly sizeable casts (so that even the freshman ingénue gets a shot at playing the saucy chambermaid or fainting weekend houseguest) and it is easy to see why the format is so darn enticing.
But pushed beyond that place – where the complex humor is allowed to mature and the double-entendres are stripped a shade more transparent – farce can be something enormously humorous and entertaining for the out-of-school set.
A Flea in Her Ear has pushed to that place. Brilliantly acted, beautifully dressed and exuberantly told, it's farce done very well.
Originally written in 1907 by the French playwright George Feydeau, Constellation Theatre's production is a version re-invigorated by the contemporary American playwright David Ives. While the setting has moved from Paris at the turn the century to the Paris of the Jazz Age, the flea has remained firmly in place.
A FLEA IN HER EAR




To Nov. 8
Source Theater
1835 14th St. NW
$15-$25
800-494-8497
(For the squeamish it bears mention that this is simply a turn of phrase. There is no actual flea in anyone's ear, just an idea that won't let go.)
Raymonde Chandebise (Katie Atkinson) has begun to suspect that her husband is having an affair. Determined to prove Victor's (Michael Glenn) deceit she enlists the aid of her friend and confidant Lucienne Homenides De Histangua (Heather Haney). What follows is a literal comedy of errors that is one-part I Love Lucy and one-part burlesque sideshow as Raymonde and Lucienne hatch a plan that ends up involving Victor's best friend, Lucienne's jealousy-prone Spanish husband, the eccentric staff of a downtown brothel, a silver dental prosthesis, and not one but two pairs of suspenders.
And did we mention the pansexual, cross-dressing family physician? Yes, there's one of those too.
Fantastic in the role of that ready-for-anyone physician is Ashley Ivey. Never afraid to go well over the top in the name of good comedy, Ivey is funny and fearless in the role of Dr. Finache. His medical expertise may be in doubt, but his capacity to entertain is not.
The comparison to Lucy and Ethel is not far off when discussing Atkinson and Haney. Armed with great comic timing, a terrific chemistry and clear enjoyment of the material, the two actors are great fun to watch.
Glenn performs in not one but two roles and does marvelously in both. So independently crafted are the two identities that one actually begins to wonder how long it might be before Glenn's Victor and Glenn's Poche actually run into one another.
In all, 13 actors in 14 roles cross the boards in the name of pure silly delight, though some to better effect than others. The old adage of there being no small roles may well be true, but the brief stays of some cast members are actually quite welcome. Gwen Grastorf seems less cynical and more absent as the brothel's maid Eugenie while Frank Britton's Ferraillon quickly wears out his one-dimensional welcome.
Those unscripted stumbles aside, A Flea in Her Ear is a terrifically entertaining night of theater. Don't let the door slam shut on this one.
Before committing suicide when she was just 28, the writer Sarah Kane had completed five full-length stage plays. 4.48 Psychosis, now being performed by Factory 449, a theater collective founded by Rick Hammerly and John Moletress, was the last work finished before her death. A fist-in-the-stomach exploration of the darkest corners of clinical depression, the show takes its name from the early morning hour when the depressed Kane would often awake.
Non-linear in structure and composed like an intricate verbal concerto, 4.48 Psychosis is told through a series of overlapping monologues and dialogues. Random outbursts, snatches from therapy sessions and conflicting inner-voices drift in and out of designer Greg Stevens' spare but evocative set.
4.48 PSYCHOSIS




To Oct. 25
Warehouse
1021 7th St. NW
$20
866-811-4111
While an ensemble piece in every sense of the word, company member Sarah Barker is completely arresting as the voice that leads most strongly from the tangled chorus. With the near absence of physical movement and the cold static of her pained expression, Barker becomes a haunting portrait of depression. She is overwhelming melancholy. Physical pain. Emotional drain. A hollow longing for something, anything else. It's a performance that will not be soon forgotten.
When the beginning branches of Factory 449 first staged 4.48 Psychosis at the 2009 Capital Fringe Festival the production was named "Best Drama" and "Best Overall Production." This remounted production not only demonstrates how deserved those awards were but leaves one to anxiously anticipate what might come next from the collective.