With their original blend of high-impact dance, crystal-clear storytelling and keen sense of what entertains, it's hard to imagine being disappointed by anything generated by Synetic's power-house duo, director Paata Tsikurishvili and choreographer Irina Tsikurishvili. And indeed, this season's Dracula, which fills the stage and the senses like an amazing Gothic circus for grown-ups, is no exception.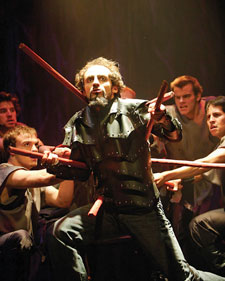 Dracula
(Photo by Graeme B. Shaw)
Most are familiar with Bram Stoker's dark tale in which the king of vampires moves from Eastern Europe to England in search of bloodier pastures. And this story has lasted in the re-telling because, not only does it promise gore and an otherworldly brand of eroticism, it also allows — indeed, invites — poetic license. As master conjurors of atmosphere and mood, it is not hard to see why the Tsikurishvilis have been drawn to this legend in more than one season. Sensibly assuming that most will also have a grasp of the main events of the tale — at least as it has been told in recent films — the artists at Synetic are also freed to interpret the story through the dance, lighting and the fantastically creative use of props and bodies that they do so well.
In the title role, Dan Istrate defies the plethora of filmic interpretations of Dracula with his own convincingly dark and peculiar Count-gone-bad. A striking and graceful mover, Istrate offers a sinister magnetism that eerily suggests the era in which the real Dracula is reputed to have lived and killed; a strange and primitive time.
Istrate has the charisma essential to Dracula but he is also a quirky creature with a hint of unpredictability and if this precludes a certain polish, it nevertheless keeps him far from the dangers of cliché. Following, circling and sometimes challenging him are his three wives danced with verve, power and much mesmerizing choreography by Stacey Jackson, Irina Koval and Catalina Lavalle.
Although he does not dance, the other standout actor here is Irakli Kavsadze as the madman Renfield, who feverishly awaits the arrival of Dracula while confined in a mental asylum. Kavsadze delivers a credible yet enjoyably ironic acolyte bringing much color and dimension to the piece.
DRACULA



To Nov. 15
Rosslyn Spectrum
1611 N. Kent St.
Arlington
$40-$45
800-494-8497
www.synetictheater.org
Although they can dance emotion and mood beautifully, not all of this ensemble can convince when it comes to using words instead of bodies. With some relatively long sequences of conventional acting and letter-reading, it's hard not to notice that some of these otherwise effective performers are not altogether comfortable with the spoken language of drama. Of course, one can only imagine how challenging it must be to find the full package Synetic requires for its singular brand of theater, but this disparity is all the more distracting because the unspoken theater is so very, very good.
Thus, though Alex Mills as Jonathan Harker, Dracula's initially unsuspecting lawyer, and Natalie Berk as his fiancée Mina, are engaging and dimensional incarnations of their characters when they dance and move, they are less authoritative when they speak. Mary Werntz as Lucy gets closer to the successful fusion of spoken and danced theater as she becomes the first of Dracula's English conquests.
Still, enough said — for the spoken word is only one facet of this production. This is, after all, a multi-dimensional theatrical experience. And where Synetic sets out to create a world in which nightmare invades and stalks the waking world, they do so brilliantly. And just in time for Halloween.