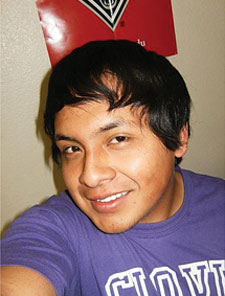 Dimas Natividad
Dimas Natividad has never been to Washington before. But that's not to say he's not interested in politics. At 19, the sophomore student at the Central New Mexico Community College in Albuquerque is usually busy volunteering for organizations like Equality New Mexico.
For locals in Albuquerque, Natividad's face is a familiar one. A strong advocate for New Mexico's domestic-partnership bill benefiting same-sex couples, when that bill was killed in January his tearful face at a rally was captured in a photograph published on the front page of the Albuquerque Journal.
But Natividad does not expect to shed any tears of disappointment when he visits Washington for the first time this weekend to participate in the Equality March.
"I want to network with as many people as I can, just to get a sense of community."
Natividad is arriving in Washington early to visit local landmarks, including the Smithsonian museums. He's also excited about the Youth Ball. But he points out that museums and dances rank second tier to the march, his main purpose for travelling to the capital.
"I want to be able to marry somebody one day. I want equal rights. I think it's messed up that I can't even give blood. I think the march will help people see the visibility of the GLBT community. Hopefully everybody will be able to take something back and turn it into a fight in their own community and stay focused on equality."
Natividad, who came out when he was 16, says he will be representing the Latino community as well as the gay people he knows who could not trek to Washington this weekend.
"I'm going to represent a lot of small-town gays who don't have a voice. I know a lot of gay people in Clovis and Texaco [N.M.], and I know it's really hard and homophobic down there. I'm doing this for them."
---
.