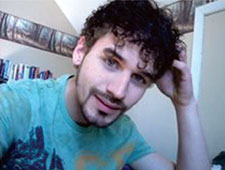 Donaven Green
Donaven Green, 26, travels often between his home in Columbus, Ohio, and Washington, D.C. — his boyfriend lives in the District. Still, Green, a dedicated Christian and a student at Ohio State University, hadn't planned on making the routine seven-hour car ride to D.C. to attend the march. But he agreed to go after a friend bought him a plane ticket.
"I want to be part of the march and see that we're protesting in ways that are appropriate rather than obnoxious," Green says.
"I believe that our public image is extremely important at this time, and in the past we've really projected a nasty image of ourselves and shown ourselves in poor light, and unfortunately that's what makes the news."
Green says that observation stems from attending his first Pride event eight years ago in Columbus.
"There were rioters protesting the Pride [event] from various church groups, preppy little Republican kids holding picket signs, and [gay people] were flashing them … running around being really crude. Seeing that in the news the next day made me really angry at the way some gay people present themselves."
That same year, before that first Pride, Green's own personal journey toward self-acceptance as a religious gay man hit an "all-time low" as he experimented with ex-gay ministries.
"Learning to put 'gay' and 'God' in the same sentence was definitely a bit of a journey," he says. "One night I was just lying on the ground screaming and crying, very capable of killing myself and I got angry at God and said, 'I can't fix this.' And I felt a type of an internal shift. I just stopped crying. My heart rate slowed down. I was just calm, relaxed and genuinely felt okay.
"I decided from that point on that I was going research the Bible from a different angle and I wasn't going to try to change myself any longer."
Instead, Green will march to change a nation.
---
.