Sharon J. Lettman has plenty to say. And as the newly appointed executive director of the National Black Justice Coalition (NBJC), Lettman, who is straight, has found her platform.
"I always had a passion for the underrepresented," says Lettman, a 41-year-old Brooklyn, N.Y., native who lived in Miami before coming to the D.C. area.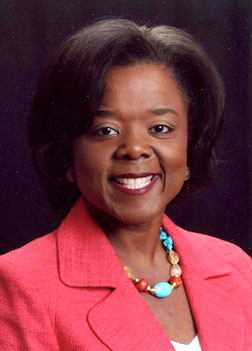 Sharon J. Lettman
(Photo courtesy of the National Black Justice Coalition)
An activist at 17, Lettman got involved with GLBT advocacy later in life while working for People For the American Way, an organization advancing a variety of liberal causes.
"It was important to me to say that if I can lend my voice to something that can make a difference, that's my social obligation. As I learned more about the LGBT community and the issues … it honestly slapped me in the face. [It's] like the civil-rights movement, everything from slavery, to the Jim Crow days, to be being 'separate but equal."'
At NBJC, Lettman follows former Executive Director Alexander Robinson. She says she wants to bring "a voice to the black family."
"My priority is to eradicate what I call 'black on black' crime within the black community," she says. "'Don't Ask, Don't Tell' started in the black community well before starting in the military, so it's really to introduce and build power and respect for our LGBT brothers and sisters within the African-American community."
For Lettman, DADT has become a little more personal since Sept. 9, when she married a man who's serving on active duty.
"For seven months he was over in Iraq. We talked every single day the last four months that he was there. If I was a man, he could not openly have that support. 'Don't Ask, Don't Tell' has become very personal to me, because the support servicepersons need of people that they love and care about is unparalleled."
But Lettman says she is encouraged by President Barack Obama's speech at the Human Rights Campaign dinner Oct. 10, at which he promised to repeal DADT.
"When you have the person who runs the country at the highest level, making that kind of a strong statement, it's not just his own moral obligation he's feeling, it's the level of advocacy that's out there. And the reality that the president is African American puts NBJC in tremendous play."
Lettman says it's her social responsibility to use this opportunity to remind the masses that gay rights is not a "white male issue."
"It's really about bringing some color and awareness that there are people of color who are LGBT, who feel a double whammy. It's about bridging that gap and lifting up the powerful voices and the accomplishments of African-American LGBT individuals."
NBJC Founding Board Member Donna Payne, who also works as the associate director of diversity at the Human Rights Campaign, met Lettman three years ago.
"She's been around in the community and she understands what we need to succeed," Payne says, adding that Lettman's being straight does not make her less qualified than a GLBT person to lead NBJC, a national civil-rights organization based in D.C. that strives to empower African-American GLBT people.
"It's not like you're talking about someone who knows just one or two LGBT people and wants to help. It's not like that. You're talking about someone who has already been in a position of talking and speaking with other LGBT speakers across the country."
Under Lettman's leadership, Payne says she is hoping to see more programming at NBJC "that's inclusive of everyone."
"I know that she will bring that skill set to us," Payne says. "It's going to be good."
For more about the NBJC, visit www.nbjc.org.