"I love the play. I love what it says. I love the fact that it's sort-of perfectly tied into what's going on in my personal life right now," says Gavin Creel, star of the Broadway revival of Hair. "Our tribe is 100-percent dedicated to making a loud, joyful noise for equality."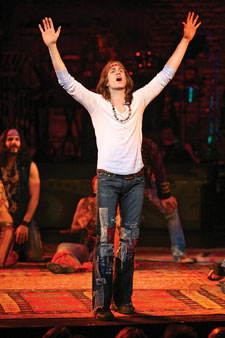 Gavin Creel
(Photo by Joan Marcus)
This weekend, Creel will be in D.C. to perform Saturday at the HRC National Dinner – and to participate in Sunday's National Equality March. In fact, Creel has become Broadway's leading man in organizing for the march, helping organize a bus caravan. Thanks to his efforts, the entire production of Hair has been canceled on Sunday, to allow the show's cast and crew to attend the march.
"I went to our producers and I was like, 'We've got to go. It's what we sing about, and shout about,"' Creel says. Once he got producers on board, he worked to recruit other Broadway notables — including Sutton Foster, Audra McDonald and Neil Patrick Harris — to sponsor buses to transport New Yorkers to the march for free. "We were hoping to get like three or four full, but now we're at 25 buses, almost 1,500 marchers coming down just from the theater community. It's incredible the response."
The 33-year-old Creel, an Ohio native who first got notice starring in 2002's Thoroughly Modern Millie – and locally in the Kennedy Center's 2003 staging of Stephen Sondheim's Bounce – gives much credit to Hair for inspiring his activism. At the turn of the year he launched Broadway Impact, describing it as "an organized coalition of the theater community and its fans, mobilizing in support of marriage equality." Creel has high hopes for the group one day becoming a national counterweight of sorts to efforts of the Christian right, mobilizing theaters — as opposed to churches — in the fight for equality.
For now, Creel hopes the march serves as a new queer generation's call to arms. "It's for the youth of this country to go, 'Okay, show us what you've got. Are you willing to step up?' I hope this is a wake-up call."'
Gavin Creel performs Saturday, Oct. 10, at the HRC National Dinner, Washington Convention Center. Tickets are sold out. Call 800-494-8497 or visit www.hrcnationaldinner.org. For information on Hair, visit www.hairbroadway.com.