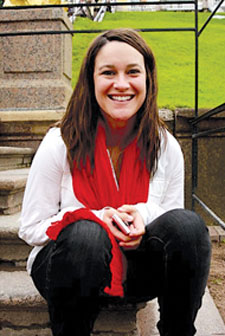 Marina Gomberg
When Cleve Jones spoke at Salt Lake City's Utah Pride Fest in June, calling for another march on Washington for GLBT equality, the news spread quickly via the press, YouTube, Twitter and all the rest. But nobody heard the call before Marina Gomberg did.
"I was there crying when Cleve was talking so powerfully," says Gomberg, Utah Pride's director of development and marketing. "For a lot of reasons, this is a dream come true for me."
Just 25, Gomberg was barely in high school for the last GLBT march on Washington, and just a little kid during the 1993 march. Thanks to her progressive, activist parents, however, she's long felt the need to be politically active. Old enough to have grown into her lesbian identity, her time is now.
"So to be able to attend a march, a historical event for any movement, it's something I wouldn't have missed for the world," Gomberg says with gusto. "It's a bigger scale than I've ever been involved in before. It's pretty exciting."
Gomberg says her whirlwind trip east, landing in D.C. Saturday morning and leaving Monday morning, is funded in part by Utah Pride with her picking up the remainder. And though she says she's had to tighten her belt a bit to pull off her first trip to D.C., she certainly has no regrets.
"I have a strong sense that the march will be really powerful. Every dollar spent for people to be in Washington will be money well spent. I think that whatever people have to spend to travel there will be worth the visibility that we create. … Having 50,000 as opposed to 5,000 will make a statement to our nation's citizens, but I don't think there's any way I could be disappointed by this event. I have high expectations. Being in our nation's capital will be the fulfillment of a dream."
---
.