Children should be seen and not heard. For many of us this was the general house rule growing up. An attitude held by grandmothers and elder statesman aunts who had already raised their own children and didn't need to hear the same complaints and questions all over again. They had done their time.
Such is the attitude of the iron matriarch helming the family of Neil Simon's Lost in Yonkers. This is the first full-length Simon play to appear at Theater J's Aaron & Cecile Goldman Theater and it deserves a warm and enthusiastic welcome.
There's a lovely sentimentality at work here, a wonderfully broad, almost romantic notion of family. A family you may well recognize. The uncle no one talks about. The aunt everyone talks about. The grandmother people talk about, but very softly to make sure she doesn't hear you. (Of course, she always hears you.)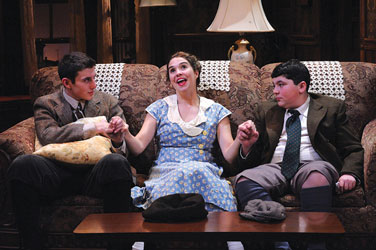 Lost in Yonkers
It's into this nest of family battles, also known as Grandma's apartment, that Eddie (Kevin Bergen) is trying to drop his boys. Jay (Kyle Schliefer) and Arty (Max Talisman) need somewhere to stay while Eddie hits the road in an effort to pay off the debts he incurred for his late wife's medical care.
But Grandma (Tana Hicken) is not convinced. Her life is not designed to be a grandmother. She spends her days taking care of the family store. At night she listens to the news on the radio. On Sunday she rests. There is no room.
Pulling for the boys is Eddie's good-hearted but mentally impaired sister Bella (Holly Twyford), who lives with her mother and longs for other companionship.
The peculiar family tree is rounded out by an uncle who might be in the mob and an aunt whose physical ailments, like Bella's mental ones, are rumored to be the result of their immigrant mother's meanness.
Those who saw Hicken and Twyford in Studio Theatre's Road to Mecca will be delighted to see the two paired once more. They create a fascinating and utterly believable mother-daughter dynamic that offers the show a solid foundation on which to build.
Twyford is singularly outstanding in the role of Bella. This is one of those delicately balanced characters that, in the wrong hands, could topple into hollow clowning. But Twyford holds a firm line and imbues Bella with warmth, sensitivity and a brilliant sense of truth.
Schliefer and Talisman bring fine humor and a great maturity to the stage. Schliefer has a particularly tough load to carry, asked to balance a bit more on his back than the comic punches of Talisman's Arty. He has a real connection to his fellow actors and it makes his performance more than simply funny. It is memorable.
LOST IN YONKERS





To Nov. 29
Theater J
1529 16th St. NW
$30-$55
800-494-TIXS
theaterj.org
Lost in Yonkers is a show that should be seen and heard and greatly, greatly applauded.
Whatever inspired Joshua Schmidt and Jason Loewith to transform Elmer Rice's play The Adding Machine into an eccentrically constructed and deliciously unnerving musical should be fiercely protected.
Consider.
What would move someone, given the current economic picture, to take a play from the 1920s about a man losing his job to a machine and refashion it into a humorously depressing experimental piece with music no one could possibly leave the theater singing? But Adding Machine: A Musical has not only rightly garnered off-Broadway raves; its fabulous local production has earned an extended run at the Studio Theatre.
The introduction of adding machines to the store where he works means that Mr. Zero's (David Benoit) accounting services are no longer required. That all too familiar scenario – going in to work only to be unemployed by dinnertime – sets into motion a series of tightly connected and unexpectedly otherworldly events.
For its D.C. bow Loewith and Schmidt's show has been placed in the hands of an excellent cast.
With a physical presence reminiscent of one of the slouching, sad-sack characters of cartoonist Chris Ware, Benoit brings a remarkable grace and tenderness to the part of Zero. He is an actor of great intensity whose matter-of-fact vocal quality seems tailor-made for the role.
ADDING MACHINE:
A MUSICAL





To Nov. 8
Studio Theatre
1501 14th St. NW
$57-$71
202-332-3300
studiotheatre.org
Joanne Schmoll plays Mrs. Zero and makes short work of some intensely complicated musical numbers. Her opening piece, "Something to Be Proud Of," plays the structure of an art song against the grinding words of a domestic battle. You might not be able to hum it on the car ride home, but you won't soon forget the haunting performance.
An immensely talented ensemble. A darkly comic story. A delightfully innovative score. The quirky and eccentric elements all add up to an incredible night of theater.