When Mika first emerged on the pop scene a couple years ago with Life In Cartoon Motion you could hear echoes of many of his gay, dramatic British pop forebears, most of whom were popular before the 26-year-old was even born. Given Mika's penchant for singing in gorgeous falsetto, Freddie Mercury of Queen seemed the most influential.
You can still hear Mercury all over The Boy Who Knew Too Much. But now a new idol emerges.
"I, wanna be your brother, wanna be your father, too," Mika sings, on "Touches You." "I, wanna be your sister, wanna be your mother, too. I wanna be, wanna be, whatever else that touches you."
Remind you of anyone?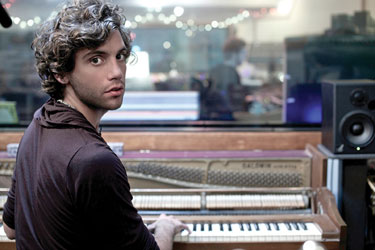 Mika
Now that George Michael has retired from making pop music, Mika seems to be positioning himself as Michael's successor. "Touches You" is an irresistible slice of pop jauntier than Michael's "Father Figure," but even without the lyrical similarities, the song's musical similarities are also a bit uncanny. Not to mention, the two singer-songwriters' personal histories. Michael grew up in London of Greek descent, while Mika grew up in London of Lebanese descent. He was born Michael Holbrook Penniman in Beirut.
The surprise is that Mika actually makes the comparison work. The shoe fits. The Boy Who Knew Too Much may not be the carbon copy of Michael's breakout solo set Faith from 22 years ago – it's not that much of a revelation. And just like Michael before him, Mika is hounded now early in his career by questions over his sexuality. Mika usually dodges such questions, though last month he told a British gay magazine, "Call me bisexual, if you need a term for me." Perhaps Mika needs a dose of his own medicine. "Life could be simple but you never fail to complicate it every single time," Mika sings on the catchy, handclap wonder "Blame It On The Girls." The song is about someone who blames everyone but himself for his problems. "Blame it on the girls who know what to do. Blame it on the boys who keep hitting on you."
Of course, times are different now. Mika didn't score major American success his first time at bat the way Michael did in Wham! His ABBA-steeped sound seems to be too flamboyantly poppy for today's mainstream American ears, who just can't bring themselves to like Robbie Williams or the Scissor Sisters or Kylie Minogue – heck, even Madonna – for fear of being called queer.
MIKA
The Boy Who Knew Too Much
Casablanca
$13.98




If sex sells, Mika's not doing himself any favors in that regard, either. His songs – and especially his album's artwork, in part painted by his sister – are steeped in non-threatening cartoon fantasies and fairytales. "Teenage dreams in a teenage circus, running around like a clown on purpose," Mika sings on lead track "We Are Golden."
Clearly, this is not his pop father figure's music. (Mika doesn't want your sex.) And it's not really the music of his age either. Now that he's seven years removed from teenage dreams, isn't it time he got a bit more serious, tackling some adult realities?
Sure, but until then, The Boy Who Knew Too Much is a gem of a pop album. Greg Wells (Pink, Katy Perry) has returned to the fold to produce another Mika album trafficking in bright, bubbly, wonderfully catchy melodies. If Mika is the titular boy who knows too much, you certainly won't begrudge him bending your ear.
BASEMENT JAXX
Scars
Ultra Records
$15.98




Nobody creates a better pop circus than Basement Jaxx. Over the course of five albums the past decade, the British duo of Felix Burton and Simon Ratcliffe has led the way in pop music that draws from every possible genre of music. On Scars, they again span the spectrum of influences, drawing from country to hazy hip-hop, reggae to house, anthemic R&B to experimental jazz – and yet every track is stamped with the Jaxx's own zany signature sound. The album, like the last few Jaxx sets, is solid, with one piece of pop perfection after another. In fact, only time and still more repeated listens will prove it, but Scars may top all the rest as the duo's best. (Crazy Itch Radio is the duo's best title though, succinctly summing up their across-the-board contagious appeal.) The smoky-voiced Paloma Faith guests on "What's A Girl Gotta Do?," trotting out the marching band, complete with a kazoo section, to try to get a boy to notice her. He must be deaf if he still doesn't notice her musical charms. She had me at the trumpets that launch the song.
The set's pinnacle has to be Burton and Ratcliffe's work with Yoko Ono – of all people. "Day Of The Sunflowers (We March On)" features a characteristically eccentric song-poem from Ono about the wonders of nature, and Burton and Ratcliffe do wonderful work visualizing her vocalized realizations. It all seems to take place underwater, or in a half-submerged lagoon, with the music bubbling up to the surface as Ono talks about how the "fish tickle my skin, the trees feel so nice on my knees."
Trust me, you must hear it to believe in this fantasy. But you will believe.