You hear the one about Beyoncé at Burger King?
"She particularly liked the part where her face is moving from left to right watching the food spin in the air," says Cazwell. "She thought it was really funny."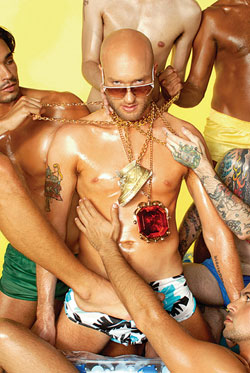 Cazwell
The gay rapper didn't actually see Beyoncé at the fast-food chain – but he made up a song and video about it anyway — "I Seen Beyonce at Burger King." The video has generated enough publicity on YouTube and Logo that Beyoncé couldn't help but notice it.
Increasingly, others are also noticing Cazwell, a fixture in New York nightlife the past few years as a party promoter and performer. He has worked with Amanda Lepore and Lady Gaga (before she got "super-famous"). And he was featured on the season finale of RuPaul's Drag Race, teaching the queens how to rap.
"I'm telling you, I loved it! It was a really good experience," he says. "TV is the way to go. No matter how many YouTube hits you get, no matter how many people have heard your song in a club, TV is just the ultimate in exposure. I definitely want more TV."
Originally from Worchester, Mass., Luke Cazwell started rapping because he couldn't sing, and yet he knew music was his calling. He moved to New York a decade ago as part of a rap group Morplay, and quickly struck out on his own. Earlier this year, he released his entertaining debut full-length set, Watch My Mouth, which he calls an "eclectic dance album that really represents New York City."'
The rapper is already hard at work on his next album, and hopes to write more for other people. For now, however, he'll continue promoting his debut. His newest single, "Tonight," samples the '80s hit "Give Me Tonight" by Shannon. The song will be on tap for his performance Friday, Oct. 30, at The New Gay's monthly Transformer dance party. "It's all going to be hot," he says. "It's all going to be a good time."
Cazwell will perform Friday, Oct. 30 at The New Gay's Transformer Dance Party at the Black Cat Backstage, '1811 14th St. NW. Doors at 9:30 p.m. Tickets are $5. Call 202-667-4490 or visit blackcatdc.com.