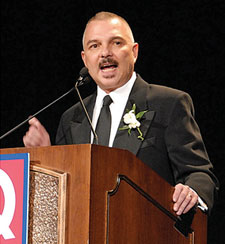 Rick Garcia
(Photo by Kat Fitzgerald / Windy City Times)
Rick Garcia is not attending the Equality March as the political director of Equality Illinois, or as a political operative. He's simply attending the event as a gay man.
"I was at every march in Washington since 1979, so I ain't going to miss this one," Garcia says.
The 48-year-old Chicago resident says he doesn't think the march will accomplish anything, "in terms of the big, real, political picture.
"Because marching in front of empty buildings doesn't change anything at all," he says.
"What I'm hoping is that the march will inspire people as the 1979 March on Washington, and the 1987, and 1993 — all of those marches, inspired many people to get involved locally."
Garcia was a college student living in St. Louis when he came to Washington in 1979 for the March on Washington with four other friends.
"From the four of us who were in that car, one of them founded the first gay newspaper in St. Louis, Mo.; and I became a full-time gay-rights activist. This is a personal thing for people. They go, they get inspired, they know that they can have an impact, and that's what I'm hoping this march will do as well."
Garcia says this march has a similar purpose.
"At my age, I do the nitty-gritty nasty political work day in and day out. To be in our nation's capital with thousands of other gay people who are just there, who are out and proud and demanding equality is energizing."
---
.