The folk-pop trio Girlyman is serious about living up to its name – in being sweet and sensitive, even a little silly. But these two women plus a man are not exactly soft.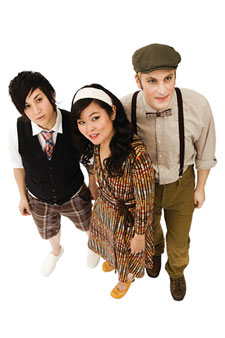 Girlyman
(Photo by Stephanie Richardson)
"You were throwing your shoes right up over the wire," Nate Borofsky sings unadorned, with full intensity, at the top of the song "Easy Bake Ovens." The song only sounds carefree, like a slice of life from childhood, until you really listen to it. Whether that opening metaphor refers to a loss of virginity or a house to buy drugs – it's not clear here which meaning they subscribe to – either way, it signifies that innocence is gone.
"You were setting those Easy Bake Ovens on fire," Doris Muramatsu sings at the launch of the song's third of four packed verses – there's no chorus – with Borofsky and Ty Greenstein adding two-part harmony. "I was carving my name on a chalkboard with nails, waiting for somebody else to be there."
The song, about growing up in the post-Vietnam, post-Nixon '70s, is just one of many songs on the trio's new album Everything's Easy, offering repeated delight as you uncover subtle meanings and especially as you notice the trio's sophisticated shifting vocal techniques. The queer-identified band of thirtysomethings, who grew up on Simon & Garfunkel, the Mamas and the Papas, and Peter, Paul & Mary, got their start performing with the Indigo Girls. (Amy Ray released Girlyman's first two albums on her Daemon Records label.)
You can definitely hear that lesbian duo's influence on the band, which churns out three-part vocal harmony as naturally and effortlessly – but with as much intensity – as most bands pile on the guitar. And they do it with only the slightest of accompaniment: an acoustic guitar riff here, an organ note there, with a little mandolin, banjo, even a bouzouki thrown in every now and again for a spot of color. But not so much as to detract from the ravishing vocals.
Since the band's third set, 2007's Joyful Sign, the group has made the move from Brooklyn to Atlanta. The new album was recorded in Borofsky's new apartment there. As much as the band remains a three-way collaboration, Borofsky does seem to have assumed more songwriting responsibilities this time out. He writes four songs on his own to Greenstein's three and Muramatsu's two – the rest are joint productions. Borofsky's contributions are the album's standouts.
Borofsky wrote the lilting title track, which as you might have guessed is not as insouciant as it first appears. "It's cloudy today but no rain came, I sat and waited outside," he sings. The storm never materialized, but the threat was there – and he's a bit distraught. "Still on most days, I hear myself say: everything's easy," he reasons. "But you never know, wherever I go, is a way." As the song develops, the three harmonize, accompanied by only acoustic guitar and organ, about the silliness of life and dreams – name-dropping Matt Lauer, Derek Jeter, St. Peter, even Jesus. And still on most days, to paraphrase the band, it sounds as natural and as easy as life. It's hard not to like Girlyman.
GIRLYMAN
Everything's Easy
$16.98




Performing
Oct. 11
7:30 p.m.
$22.50
The Birchmere
703-549-7500
www.birchmere.com
Another Borofsky-penned song features a silly – but serious – reference to Washington's own well-known traffic nightmare, part of his somewhat random musings on long-distance love around the country. "D.C., always looked so easy, always sounds so sleazy, sometimes feels so lonely," he sings. "Like the end of a long day, driving on the Beltway, I-495." But once you're home, he seems to be saying, the easy, sleazy, lonely feelings melt away. Home is where the heart is.
Borofsky also writes the set's most playful track, "My Eyes Get Misty." A press release notes that the twangy song is a Tin Pan Alley tribute. Actually, it sounds like the trio's calling card to nab a spot on public radio's A Prairie Home Companion with Garrison Keillor. "My eyes get misty, when you don't kiss me," a chipper Borofsky sings. "Whenever you are near, I shut my eyes and hope I'll disappear…Agatha Christie had no mystery that could compare."
If nothing else, it should serve as a real crowd-pleaser live. It's no mystery: Girlyman knows how to sing and entertain. They make it seem easy.