She's global. She's glam. She's Pam Ann.
And while her comedic Pam Ann persona is sky-bound, you're more likely to have encountered Caroline Reid on the high seas. After all, her trolley-pushing, passenger-abusing shtick has been part of the lineup on about 30 Atlantis cruises.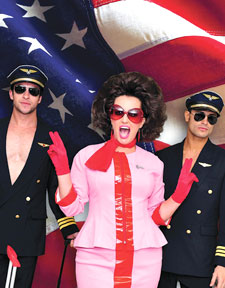 Pam Ann
It's impossible, however, that you ever saw Pam Ann in Washington. Her Oct. 26 landing at the Lincoln Theatre marks her D.C. debut — and she couldn't be more thrilled.
"I've never been. I'm very excited," she said earlier this week as she waited for a flight from San Francisco to Dallas, all part of her whirlwind tour of the U.S., called Pam Ann Live. "Maybe I'll go up in Air Force One," she exclaims. "Take that baby up!"
A U.S. orientation tour is serving to do more than help Americans meet Pam Ann. The Australian Reid has recently uprooted herself from London in favor of New York, her home for the past three months — though she's not had much time to get settled as she jets around the country.
Luckily, flying high suits her to a T.
"A good 26-hour flight, I love," she says. "In first [class] or business. I could sit there for hours."
And though she does, however, lament the death of jet-setting glamour, mile-high hardships leave her with plenty of material for her act — at least when she deigns to take a peek at the back of the plane.
"Just be prepared to feel like you've been hijacked," she says of her show. "It's hell for some people, but some people love the ride. Giddyup."
As for tailoring her show for D.C. audiences — or for a mainstream crowd versus her gay cruisers — Reid says her Pam Ann doesn't struggle to accommodate.
"I've sort of regionalized it, just bringing in the airline hub," she says, explaining that D.C. audiences might hear a few more United jokes, thanks to the airline's mighty presence at Dulles. But don't push your call button for more than that. "Gay or straight, I don't change anything. If the straights don't get it, I'll play with the gays. I'm not out to please."'
Pam Ann appears at the Lincoln Theatre, 1215 U St. NW, Monday, Oct. 26, at 8 p.m. Tickets are $40 to $55. Call 202-328-6000.