Washington, D.C., is a city built on two unstable foundations. The first (and most commented on during the summer swelter) is a swamp, though serious students of history are generally quick to dismiss this long-held, urban-planning legend. The second, deeper and more changeable than the first, is history.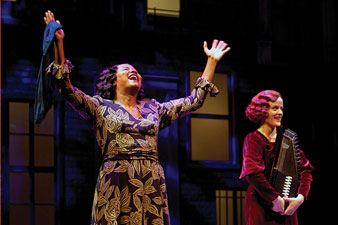 Black Pearl Sing!
(Photo by Charles Erickson)
A few minutes of casual eavesdropping in any corner of the city will reveal a landscape as subject to interpretation as the most complex of symphonies. Whether because of revisionism or research-based revelation, the stories of the city before our current day are as fast shifting as the shallows of that perhaps mythic swamp. Black Pearl Sings!, now at Ford's, is a wonderfully drawn and utterly unique play about this sometimes great divide between fact and folklore. The struggle between the need to gather a collective past and the desire to maintain our individual histories.
Susannah (Erika Rolfsrud) is a musicologist with the Library of Congress. It's 1935 and writers and musicologists and anthropologists are crisscrossing the far corners of the United States looking to document the culture of the everyday. Some collect food traditions, others the oral history of the land.
Susannah is devoting her time to visiting women's prisons in Texas, researching and recording African-American songs from slave times and before. Her dream is to find a song that has been successfully carried from the continent of Africa to the current generation. It is a song she believes Pearl (Tonya Pinkins), a woman incarcerated for murder, knows.
Black Pearl Sings! is a play about songs but it is not a musical. Rather than deliberately moving the story forward, the songs are instead delightful grace notes, presented in their own peculiar voices as a vast cast of additional characters. Rolfsrud's Susannah is a specialist in mountain songs and the thin simplicity of her delivery is both haunting and authentic. Pinkin's Pearl is a complete contrast – unpacking the songs of cotton field and revival tent in sonorous, muscular fashion.
BLACK PEARL SINGS!





To Oct. 18
Ford's Theatre
$10-$55
202-347-4833
www.fordstheatre.org
Playwright Frank Higgins has found a deeply satisfying balance with his blending of these two distinct worlds. Both Pearl and Susannah are fully formed characters, neither called on to act as mere cipher or straight woman. Their relationship unfolds in a manner that feels as organic and natural as the collection of traditional songs Higgins has collected for this work.
Pinkins is a marvel to watch in the role of Pearl. Forceful and dynamic, she brings us a Pearl who defies easy categorization. The actress captures the guarded strength of woman whose life has given her more pain than poetry. Pinkins is mesmerizing.
Rolfsrud has what some might consider the more difficult job. Her character appears – from the outside – to enjoy advantages and benefits Pearl would never dream of having. Rolfsrud gives weight and nuance to Susannah's dreams and obstacles, even causing them to echo through our contemporary lives.
Black Pearl Sings! is a wonderful jewel box of a show, a play that seems quite simple and uncluttered at first glance, but unfolds and blooms and blossoms in the hands of an exquisite cast.
They let you know before you walk in the door.
Along with the use of strobe lights and gunshots, audience members heading in to see Jersey Boys at the National Theatre are warned that the musical contains "profane, authentic Jersey language."
There's no denying New Jersey's national persona as a state where the women are ballsy and the guys are connected. And Jersey Boys does nothing to break that cycle.
Comic and full-throated, with all the subtlety of an episode of The Sopranos, Jersey Boys is – straight to the point – an incredibly good time. A multi-award winning jukebox musical that tells the "behind the music" story of singer Frankie Valli (Joseph Leo Bwarie) and the Four Seasons, Jersey Boys remembers that pre-vocoder time when singers had to be able to, well, sing. It was a time when guys like Valli, Tommy DeVito (Matt Bailey), Nick Massi (Steve Gouveia), and Bob Gaudio (Josh Franklin) confused radio stations with a sound that seemed "Black" and a creative bent that defied category.
JERSEY BOYS




To Dec. 12
National Theatre
$51.50-$111.50
202-628-6161
www.nationaltheatre.org
The national touring production of Jersey Boys currently bringing a little badda-bing to D.C. comes armed with a whole lot of swagger and a full compliment of talented performers. Bwarie is a heartbreaker with the kind of vocal range that makes one sit up and take notice. It's a voice that not only does justice to the pop group's songbook, but reminds one how ingrained into our common consciousness the music of the Four Seasons has become.
So head over to the National Theatre and check out Jersey Boys. Otherwise, we may have to arrange for a little "conversation" to take place. Badda-bing.